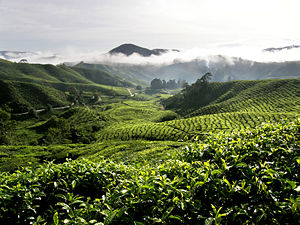 Recognized as the largest hill station in Malaysia, Cameron Highlands is located in the state of Pahang with Perak and Selangor being the nearest surrounding states. Located at about 1500m above sea level, the highland is a good place for cooling retreat and perfect for family vacation or honeymoon trip. Not only well known locally, Cameron Highlands is also receiving thousands of visitors from overseas during their vacation in Malaysia.
Wondering where is Cameron Highlands and having no clue on how to get there? No problem, you will find solution here.
Get in by Coach
Most of the visitors or tourists to Cameron Highlands will take coach from the major cities in Malaysia. If your first destination to visit is Cameron Highlands after touchdown to KLIA, then you can opt for the coach service available in the Airport. If you are from the city centre in Kuala Lumpur, there are also plenty of coaches or buses who operate from KL to Cameron Highlands on daily basis. The journey from KL to Cameron Highlands will take about 3.5 to 4 hours.
You will also find plenty of coaches operate from Singapore to Cameron Highlands, but the price will be slightly higher and the journey will also be longer. It can takes up to 7 hours from Singapore to Cameron Highlands.
Get in by Self Drive
If you are planning to tour around the country by rental car, it is also a good choice to drive up to Cameron Highlands. Not only flexible in your itinerary planning but also allow easy getting around in Cameron Highlands. There are a lot of car rental companies operate in the KLIA and the city areas. Depending on your budget and needs, you can basically find all type of rental cars in these locations. Also, ensure that the rental car is equipped with a GPS unit as you will mostly drive across countryside areas after getting off from the highway, without a GPS on hand, it can be quite difficult in finding the correct way to the highland.
Direction from Kuala Lumpur to Cameron Highlands
From Kuala Lumpur, access to North South Highway and heads towards the North direction. With about 1.5 hours drive, take the exit at the Tapah toll. Pass the toll booth and turn left at the traffic lights ahead. Drive up the uphill road and you will come to Lata Iskandar waterfall with about 30 – 40 minutes drive. The first township that you will be hitting is Ringlet. Just a short drive after Ringlet is the electro hydro dam located on your right. Continue the journey and you will arrive at Tanah Rata after approximately 30 minutes drive. Carry on driving and you will hit Brinchang town.
A tip while driving up the hill, in case that you will be driving behind a heavy vehicle, you should wait for the signal from the driver before overtake. They are the frequent users for this path and will usually give you the signal when it is the right moment for you to overtake.
Get in by Air
There is no direct flight to Cameron Highlands but for travelers who prefer to fly, the nearest airport is the Sultan Azlan Shah Airport in Ipoh with daily flights available operated by domestic airlines. From the airport, you can either rent a car or hire a taxi to reach the highland. The journey from Ipoh Airport to Cameron Highlands will take about 2 to 2.5 hours.
Depending on how you wish to get in to Cameron Highlands, there are several options available that suit your needs and budget. The highland can be very full during weekend and peak holiday seasons (especially during Malaysia and Singapore public holidays), so the traffic here can be quite congested, but under control. If you prefer hassle free vacation, then hire a taxi or rental car with driver are probably the best choice. If you prefer to enjoy full freedom while touring around the highland, then rent a car and drive on your own seems to be a wise decision. No matter which option that you are going for, you will still get to enjoy the nature charm and the fun the highland has to offer.