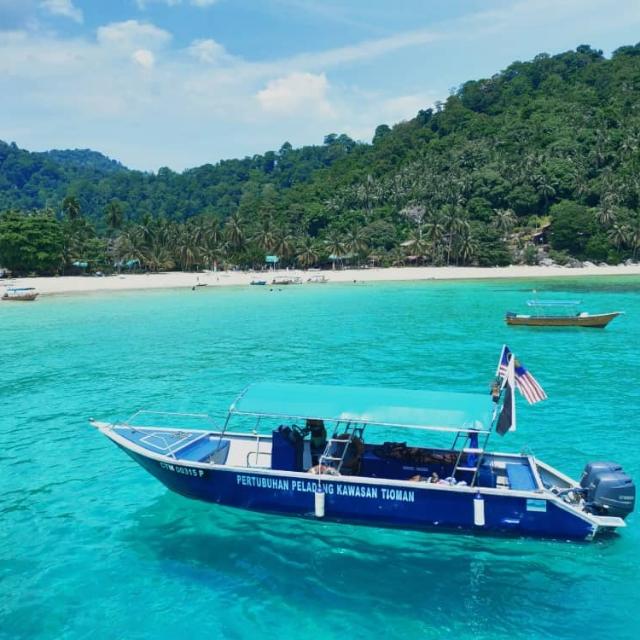 Tioman is a tiny island with 12km wide and 39 km long off the south-east coast of Malaysia's peninsular. The island is located just north of the border of Pahang-Johor and is reachable either by ferry or speedboat from Tanjung Gemuk or from the coastal town of Mersing, located at Johor. If you prefer flying and save some travelling time, get into Tioman by air is also a great option.
Get in by Sea
Getting in by speed ferry is the most affordable way to reach Tioman. Visitors planning to take the ferry to Tioman need to make their way to the Mersing Jetty located within the state of Johor or Tanjung Gemok Jetty located in the state of Pahang. If you are coming from Kuala Lumpur, you can either catch a coach with approximately 5 hours drive or catch a plane to the Senai Airport (if you plan to visit Johor before visiting Tioman) and follow by catching a coach with about 3 hours drive to Mersing Jetty or Tanjung Gemok Jetty. In most cases, visitors prefer an overnight coach trip from Kuala Lumpur. If you are coming to Tioman from Singapore, there are also several coach companies providing a few trips per day to the jetty.
The ferry ride from Mersing Jetty or Tanjung Gemok will then take approximately 2 hours with several round trips per day to Tioman Island. Check out the Tioman Ferry page for more details.
Get in by Air
Get into Tioman by air is possible with Berjaya Air. The airline operates several flights per week from Singapore's Changi Airport and Subang Airport in Malaysia. If you are touching down to KLIA and wish to take a flight to Tioman in Subang Airport, please estimate about 1-hour drive between both airports, however, it may take longer travelling time during the peak hours of the day as the way to Subang Airport can be quite congested.
Tioman Airport is located near to Tekek Village in Tioman Island.
Travel Easily to Tioman
If you would like to avoid all the hassles by booking coach tickets, ferry or speedboat tickets or flight tickets to Tioman on your own, you can perhaps opt for an all-inclusive Tioman Island package. Such package will normally cover transportation, accommodation, full board meals and activities such as diving, snorkelling, island hopping or trekking on the island.