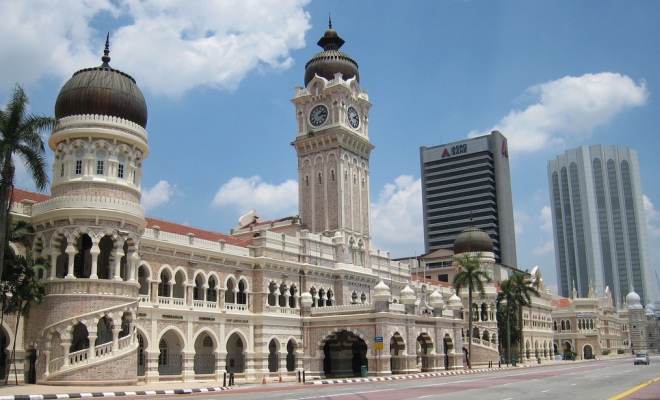 Suggested Itinerary:
Day 1: Arrival – KL Tower – Putrajaya

Upon arrival at KL International Airport, proceed for transfer to the city of Kuala Lumpur. Transfer will take about 1 hour by taxi or 30 minutes by train. Check in to hotel to freshen up upon arrival at the city then pay a visit to the KL Tower, the iconic skyscraper of KL. Standing at 420 meter high, you can get a 360-degree view of the city from the top of the building. Having lunch in the KL Tower restaurant is one of the best experience that you will never forget.
After lunch, proceed to visit Putrajaya, the administrative capital of Malaysia. The journey takes about 40 minutes in clear traffic. Upon arrival, visit Seri Perdana, the official residence of the Prime Minister, then head towards to Dataran Putra and Putra Mosque, the principal mosque of Putrajaya that is built with distinct Islamic, Mamluk and Moorish architecture style. Do not miss the Putrajaya Lake, just next to the mosque, to relax by its serene calmness or take a cruise trip around the lake. A short drive around Putrajaya allow visitors to explore the various bridges built with different concepts, among them are Seri Wawasan Bridge and Putra Bridge that are both well worth a visit. Later, stop by the Putrajaya International Convention Center to visit various exhibitions / conventions (subject to availability).
| | |
| --- | --- |
| Seri Wawasan Bridge | Putrajaya Lake |
| | |
After sightseeing, have dinner in Putrajaya before back to your hotel in KL city.
Day 2: Cultural, historical and national landmarks – Chinatown – departure

Have breakfast at hotel before embarking on a photography trail of various national landmarks in the city centre. First, visit the King's Palace, the official residence of Malaysia's head of monarchy. Then, stop by the National History Museum, which showcases the rich history of Malaysia, from ancient times to independence. Another landmark that offers much historical insight is the National Monument, a high sculpture that commemorates the fallen heroes defending Malaysia's sovereignty through 1948-1960. A short distance away is the Old Railway Station, built in 1910 and still retaining its originality, follows up with more photo-taking at the Independence Square and the nearby Sultan Abdul Samad Building, where Malaysia's independence from British rule was declared. The National Mosque is also a must visit for its Islamic art and architecture beauty.
To wrap-up the morning, head to the Petronas Twin Towers and be awed by one of the tallest twin buildings in the world and then to Chinatown, where visitors can do some light shopping for souvenirs and have a sumptuous lunch.
| | |
| --- | --- |
| Tugu Negara | Sri Mahamariamman Temple |
| | |
After luncheon at the various stalls in Chinatown, head on to the Sri Mahariamman Temple for a dash of Dravidian architecture. It was constructed in 1873 and is the oldest Hindu temple in Malaysia. More choices for souvenirs are available at the Central Market, or visitors can just simply experience Malaysian art and craft in this busy market place.
Day ends with departure for home.
Recommended Area to Stay in Kuala Lumpur:
Kuala Lumpur City Centre
Full of luxury hotels, spas and shopping malls.
Bukit Bintang
Good for shopping, eateries and night entertainment. Massage parlors can be found easily.
Chinatown
Backpackers paradise, scattered with budget and mid range accommodations. Good place to find good food too.