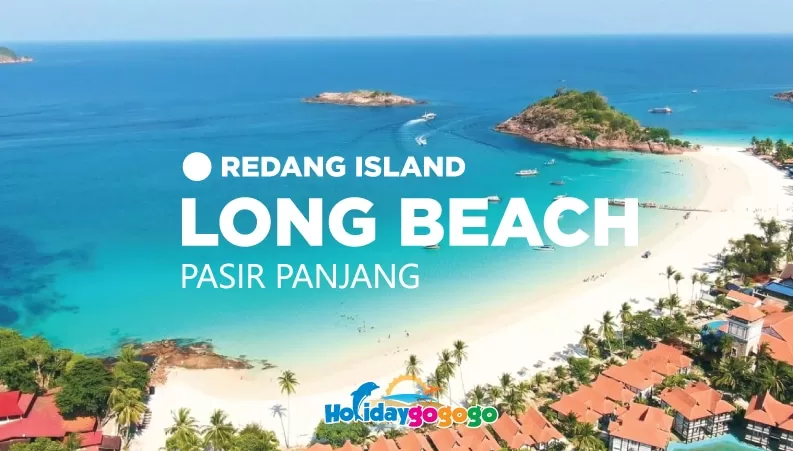 If you're a beach lover, you won't able to resist the gorgeous beaches of Redang Island. There are so many good beaches on this island. In fact, it's not hard to find silky smooth, sparkling white sand beneath your feet at all corners of the island.
Still, there are a few that stand out. Travellers usually agree that Long Beach is the best beach on Redang Island.
Long Beach, or known locally as Pasir Panjang, is a wide, sandy beach facing Redang Island's eastern side. The beach is the heart of the island. You'll find many resorts, eateries and activities to be found here. The beach is busy and constantly buzzing with activity. But it's also breathtakingly beautiful – every square inch of it!
So what makes it so special? Why is it so popular among everyone who visits Redang? Where can you stay here? What is there to do? How do you get here?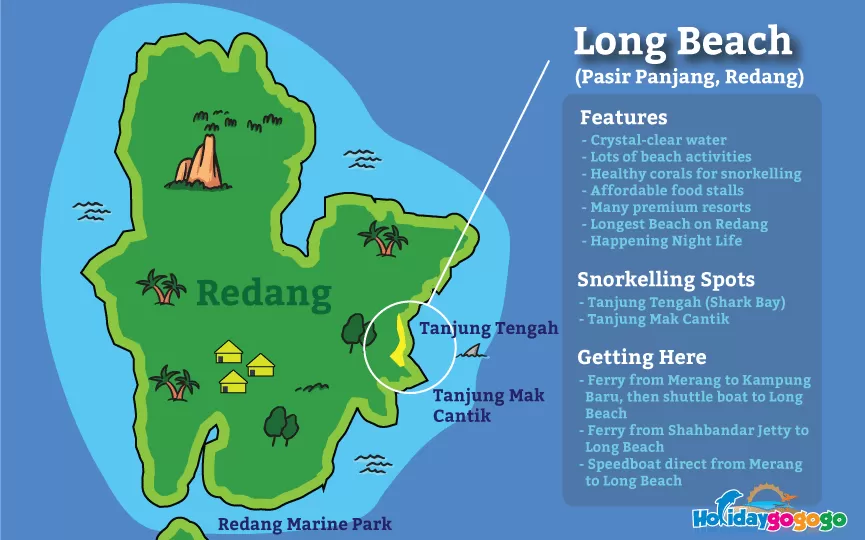 We answer all these and more in this comprehensive Redang Island travel guide!
[lwptoc]
---
What makes Long Beach so special?
Long Beach is the main tourist area on Redang Island, and for a good reason.
The waters at Long Beach are practically see-through. Despite the crowds (the beach is public), Long Beach's waters are still crystal-clear, making it a very desirable swimming location.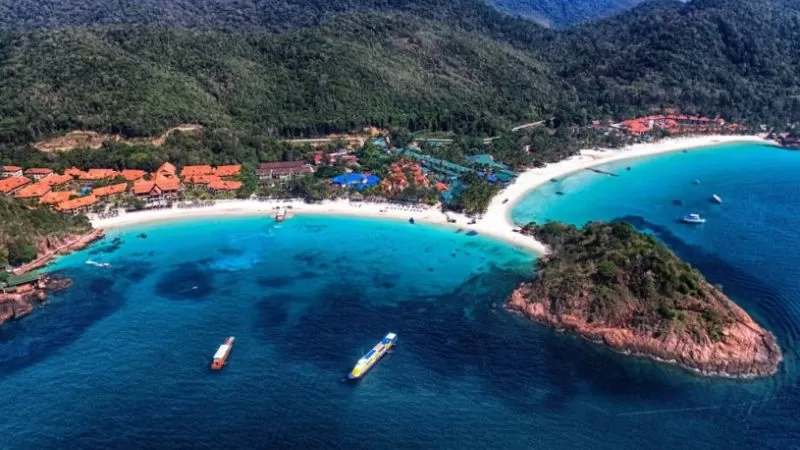 During the day, the beach is alive with tons of beach activities and people having fun. You will find 4 volleyball courts stretching along the shoreline and various tour operators selling excursions and trips. You'll also find groups playing beach soccer on the golden sands.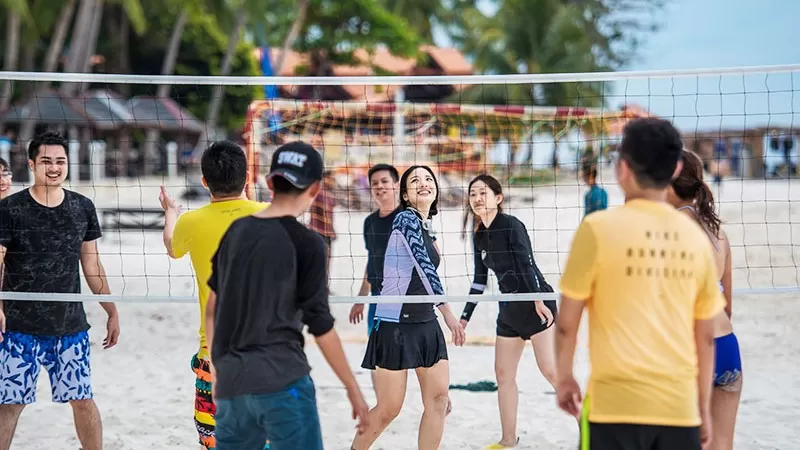 Not only is the beach extremely beautiful, but it is also home to a multitude of shops, restaurants and resorts. For convenience's sake, it is the best location on the island for a hassle-free holiday because of its proximity to everything.
Beach discos, karaoke lounges and shops dot the whole stretch of Pasir Panjang to cater to the large number of travellers who visit this beach. The huge amount of entertainment options, along with food establishments and resorts make Long Beach the busiest beach on the island.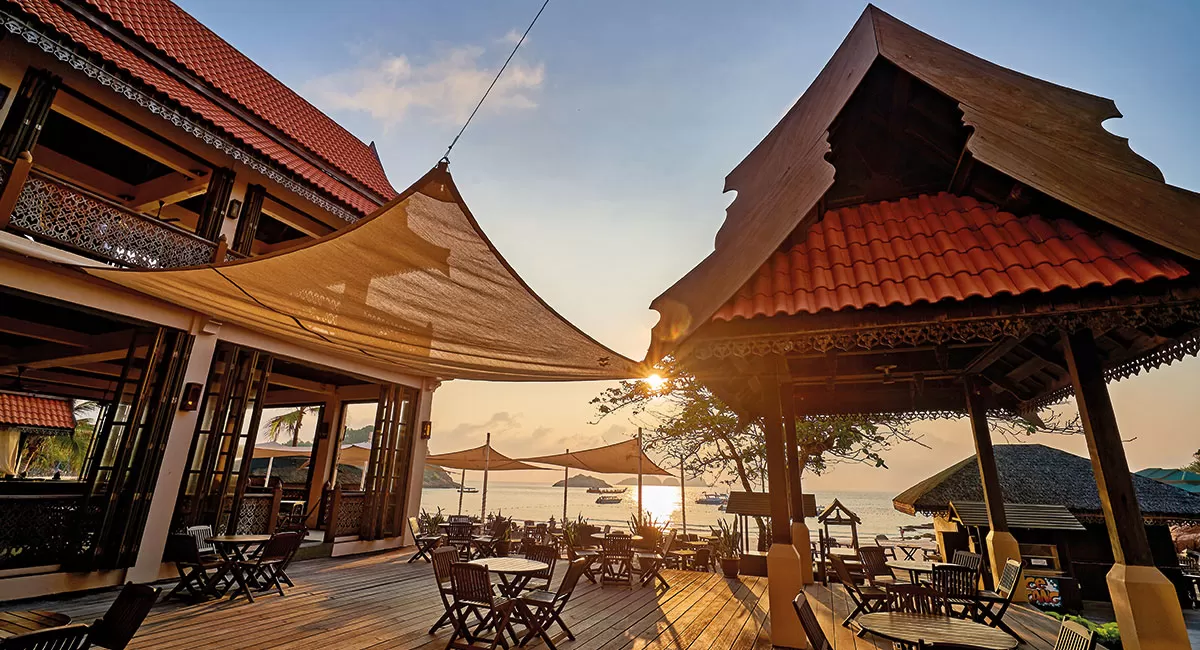 Want a snack? Just walk outside. Want some entertainment? Pop by a bar. Want to dine by the sea? Again, just a few steps away. Anything you could require for an awesome island vacation can be found on the beach itself. Sounds neat right? It is!
Long Beach also contains many snorkelling opportunities right off the beach. Even without boat trips, you can see thriving marine life just metres away from shore. With its crystal clear water, this is one of the best snorkelling beaches on Redang.
Fun fact: Long Beach is also the longest beach on Redang (surprise surprise). Visitors flock here all the time, but it never feels super crowded due to its size!
Snorkelling at Long Beach Redang
When it isn't being covered by beaches, Redang's coastline is rocky and covered with cliffs that plummet straight into the sea. These conditions are actually one of the most conducive to healthy coral reef formation. This terrain feature of the island also means that there is deep water near to the shoreline, attracting many snorkellers and divers who want to see more underwater life.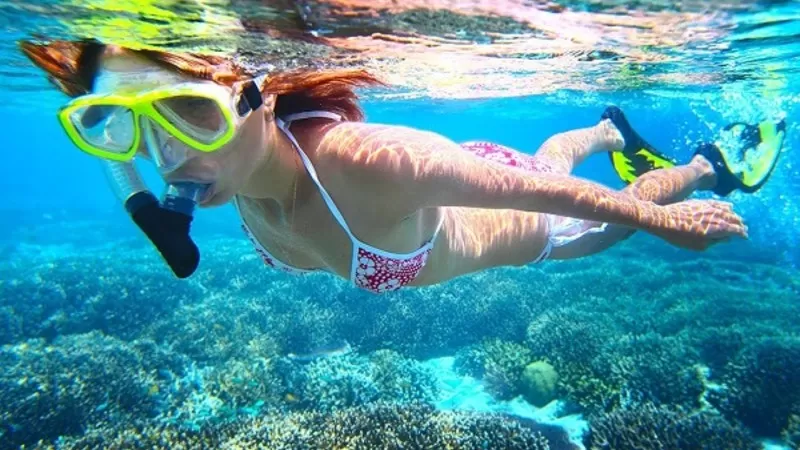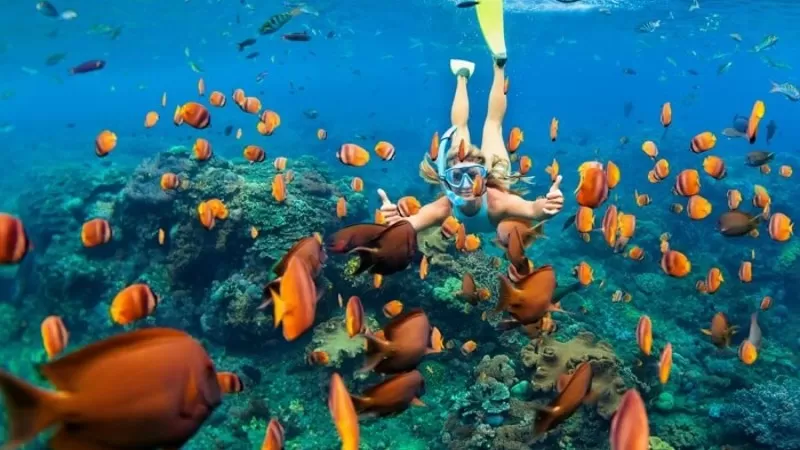 The best time to snorkel is around noon. It is low tide which makes swimming easy. Just relax and let the waves carry you from one place to another. You can save a lot of effort in swimming while still viewing all the marine life Long Beach has to offer!
Suggested Read: 10 Fun Activities To Do At Redang Island
Some good snorkelling spots are along the rocks at the northern and southern end of Long Beach. The famous snorkel spots along Long Beach are:
North End – Shark Bay (Tanjung Tengah)
A family of baby blacktip reef sharks roam around on the northern end, in a snorkelling spot called Shark Bay (or Tanjung Tengah). This snorkel spot is conveniently found at the pointy "V" tip towards the centre of the beach.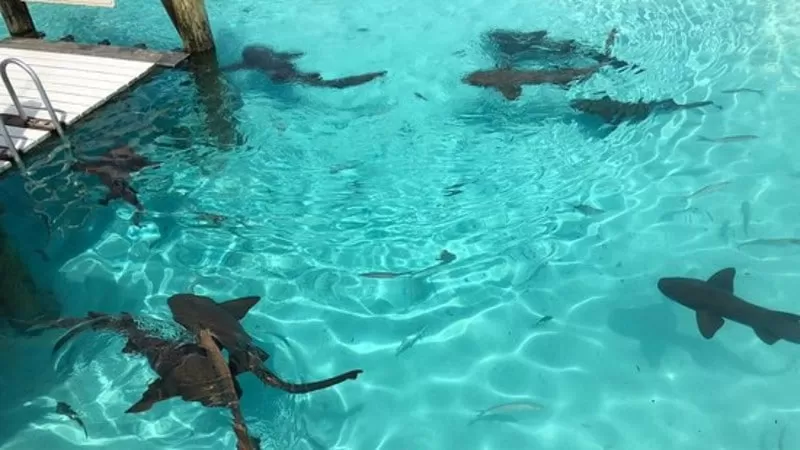 The amount of baby sharks here has given it the nickname "shark nursery". You can also spot moray eels, turtles and of course a whole colourful assortment of reef fish and coral.
Don't worry! These sharks are harmless to humans. They've grown accustomed to human presence as well.
Tip: Come from March to August for the best time to spot these sharks in great numbers! I'm not kidding when I say a family of sharks!
South End – Tanjung Mak Cantik
Walk to the southern end of the beach, and you'll arrive at another snorkelling spot called Tanjung Mak Cantik. This reef area can be found in front of Redang Reef Resort.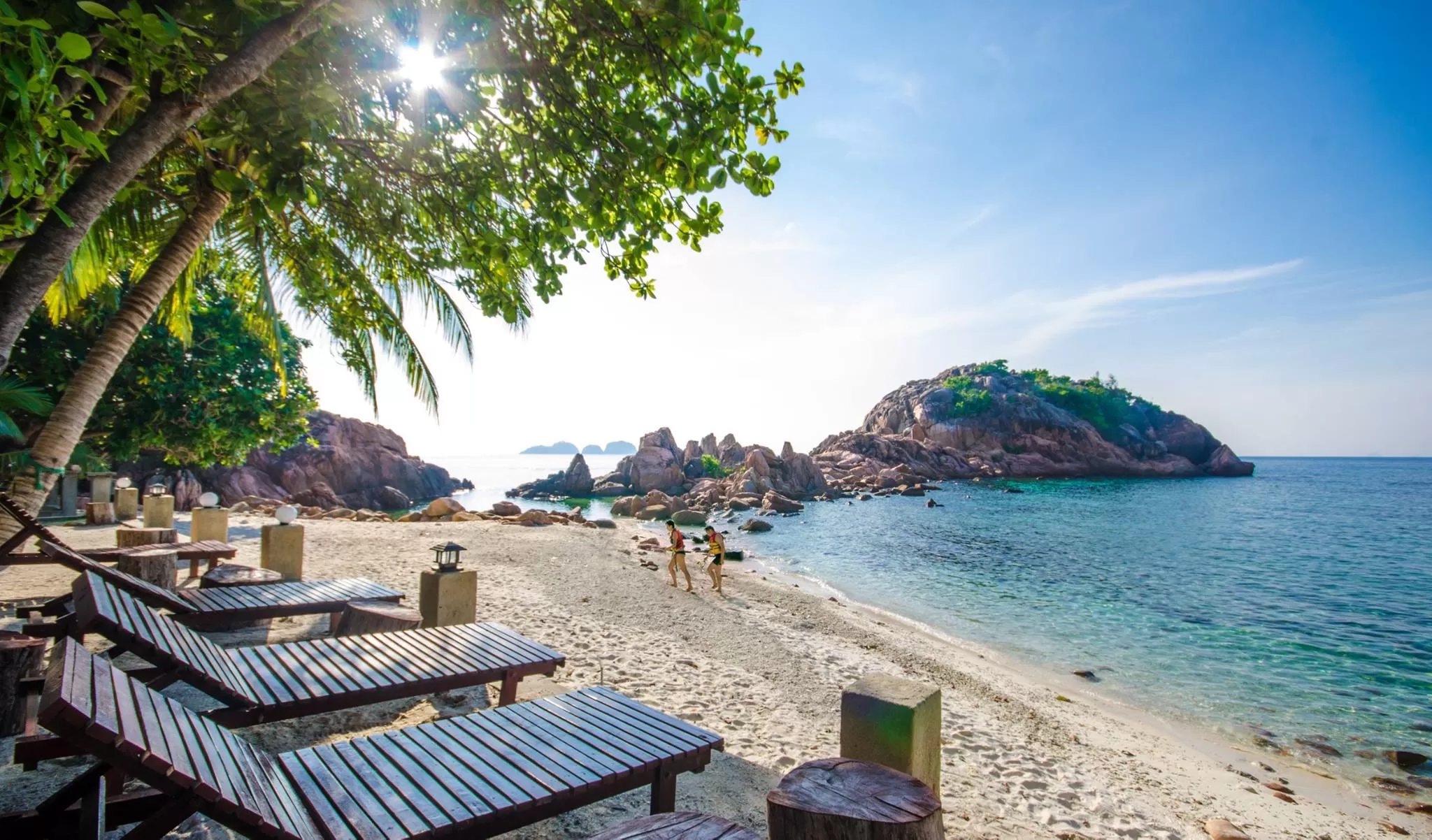 Just like the resort itself, this snorkelling spot is quite removed from the busyness of Long Beach itself, so you can expect less crowds and more privacy. All sorts of marine life live here, including titan triggerfish, turtles, squid, porcupine fish, giant grouper, clams, stingrays and more. Look closely under rocks or table corals to find some more shy species.
The best way to enter this spot is via the waters in front of the resort. Then slowly make your way around and stop when the waters get too rough to swim in.
Middle Area
Tired of all the snorkelling. Want a place where you can just relax and swim around in the calm, blue sea? The middle area of Long Beach Redang is just right for you.
The centre of Pasir Panjang is a coral-free, sandy section that is absolutely suitable for relaxed swimming. Imagine your own swimming pool that never ends. That's what you're getting when you swim at this coveted spot.
On a sunny day, the ocean sparkles and reflects the light. This results in an amazing range of colours from a sapphire blue to an emerald green. It's a super relaxing place to be and does wonders to calm your soul.
Resorts on Long Beach Redang
As one of the most popular beaches on the island, Long Beach houses several of Redang's resorts and hotels. These cater to different travel groups, budgets and needs.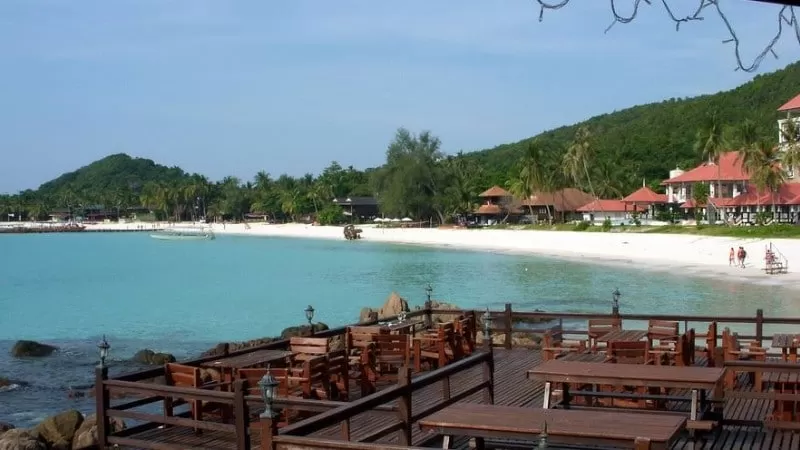 In fact, most of Redang's best resorts are located here!
Sari Pacifica Resort & Spa, Coral Redang Island Resort, Redang Beach Resort, Redang Paradise Resort and Laguna Redang Island Resort are all found on Long Beach.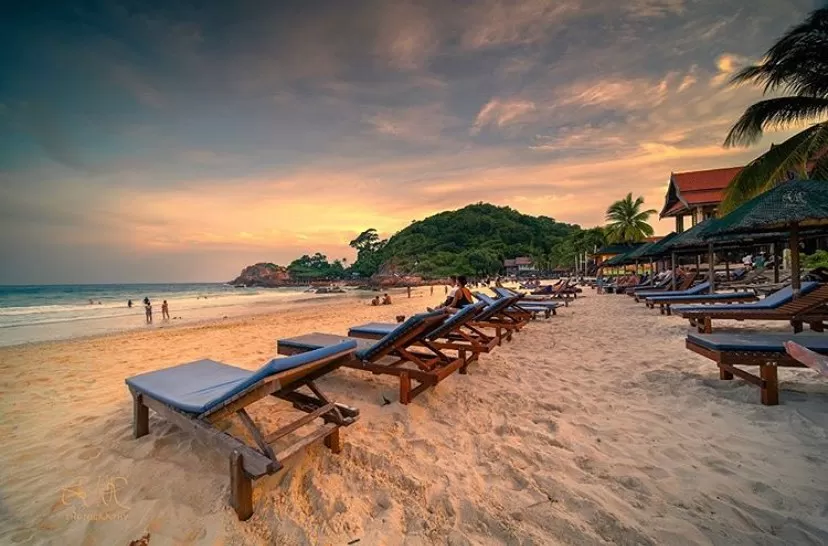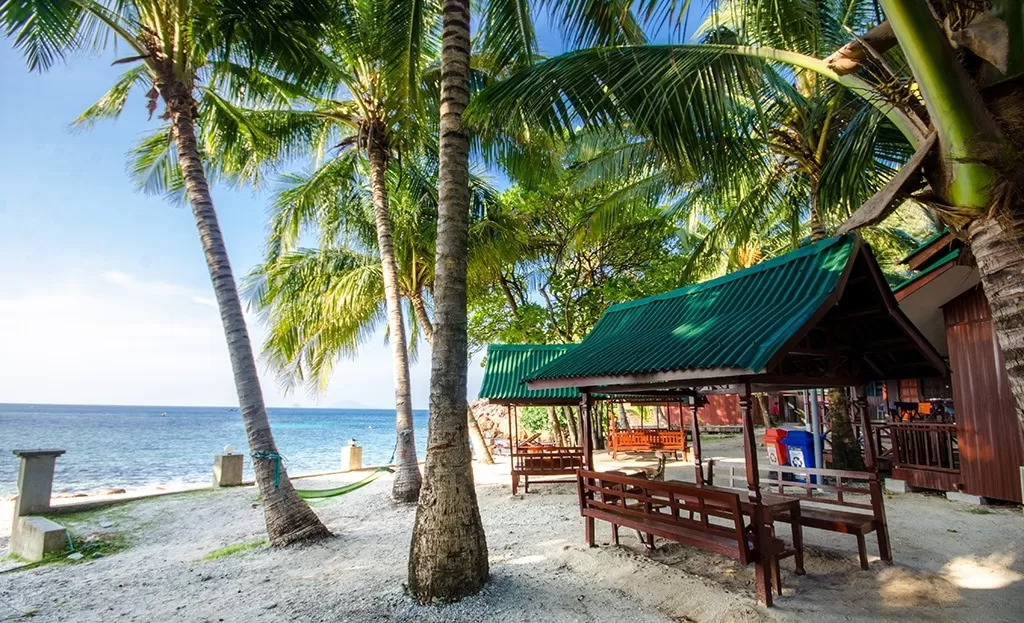 For privacy, travellers should look to resorts located at both the beach's ends, such as Redang Reef Resort and Redang Holiday Resort, as well as the standard rooms of Laguna which are located in the vicinity of their dive centre at Teluk Bakau. These resorts are removed from the centre of the beach and thus draw fewer crowds.
Food at Long Beach Redang
Alfresco dining is the name of the game at Long Beach. You'll find many open-air food stalls and carts dotting the beach. Expect home-cooked local Chinese or Malay style dishes à la carte. The best part? Taking in the gorgeous open sea view while you eat!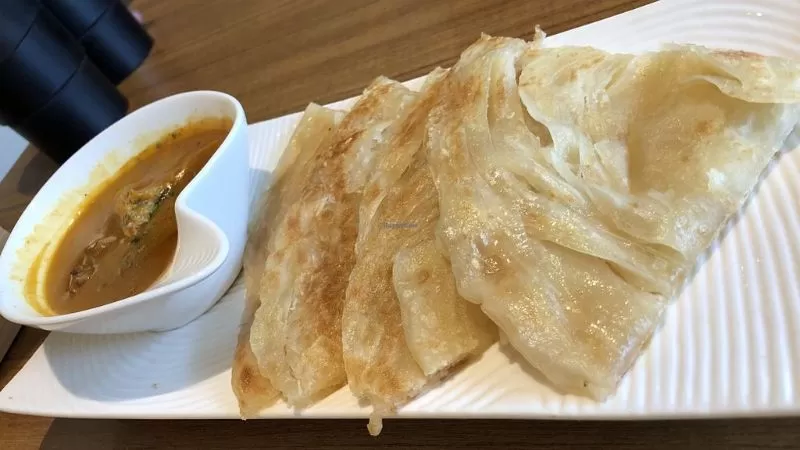 Dining by the sea will never get old. It is part of the island experience, after all.
Long Beach also features food courts such as Laguna's Food Court, Redang Beach's Summerpoint and Kopitiam and the eateries at Redang Bay.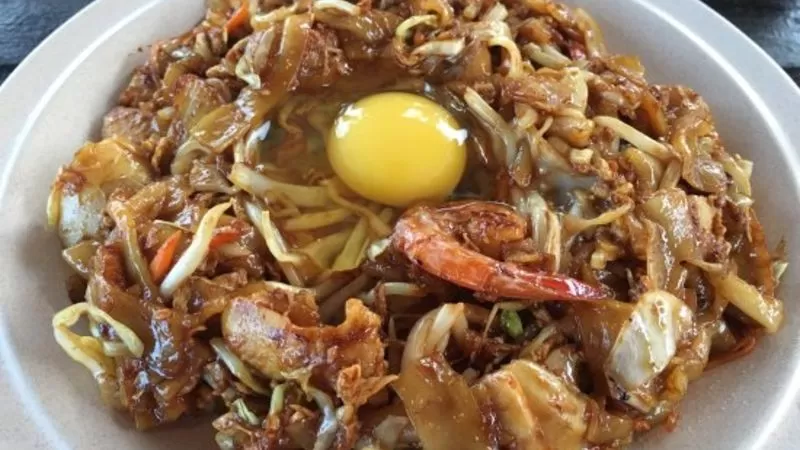 These food centres serve almost anything you could want, including local favourites such as Ramly burgers, Roti Canai, Fried/BBQ Seafood, Fried Rice and Noodles, Kerepok Lekor, Ice Kacang, and so much more.
Those with smoother palettes can also dine in at resort restaurants. These are more expensive but refined meals. If you're travelling to Redang with a resort package, chances are your meals are already covered at your resort's restaurant, too.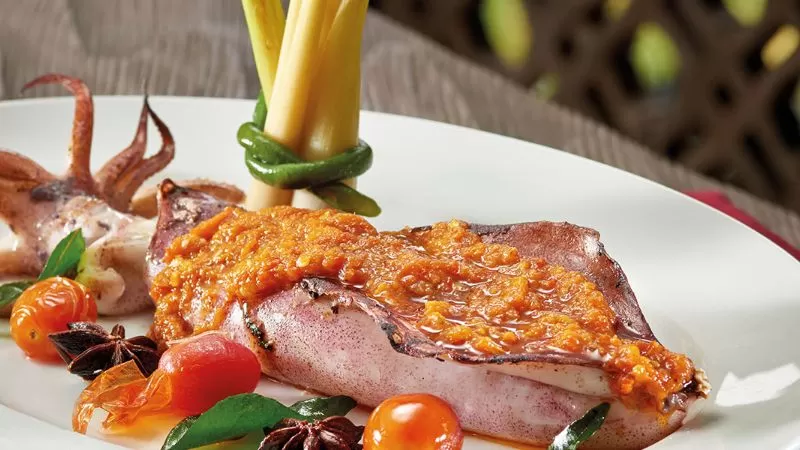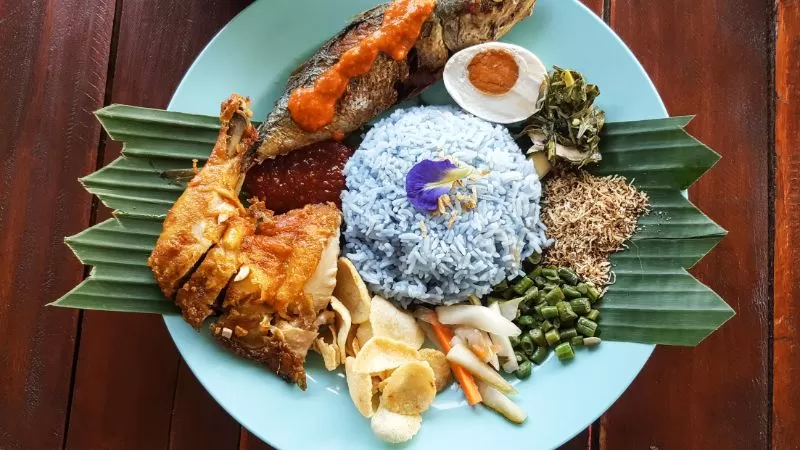 Tip: Check out the only bakery on the island, only at Redang Beach Resort!
Nightlife at Long Beach Redang
We get it. Sometimes, a full day of snorkelling, diving, swimming, volleyball, sunbathing, kayaking is just not enough. You still have some leftover energy and don't know where to put it. Boy, do we have good news for you.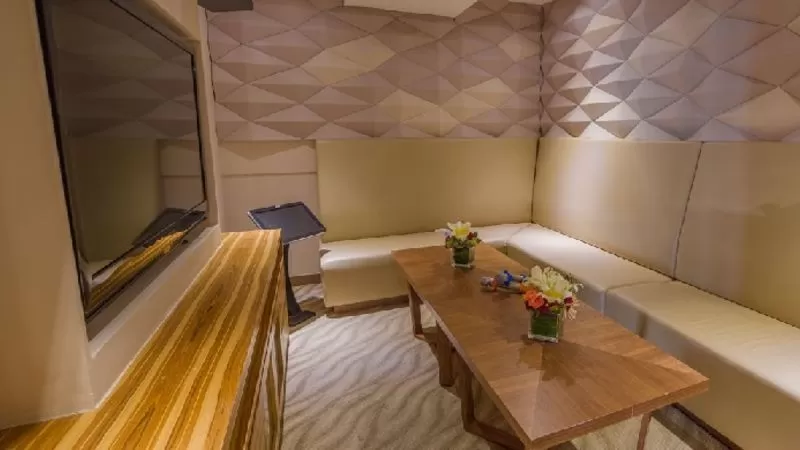 Long beach is the right place to be if you're craving that nightlife energy!
For an exciting time after dark, visit the beach discos at Redang Beach Resort and Redang Pelangi Resort or the indoor air-con disco at Redang Laguna Resort and dance the night away. If you sing well (or even if you don't), you can pop by the many outdoor karaokes offered by resorts. Indoor karaokes are also available.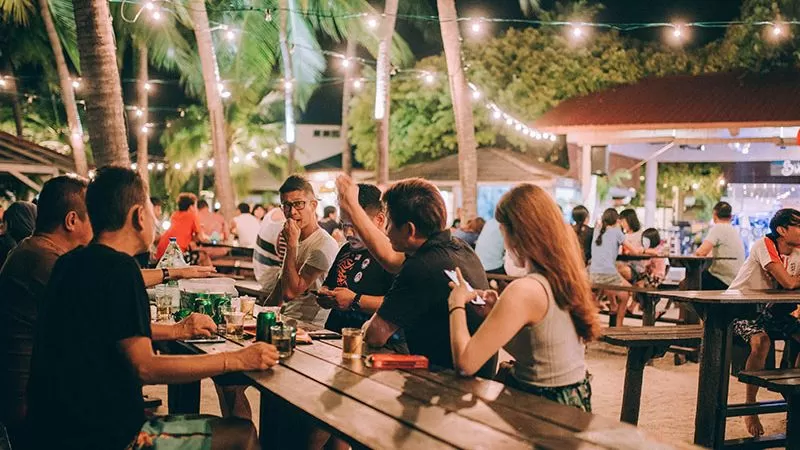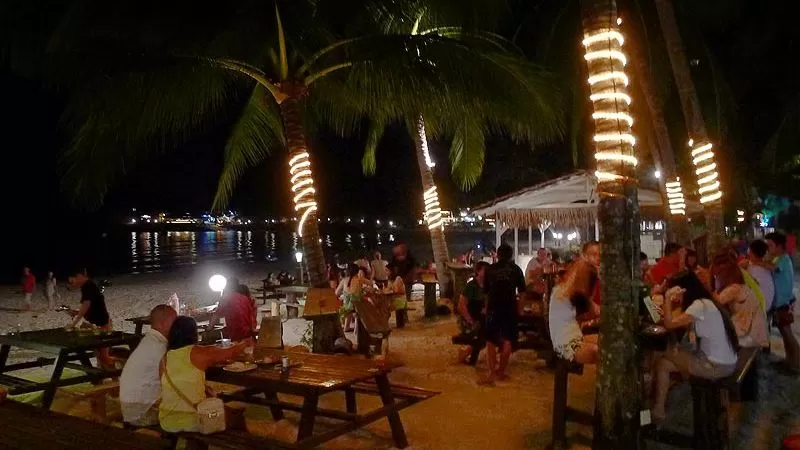 For a more chilled nightlife experience, you can bar-hop at various resorts where beer, wine and alcoholic beverages are served. Island bars are the best place to meet new people and make new friends.
Or if you're just feeling peckish, head out for some supper while jazzing to the smooth tunes of live bands at The Taaras Beach & Spa or Redang Laguna.
Sunrise at Long Beach Redang
Sunrise watching is one of the best activities in Redang. If you can get over waking up at 6 am during a holiday, you'll be generously rewarded for your efforts (and dare I say respectably insane determination).
Your half-asleep eyes will be bathed by the most beautiful sunrise ever. Ember colours of an island sun rising over the horizon wash over you. Watch as the sea turns a bright burning red and orange. The sun reflects and makes the waves sparkle. Being at Long Beach for this means you get front row seats to this spectacular event in nature. Assuming of course that the weather is good.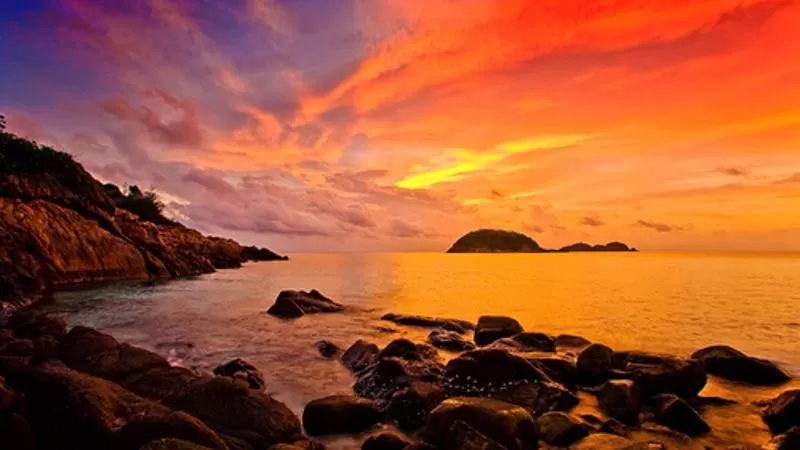 For sunset watching, you'll have to get to the west side of Redang Island. Unfortunately, there aren't any resorts or beaches on this side of the island. If you really want to make the sunset view, you can charter a boat or join a sunset cruise offered by some resorts.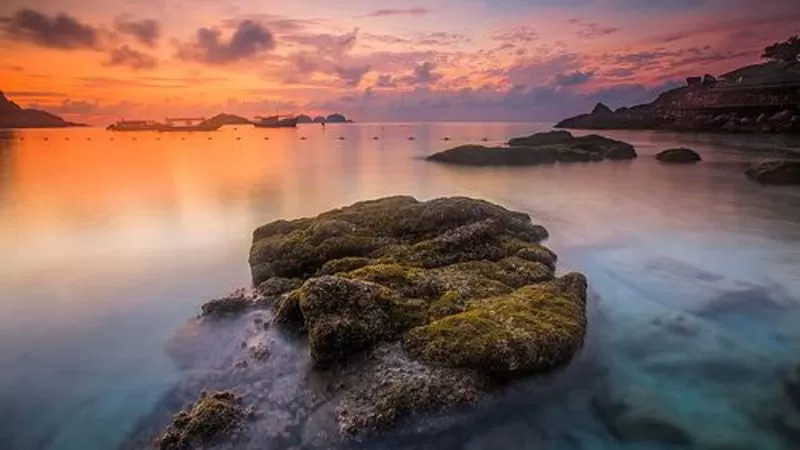 Redang Island's beaches are some of the best in Malaysia. Long Beach is no exception. Its natural beauty is further amplified when soaked in the rays of the warm island sun.
How To Go To Long Beach Redang
If your resort is located on Long Beach, then your transport should be arranged by the resort. Depending on the resort's arrangements, you will either board the ferry from Merang Jetty to Kampung Baru, and then take a shuttle boat over to Long Beach; OR; take a speedboat directly from Merang Jetty to Long Beach itself. The latter option is more convenient and usually offered by more premium resorts.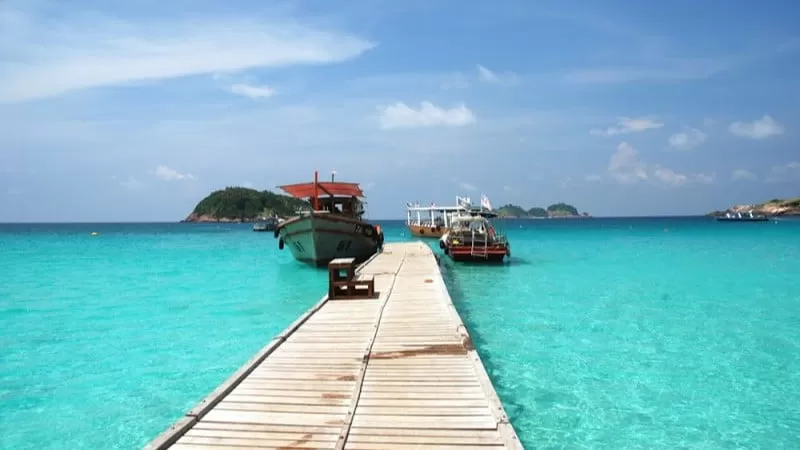 Suggested Read: Redang Island Facilities & Services
The journey is rather comfortable. Your feet should not get wet at all. However, if the waves or tides are higher than usual, then your feet might get splashed.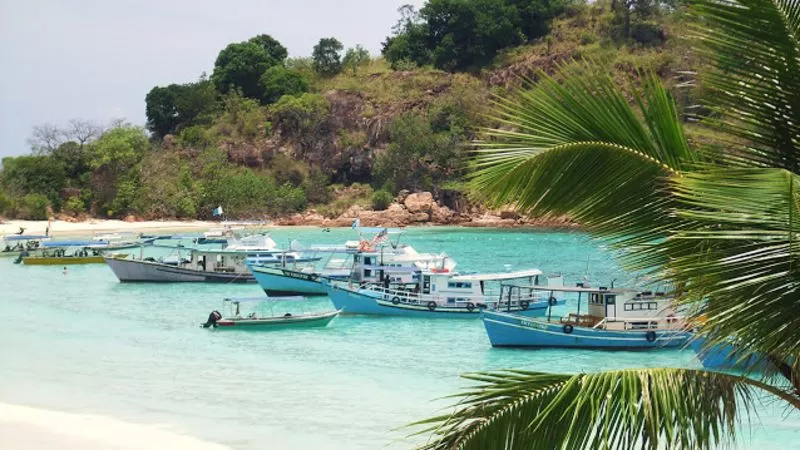 On Long Beach itself, getting around it easy. If you're staying on Long Beach or its nearby areas, then walking is the best mode of transportation. Everything is near and easily accessible.
Of course, all this applies if you're travelling with a resort package. But what if you're just visiting? Or your resort doesn't provide transportation services?
If you're travelling without a resort package, you can board the public ferry to Kampung Baru, where you'll have a couple of options to travel to Long Beach. Read on to find out how to get to Long Beach from Kampung Baru.
Long Beach to Kampung Baru (and vice versa)
Travelling between Long Beach and Kampung Baru, the island's main township that rests at the centre of the island, is not as straightforward. To get to the east side of the island where Long Beach is nestled, you will need to trek through a jungle trail. This trail is best navigated with a guide which you can hire at a low price.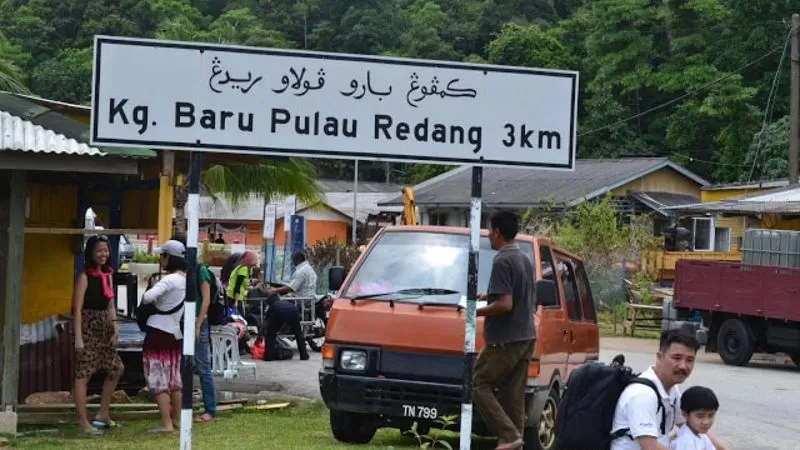 This is by far the cheapest way to get from Long Beach to Kampung Baru.
Along the way, you are essentially immersed in the lush island rainforest. You might even see some rare wildlife such as macaque monkeys, squirrels, and monitor lizards.
You can also get to Kampung Baru by boat, albeit at a costlier price. It can cost up to RM100 (about USD 25) per person from Kampung Baru to Long Beach, or vice versa. Fortunately, this price is often negotiable depending on demand and the number of passengers on board. You can also approach local villagers to discuss a price that's comfortable for both parties.
Tip: Instead of just booking a return trip at a high price, try to slot in your visit to Long Beach via an excursion. Excursions are offered by many of Kampung Baru's local tour operators and resorts. These comprise a boat tour that stops at some of the best snorkelling sites on the island, including Long Beach. This way, you get to enjoy Long Beach and many other attractions around Redang at a much more affordable rate.
---
Conclusion
Long Beach, or Pasir Panjang, is a wide fine sand beach with snorkel opportunities. For day and night action, this is the place to be. You'll find many resorts, cafes and shops strung out along this popular beachfront – enough to keep both beach and sea lovers happy. For some privacy, head to both ends of the beach which are significantly quieter. You can walk from end-to-end in 20 minutes, but be prepared for it to take longer as you stop by interesting shops and scenic viewpoints along the way. Reefs located at Tanjung Tengah and Tanjung Mak Cantik are gorgeous and are great for snorkelling nearby the beach.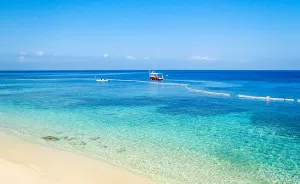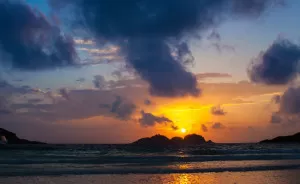 Whether you want to relax, play, or explore nature – Long Beach is a must-visit destination and a superb beach on Terengganu's captivating east coast. Don't miss this beautiful beach the next time you travel to Redang Island!
Popular Redang Tours