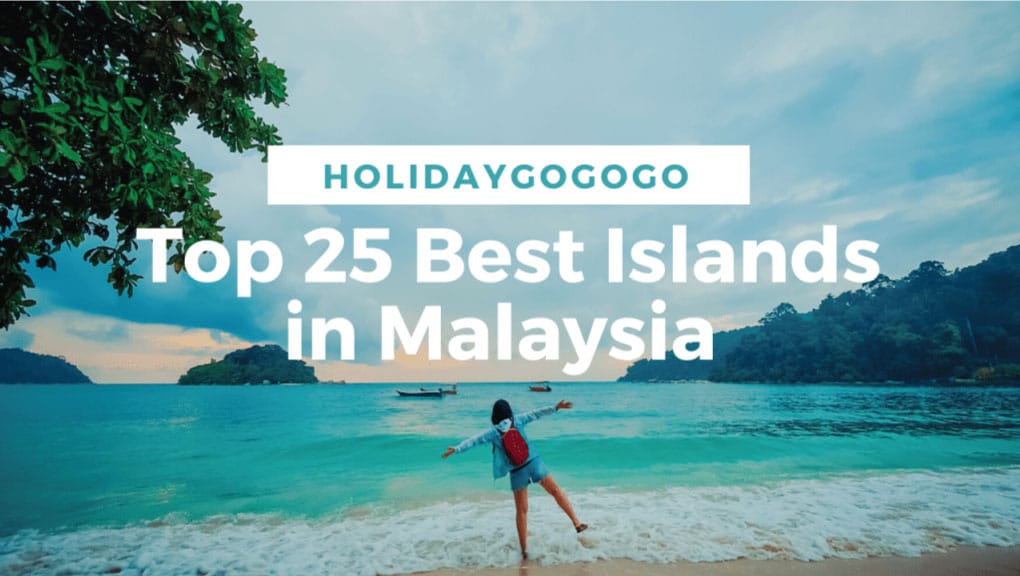 Malaysia is home to many paradise islands that will make you go "Wow, how did I not know of this place?". Imagine blue crystal-clear waters, thriving marine life and gorgeous views to die for. Still, if you haven't been to any of these spectacular islands at all, it's not too late. 
Each of these islands have something unique to offer for everyone. Whether you're planning for your next family trip, honeymoon, graduation trip, friends gathering and more – these are the 25 best islands in Malaysia that you should add to your travel list A.S.A.P.
[lwptoc numeration="none"]
---
1. Besar Island – Simple Island Living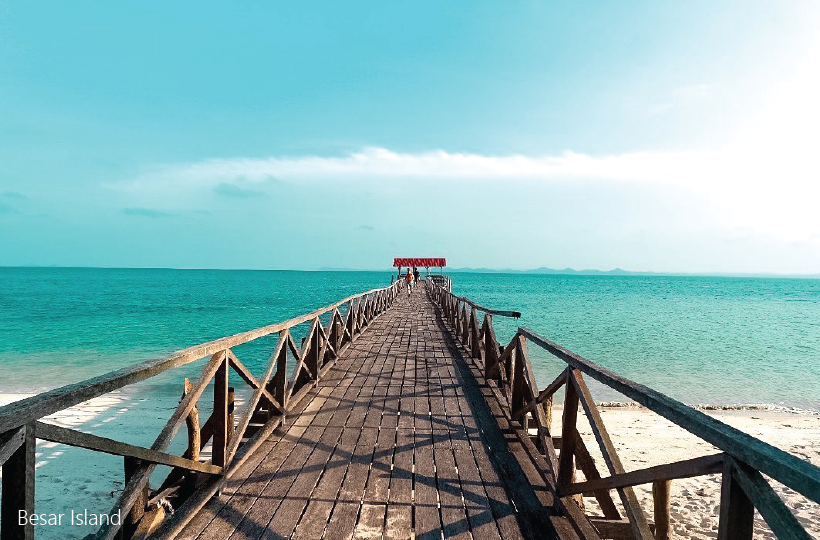 Image: @lamyerda
Nestled amidst the tropical rainforest and pristine ocean, Pulau Besar off the coast of Johor is known for its tranquillity and relaxing environment. To reach this paradise on earth, you'll have to hop on a short 20-minute speed boat ride from Mersing Jetty. Once there, Pulau Besar lets you enjoy the pleasures of simple island living.
Spend the day exploring the tranquil beaches surrounding it, or enjoy some fun water activities (provided by your resort). There are also rugged paths to explore for some treks or simply laze on a hammock to enjoy the relaxed way of life and beautiful sweeping views that lie before you.
Highlights
Short 20-minutes' distance from Mersing Jetty
Film site for Swedish Game Show "Expedition Robinson"
Perfect wedding venue, many resorts here offer hosting services
Not commercialized. Quiet and less entertainment options
---
2. Gaya Island – 5-Star Resorts To Spoil Yourself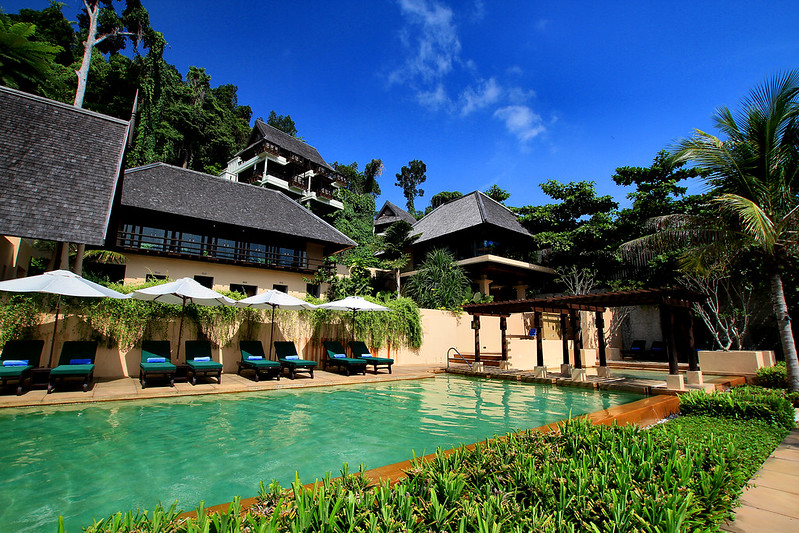 Image: phalinn
Gaya Island is the largest island in the Tunku Abdul Rahman National Park, nearest to downtown Kota Kinabalu and is covered all over with dense virgin, tropical forests.  The island offers 20 km of hiking trails and 3 5-star resorts that offer the utmost luxury when it comes to paradise living.
Gaya Island is renowned for its iconic Police Bay beach. The 400 meters stretch of white, pristine sand slopes gently into the sea, making it the perfect place for gentle swimming in crystal clear water. The coral reefs along the entire coast of Gaya island are relatively untouched and promise to reward divers' efforts with a beautiful, immersive experience.
Read: Sabah Activities Guide
Highlights:
Largest island in the Tunku Abdul Rahman National Park
The island is blessed with a golden sandy beach, rocky coastal outcrops, and coral reefs in abundance
Choose from 3 5-star resorts to spoil yourself with
---
3. Gemia Island – A Private Island All To Yourself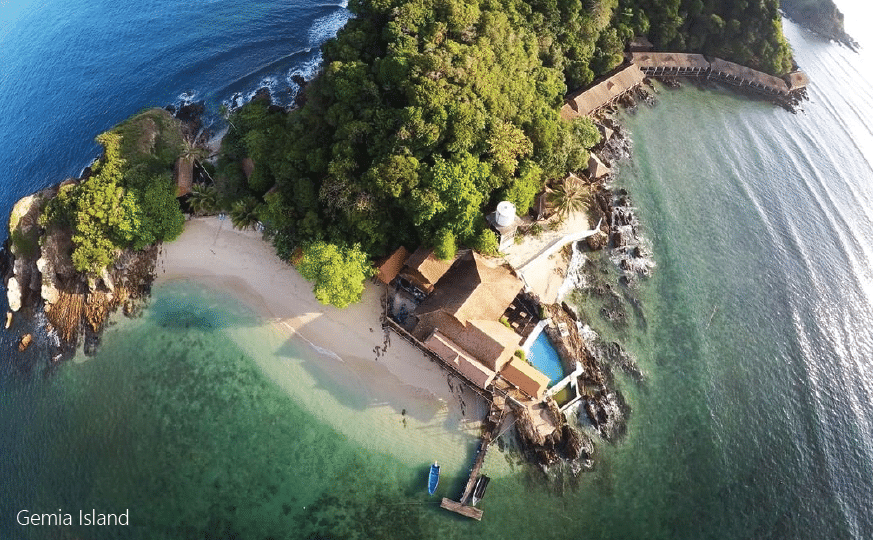 Image: @yugo.travel
Gemia Island is special on this list for being, in all aspects, a tiny paradise. The island only measures 9 acres! It is located right next to Kapas Island.
There is only 1 resort on the island to accommodate its small number of tourists. Gem Island Resort & Spa offers beach getaways with waterfront villas, peaceful white sands and luxurious spa treatments. Rooms stretch all the way along the island's rocky shores. The resort provides full board or half board packages for guests' convenience, with honeymoon packages also readily available for lovebirds.
For the adventurous (and good swimmers), attempt a round island swimming trip, or simply swim to Kapas Island to have a glass of coconut drink and laze away the afternoon!
Falling in love with Gemia Island means enjoying every bit of the visual treats it offers.
Do you enjoy waking up to the rippling sound of water and waves crashing over the rocks below your villa? How about sitting on your room's sundeck while watching the fish, crabs and blacktip sharks roam the waters below you?
I don't know about you, but it's a hard YES from me.
Highlights:
Gemia Island is only the size of about 7 football fields
Gem Island Resort & Spa is the only resort operator on the island
Gemia Island is surrounded on all sides by beautiful coral gardens and colourful marine life
Graceful sharks swim in waters between Gemia Island and Kapas Island during the evening while looking for food (they are harmless)
---
4. Kapalai Island – The Most Beautiful Island That Isn't An Island At All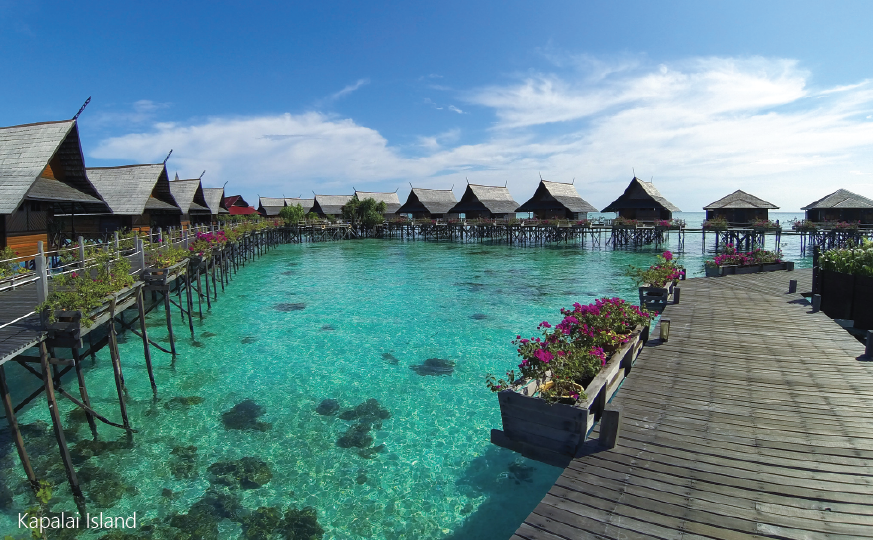 Image: Benjamin Hollis
A 45-minute speedboat ride from Semporna, Kapalai Island is one of the world's most spectacular diving harbours. However, what makes it so unique is that it is not really an island at all!
Kapalai Island was once a "real" island 200 years ago until it was slowly eroded by the sea. What remains today is a pristine sandbar that will vanish into the sea during high tide. This idyllic, sun-steeped paradise sits in the middle of the Celebes Sea, with no land in sight.
There is only one resort here, the Sipadan-Kapalai Dive Resort; its surreal water chalets are built entirely on stilts atop shallow waters near the edge of the Ligitan Reefs. This gives the impression of a resort "floating" in the middle of the sea!
All the rooms come with an inviting sundeck. The sundeck is the perfect place to read a book, work on a tan or indulge in an afternoon siesta. The resort offers rentable facilities for diving, snorkelling and kayaking via an attached dive centre that also provides a wide range of PADI courses including Open Water Diver and Night Diving Introduction.
Read: A Step-by-Step Guide: How To Become A Certified PADI Open Water Diver In Malaysia
Highlights:
Pulau Kapalai is actually not an island at all, but a sandbar
The resort here is built entirely on stilts and gives the impression of a "floating" resort
Stingray, tiger fish, angelfish and turtles are a common sight and will swim around below your feet
The island is in close proximity to Mabul and Sipadan Island – the world-class diving sites of Sabah
---
5. Kapas Island – Picture Perfect!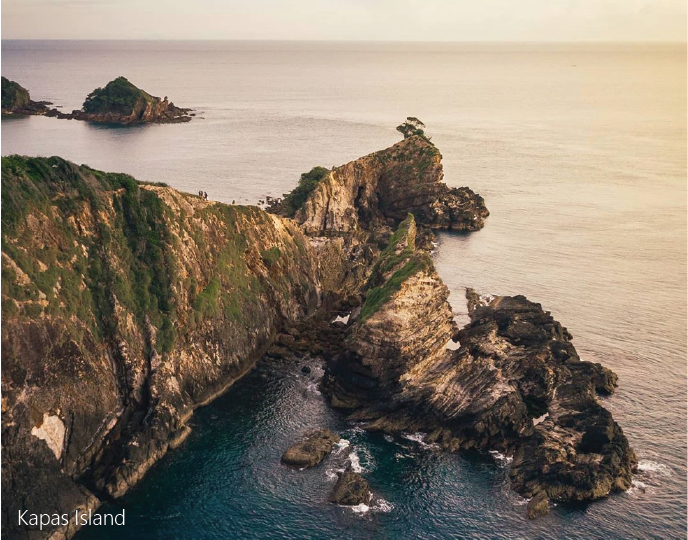 Image: @kovzzz
If you're looking to settle down for a relaxing island holiday while snapping away on your smartphone, Pulau Kapas could be just what you need. The island is located about a mere 6 kilometres east of Marang, Kuala Terengganu.
Explore around the coast of Kapas Island and find some of the most beautiful Instagram shots to showcase a perfect tropical paradise. A handful of resorts along the beach cater for a traveller demographic that doesn't mind travelling on a budget.
One interesting thing about Pulau Kapas is that you can travel from one stretch of beach to another using pathways that are built along the beaches. Take note of the low and high tides as some of the island's secluded and most spectacular beaches will require low tides so that you can cross them.
Pulau Kapas is also home to beautiful underwater marine life and an abundance of coral reefs. Some claims are flying around that they are even better and healthier than those found in mega-popular islands such as Pulau Redang or Pulau Tioman! So what are you waiting for? Jump in and see for yourself!
Read: How To Get To Terengganu's Islands
Highlights:
Beaches are secluded and usually empty of tourists
Resorts cater to a backpacker crowd
Walkways make travelling between beaches easier
Beautiful underwater life and coral scenery
---
6. Lang Tengah Island – The Finest Turtle Sanctuary In The Region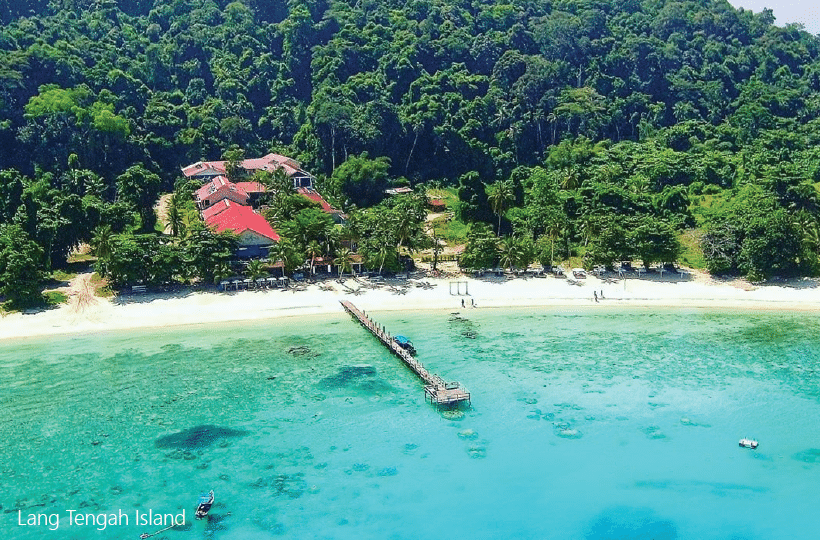 Image: @evgeniya.kuzmicheva
Lang Tengah Island is a hidden gem tucked between its larger counterparts – Perhentian Island and Redang Island. The island draws high praise for its beautiful diving and snorkelling sites. The island is just under two miles in length, the western side is fringed by white sand and shallow waters, while the eastern coast is a dramatic stretch, featuring rugged granite rocks.
Swim alongside parrot fish, baby sharks, blue-ringed angelfish, clownfish and more with extensive collections of colourful corals and marine anemones. If you want to have guided snorkelling and diving tours, each resort on the island comes with attached dive centres offering a range of diving and snorkelling packages; plus canoe and kayak rentals if you're up for a workout with a view.
A great activity here is to visit the Lang Tengah Turtle Watch (L.L.T.W.). This turtle conservatory can be found on Turtle Bay, a secluded beach among the others on the island.  Besides serving as the main nesting area for many turtles (you can see them on the beach!), this is also where the region's best turtle conservation and research efforts take place.
Read: 7 Reasons To Visit Lang Tengah
Highlights:
Untouched diving and snorkelling sites; swim alongside reef sharks and mantas
Visit Lang Tengah Turtle Watch (L.L.T.W.) to learn more about their efforts in safeguarding the nesting population of turtles on the island
Note: Due to the COVID-19 pandemic, L.L.T.W. has postponed its volunteer programme and will, therefore, not be accepting applicants for the 2020 season. You can follow the updates via their Facebook page
---
7. Langkawi Island – The Jewel Of Malaysia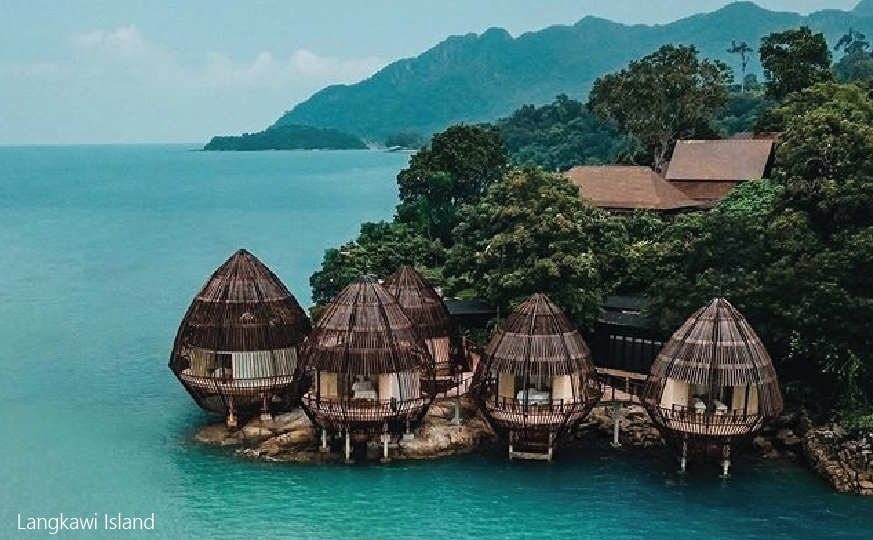 Image: @spot_visiting
Langkawi is an archipelago on the west coast of Malaysia consisting of 99 islands. It is located in the state of Kedah. As one of the most popular and best-known beach destinations in Malaysia, the massive island is home to historic attractions, comfortable resorts, great food, excellent diving opportunities, thrilling nightlife and dirt-cheap shopping.
The island is famously known for its duty-free goods such as beer, tobacco and of course, chocolate!
From the expansive Underwater World Langkawi along Pantai Cenang, the soaring Cable Car in Pantai Kok, to the infamous Dataran Lang (Eagle Square) statue, Langkawi is an entertainment hotspot that draws in the crowds and tour groups all-year-round.
Despite its heavy commercialization, Langkawi still retains some natural offerings for nature lovers. The island's interior is a mixture of picturesque paddy fields and hills lined with lush forest greens. Nature-oriented travellers will be captivated by its powder-fine, sandy beaches as well as its countless coconut trees swaying in the wind.
Highlights:
Pentai Cenang is the most popular beach and tourist area in Langkawi, with tens of thousands of visitors each year
Offers many interesting activities – from theme parks, cable cars and exploring geoparks to snorkelling and island hopping
The island of Langkawi can be reached by sea and air
Duty-free shopping; locals visit to purchase cheap chocolate and alcohol
---
8. Lankayan Island – Up And Coming Dive Hub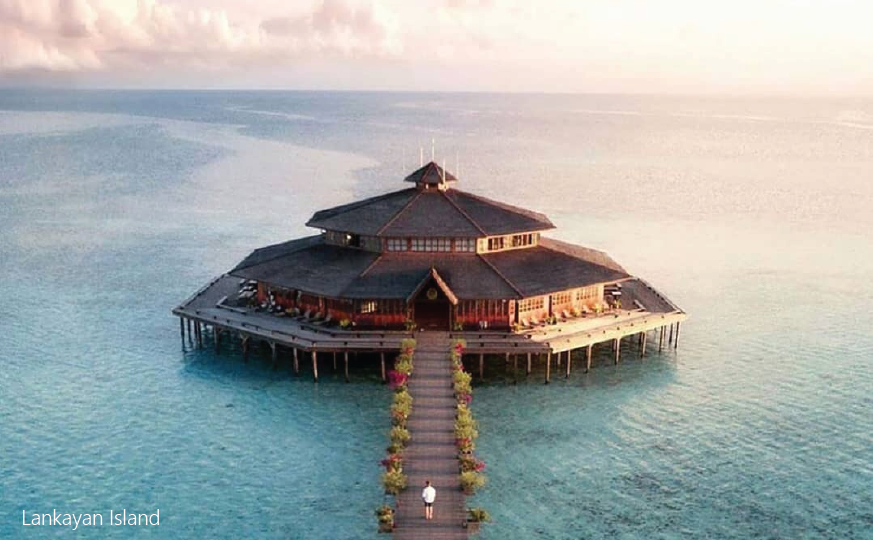 Image: @vintage81travel
Lankayan Island is a modest jewel-shaped island found on the northeastern coast of Sabah – a 1.5-hour boat rides north of Sandakan. As part of the Sugud Islands Marine Preservation Zone (S.I.M.C.A.), the island is surrounded by blue, clear waters and dense coral reefs. With unbelievably colourful macro, fauna, fascinating wrecks and in season from March to May, regular sightings of gigantic and harmless whale sharks, it has grown a reputation as one of Sabah's best diving spots.
This is the ideal destination for travellers looking for tranquillity and relaxation. A holiday here will take place in a virgin natural setting and is excellent for families looking to expose their children to the big outdoors.
Located within the Sea Turtle Corridor, Lankayan Island is also a breeding place for sea turtles; most commonly Green and Hawksbill Turtles. Lucky travellers will get to see these majestic creatures nesting as well as witness hatching baby turtles being released to the sea. The best period to see this is during the nesting season from June to September.
Highlights:
Located within Sea Turtle Corridor, lots of turtle sightings
A popular diving spot known for historical wrecks and beautiful reefs
Suitable for families and peace-searchers due to its tranquil atmosphere
---
9. Mabul Island – Land Of The Fish Tribe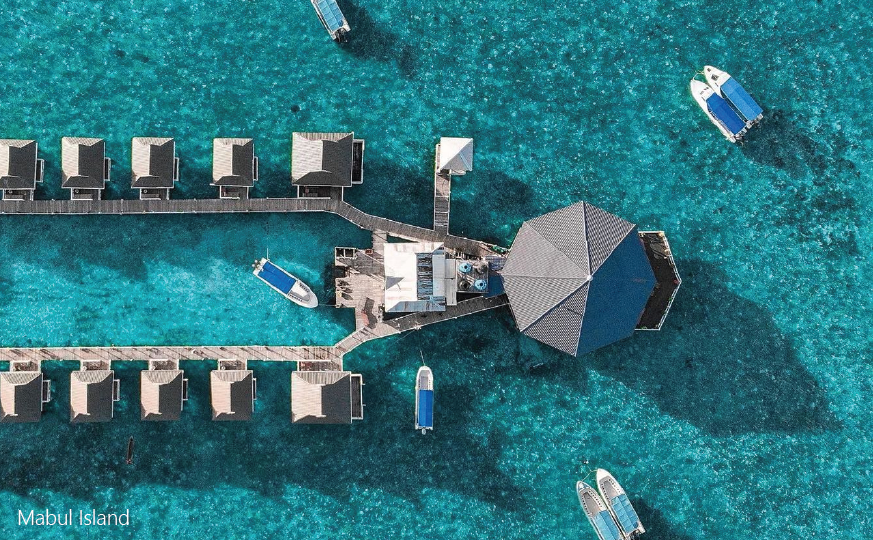 Image: @thecutisociety
Mabul Island lies off the South-Eastern coast of Sabah and is home to two large fishing villages. The villagers mainly consist of Bajau Laut (Sea Gypsies) and Suluk Muslims who live a nomadic lifestyle with boats as their primary means of travel.
The Bajau Laut are known for their dexterity in the water and their special connection to the ocean. Bajau kids grow up learning to swim before walking! These people have chosen a seafaring way of life; they rarely set foot on land. Learning about their culture and history will amaze you. Even till today, they keep to their traditions, and you can find them living in wooden houseboats or stilt huts built atop coral reefs near Mabul and its neighbouring islands.
The reef of Mabul lies on the edge of the continental shelf while the seabed around the reed slopes to a depth of 25 to 30 metres. The island is incredibly rich in tropical, small marine life.
Highlights:
Excellent diving spot for small marine life
Bajau Laut villagers live here. Experience their seafaring culture first-hand on the island
There are 6 resorts – most located on the island or on stilts over the water
---
10. Mataking Island – Malaysia's First Underwater Post Office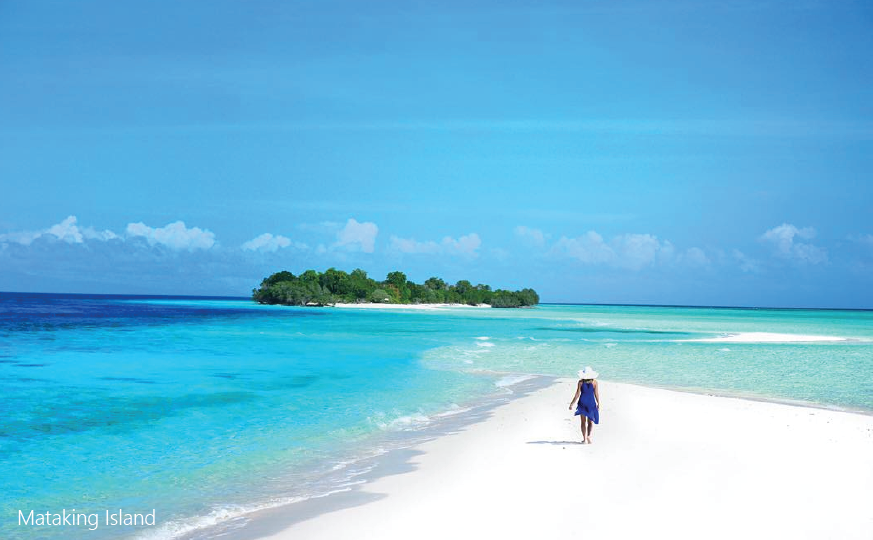 Image: @travelmechic
Mataking Island is a 1 hour 20 minutes from Semporna by speedboat. Similarly to Perhentian Island, it consists of two islands: Kecil and Besar. This wondrous island is most-known for a long stretch of sandbar that connects both these islands.
This sandbar lets travellers experience what it's like to 'walk on water'. It only takes 20 minutes to walk to the other island via the sandbar. However, this can take longer if you frequently stop to take in the fantastic views!
Catch a glimpse of Mataking's famous 'Underwater Post Office', the first of its kind in Malaysia. Back in March 2006, Mataking 1, an old 40-foot wooden cargo ship was intentionally sunk to create an artificial reef and also to serve as a unique underwater mailbox. The artificial reef was meant to attract tropical reef fishes. The wreck has since become a home for an array of incredible marine creatures, which are plentiful abound, in the clear tropical waters surrounding this spectacular island.
Divers now have the unique experience of posting their letters and postcards underwater via the underwater mailbox attached to the wreck. Letters or postcards would be placed in a sealed bag and postmarked with a unique stamp that would state that the letters or postcards were sent through the underwater mailbox. The mailbox is cleared 4 times a week.
Highlights:
Dive and explore beautiful corals and marine life
Malaysia's first underwater post office – post a letter to your loved one from under the sea
Walk on a sandbar and experience the thrilling sensation of 'walking on water'
---
11. Pangkor Island – The Most Beautiful Island In Malaysia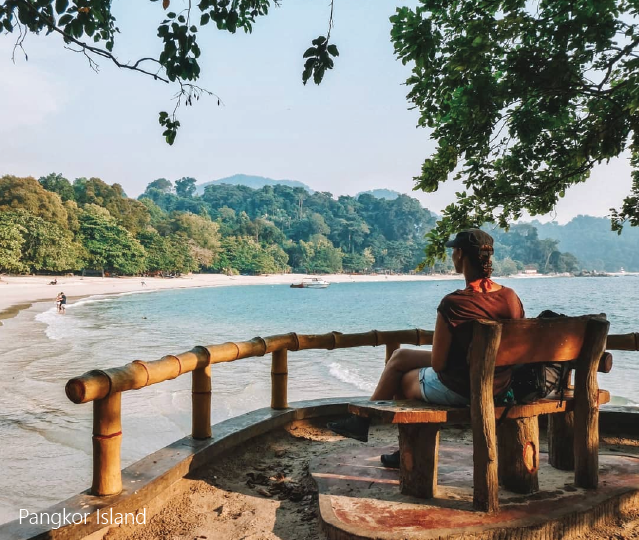 Image: @mytravelsecret
Pangkor Island is located on the west coast of Perak, Malaysia. It is recognized as one of the most beautiful islands in the world. And it's not hard to see why.
The island boasts stunning beaches and thriving corals for casual snorkelling anywhere on the island. It has captured the hearts of travellers all around the world with its golden beaches, clear waters and fresh sea breeze.
The west coast of the island is famous for its beaches, resorts and hotels that deliver the best holiday experience. Beaches like Teluk Nipah and Pasir Bogak offer motorized water sports such as banana boats, kayaks and jet skis. It's also possible to rent a boat to go around the island and do some snorkelling at Giam Island in front of Teluk Nipah.
For something a little more laid back, come to the beaches of Pangkor Island on the moonlit nights from May to July. This is when you can see thousands of turtles rushing to the beach to lay eggs under the hazy moonlight.
Pangkor Island is on the West Coast of Peninsular Malaysia. Shielded by Sumatra, this means that it is unaffected by the monsoon seasons and is a terrific holiday destination to visit all year round. It is quite rare as Islands on the East Coast do not share this privilege.
Highlights:
Witness thousands of turtles during nesting season
Teluk Nipah for watching blue tears phenomenon
Rated one of the most beautiful islands in the world
---
12. Pemanggil Island – A Deep Sea Fishing Experience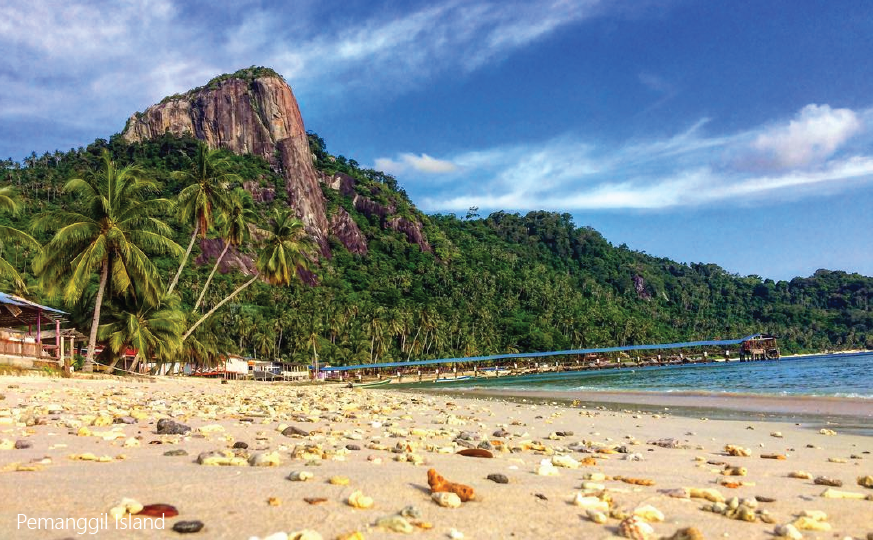 Image: @baitbuckets
Pemanggil Island is a close neighbour to the popular Tioman Island. It is a 4-hour boat ride from Mersing, which is the jump-off point from the mainland.
The island is well-known as an angler's paradise. It gets especially busy from September to December as it is largely agreed that that is the best time to fish.
Unlike many other paradise islands, Pemanggil Island is open to anglers and welcomes them, in fact. Deep-sea fishing is opened to all travellers on Pemanggil Island. There are various ideal fishing spots available, and the island holds one of the famous fish hunting grounds in Malaysia for marlins and Tenggiri (mackerel).
Besides fishing travellers can also choose to scuba, snorkel or to the island's high point, called Batu Buau for a breathtaking view of the South China Sea and the surrounding islands.
Highlight:
Favourite fishing ground for marlins and Ikan Tenggiri (mackerel)
Hike up Batu Buau for a spectacular view of the sea and neighbouring islands
---
13. Penang Island – The Best Island In Malaysia For Food Lovers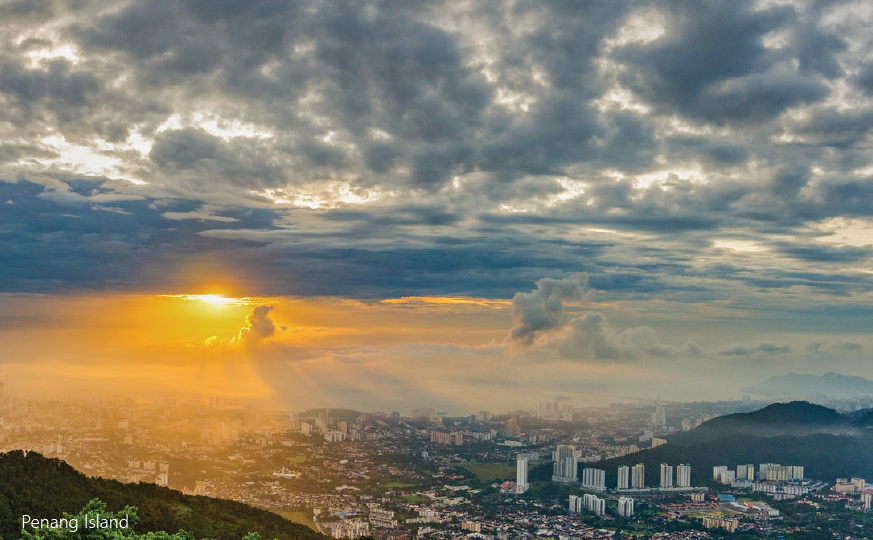 Image: Ah Wei
We cannot, in good conscience, tell you that Penang Island is idyllic. In fact, as far as tranquil tropical islands go, Penang Island is anything but. However, as the main constituent island of the Malaysian state of Penang, the island serves a different purpose and serves it well.
Penang Island has successfully brought the city experience to the island. And it does so flawlessly. The hustle and bustle on Penang Island give travellers the unique opportunity to explore this mesmerizing combination of traffic, entertainment and beach views while not compromising on the creature comforts of city living.
The island also holds a reputation for delicious local dishes. Some would even call it the food capital of Malaysia. But this is a touchy topic among Malaysians, so it's best we move on. (But just for your information, Penang Island faces heavy competition for the title in the form of Klang (Selangor), Kuala Lumpur (Wilayah) and Ipoh (Perak). Anyways, moving on…)
There are many hotels and resorts on the island. Most of these are centred in the city of Georgetown and around the towns Batu Ferringhi and Tanjung Bungah. The island also boasts several sandy beaches where travellers can go to relax in between the entertainment activities that the island has to offer.
Read: Penang Food Guide
Highlights:
A city built on an island that offers all the usual creature comforts and conveniences
Wide variety of dining options but most famous for its outstanding local cuisine
Soft sand beaches offer travellers a welcome respite from the bustle of the island's centre
---
14. Perhentian Island – The Best Island In Malaysia For Exciting Nightlife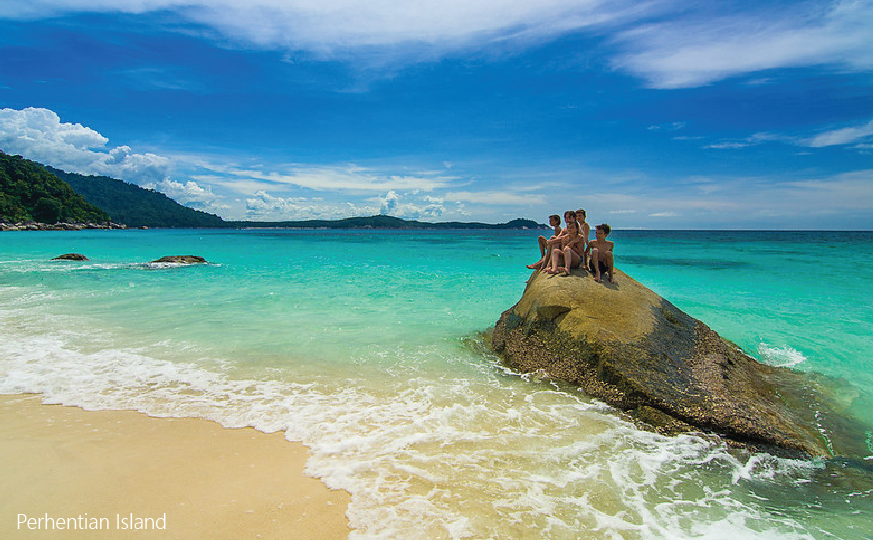 Image: hams Nocete
Perhentian Island off the coast of Terengganu is one of the best island destinations in Malaysia to visit in 2020.
Underwater lovers should go nowhere else as Pulau Perhentian offers some of the best diving and snorkelling opportunities in the region. It consists of two islands: Perhentian Besar and Perhentian Kecil. Travellers seeking for a taste of tranquillity will find it on the white sandy beaches on Perhentian Besar while young spirits will look toward Perhentian Kecil for lively parties and a happening atmosphere. 
This is the kind of place where you come for a few days and stay for a week, where barefoot living is the norm and time seems to stand still. Where you can fill your days with adventure: be it exploring the jungle, diving a sunken wreck or kayaking between secluded coves. This is a land where no one can blame you for letting the hours slip away in a state of blissful relaxation doing nothing more than wandering from one pristine beach to another.
Besides the usual day activities and relaxing, lively travellers will be delighted to find eventful nights with the island's avid nightlife scene. Parties, live bands, and beach bars can go on all night.
Read: 7 Best Perhentian Island Resorts For A Peaceful Holiday
Highlights
Great snorkelling and diving spots; beautiful, serene beaches
Huge variety of food options with some tastiest islands fare in the region
Caters to many kinds of travellers with its events and activities; happening night scene
---
15. Pom Pom Island – The Best Island in Malaysia For Romance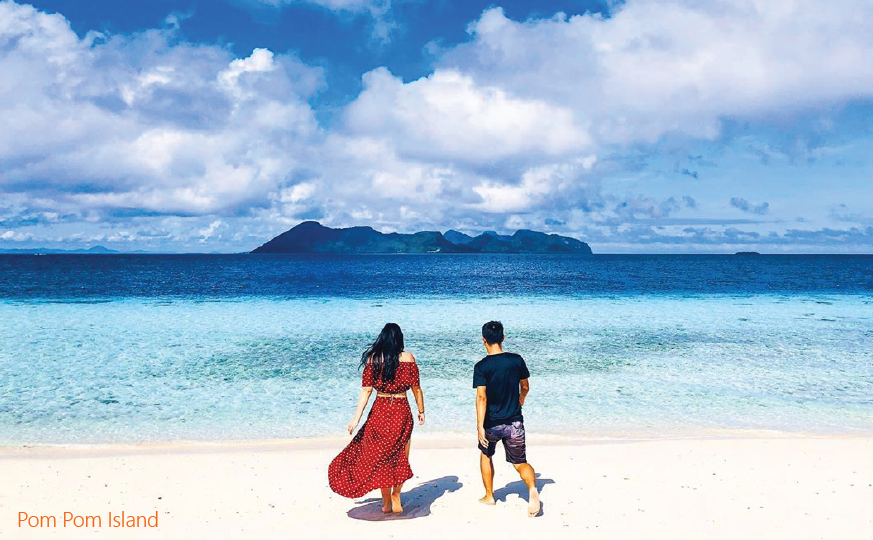 Image: @ryangotravel
Pom Pom Island is so small that it only takes about an hour to walk around it! This tiny coral reef island lies 45 minutes away from the Sabahan cost by boat. It is relatively undeveloped and thus a popular diving destination in the Semporna area. There are only two resorts on the island, namely Pom Pom Resort and Celebes Beach Resort.
Apart from diving and snorkelling in one of the most spectacular areas of the ocean here at Pom Pom Island, there is also a yachting service that will take you on a trip to nearby islands. Can it get any more romantic than spending a whole day out on the blue, calm sea alone with your loved one? Make no mistake. Pom Pom Island is the place for a secluded and private honeymoon. Or if your relationship is not quite there yet, maybe it could be the time and place to propose? *wink wink*
Local resorts and NGOs have established thriving turtle hatcheries with support from state governments and voluntary partners that are mostly managed by teams of passionate volunteers and locals. Depending on the season, more than 100 nests can be seen at any time, with each nest being carefully cared for and nurtured. If Lady Luck is on your side, you might even see the newly-hatched babies being released to the sea – a sight that you wouldn't want to miss.
Highlights:
Small island but undeveloped, with pristine corals and abundant marine life
5-star resorts promise a luxurious island holiday in seclusion and peace
Absolutely the place for romance and quality time with a loved one
---
16. Rawa Island – Jump Off A Huge Sea Slide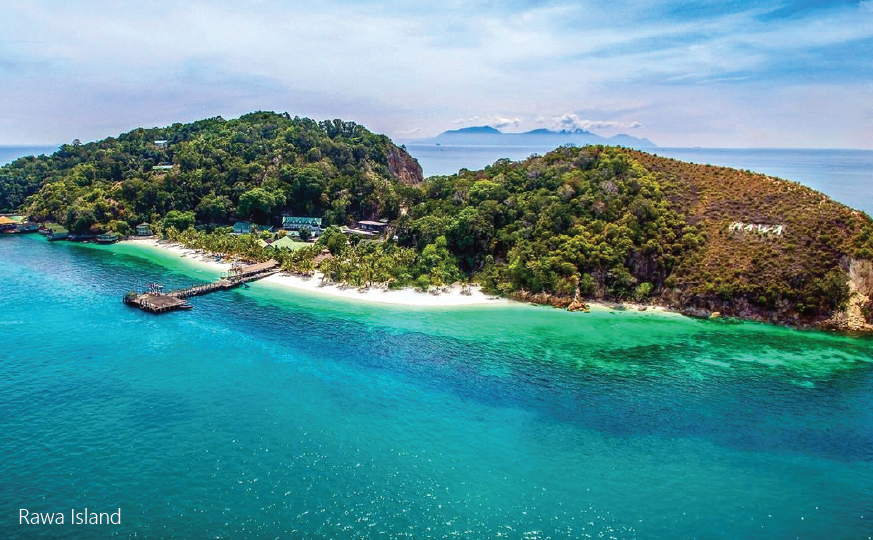 Image: @yugo.travel
Islands like Rawa are indeed a rare find. It is unlike any other island in Malaysia. Without any local inhabitants, the island is sparsely populated and undeveloped, thus making it the perfect tourist island paradise. Oh, and did we mention that this is the Johor Sultan's private island too?
The island features a gigantic 3-storey tall water slide that launches whoever's on it into the sea. This is a free ride and anyone can go on it without additional cost. Sounds awesome? You bet it is!
This island is also a paradise for divers and marine lovers. The marine life here is relatively untouched due to its low development drive. Not to mention that Rawa Island is only one of 13 island in the Sultan Iskandar Marine Park. You will have many options to choose from when it comes to snorkelling or diving. Many marine life, such as fish, cuttlefish, jellyfish, sharks, and blacktip sharks can be easily found.
Highlights:
A huge 3-storey water slide that ends in the sea
Beautiful resorts with great sea views
Untouched marine life for fantastic underwater viewing
---
17. Redang Island – Malaysia's Most Famous Paradise Island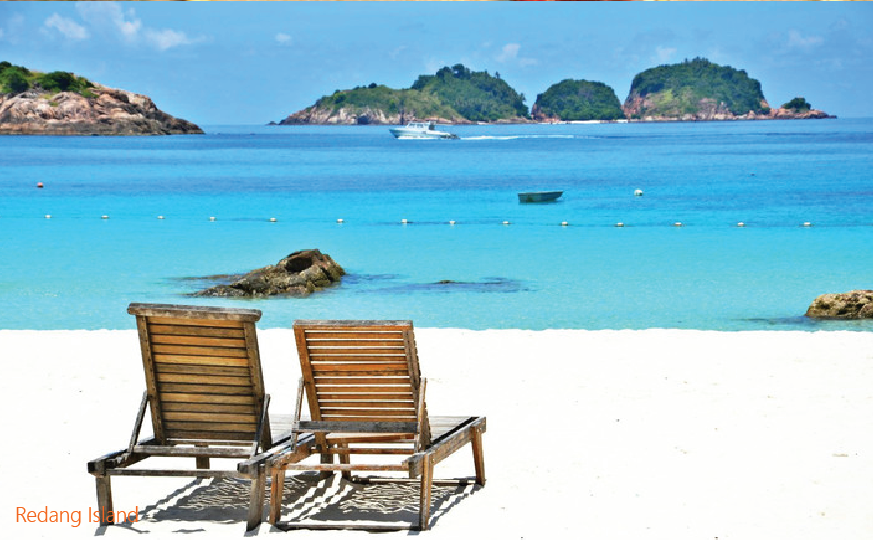 Image: ctrip
Ask the locals in Malaysia, and most will tell you that they have heard of Redang Island. The mega-popular East Coast island is a particular favourite among Malaysians due to its reputation for beautiful beaches and terrific underwater scenery. FYI, a ferry ride to Pulau Redang takes approximately 1 hour and 30 minutes.
The water is crystal clear, and coupled with sands that are remarkably powdery and white – Redang Island is a photographer's paradise! Take the opportunity to explore and enjoy views of the beautiful clear waters and the undersea creatures plus pretty coral reefs when you dive and snorkel here. Or maybe take the first step to obtain your first diving certificate? The possibilities are endless.
There is also a marine park centre on the island where more information can be found on turtles and ongoing conservation efforts to protect them.
Read: Let's Compare Lang Tengah, Perhentian, and Pulau Redang! Which is the best island for your next holiday?
Read: What you have to know before going to Redang Island
Highlights:
Great for getaway with friends and relatives
Beautiful underwater landscape and powdery sand beaches
Developed with many resort options to choose from
---
18. Sapi Island – Fly Between Islands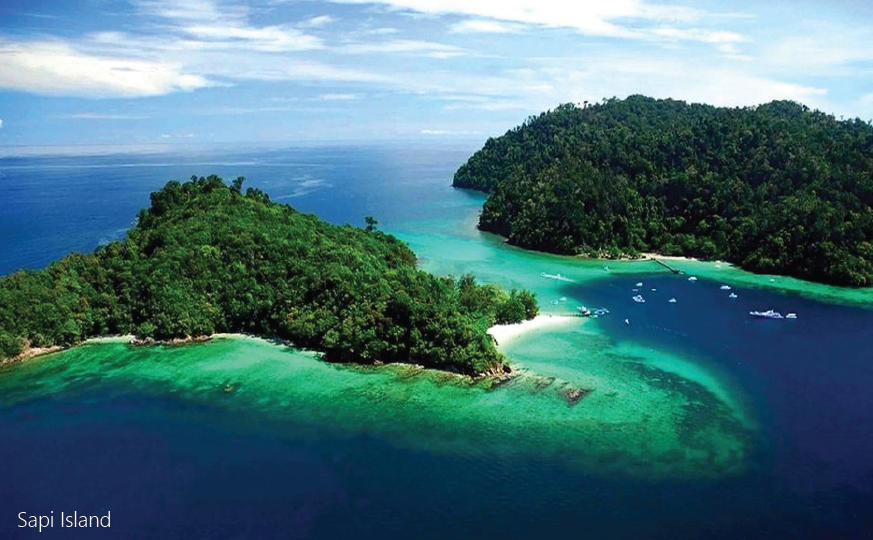 Image: livingnomads
Sapi Island is part of the Tunku Abdul Rahman Marine Park, a national park formed in 1974 covering 50 sq km of islands in Sabah and their surrounding reefs.
Sapi Island is the perfect place to learn more about nature, whether above or below the waves. At the south-east end of the island is a coral garden. Among the marine life here are stingrays, seagulls and moray eels. It is a great starting point for newbie divers and snorkellers.
The island also offers travellers exciting new opportunities like the Coral Flyer – the longest island-to-island zipline in the world. This flying-fox-inspired ride links Sapi to Gaya Island, a distance of 250m at speeds of up to 60 kph. Secure cables, harnesses, and skilled personnel ensure a smooth ride. You can also choose to walk across via a sandbar that appears during low-tides.
Mini-submarines (in the form of ridable underwater scooters) are available for rent for travellers that want to experience a diving experience in a normal breathing scenario.
Highlights:
Ride the Coral Flyer, which claims to be the longest island-to-island zipline in the world
Explore the ocean in mini-submarines
Dive with stingrays, cuttlefish and moray eels in lush coral gardens
Walk to neighbouring Gaya Island via a sandbar
---
19. Sibu Island – Spend Quality Time With Your Loved Ones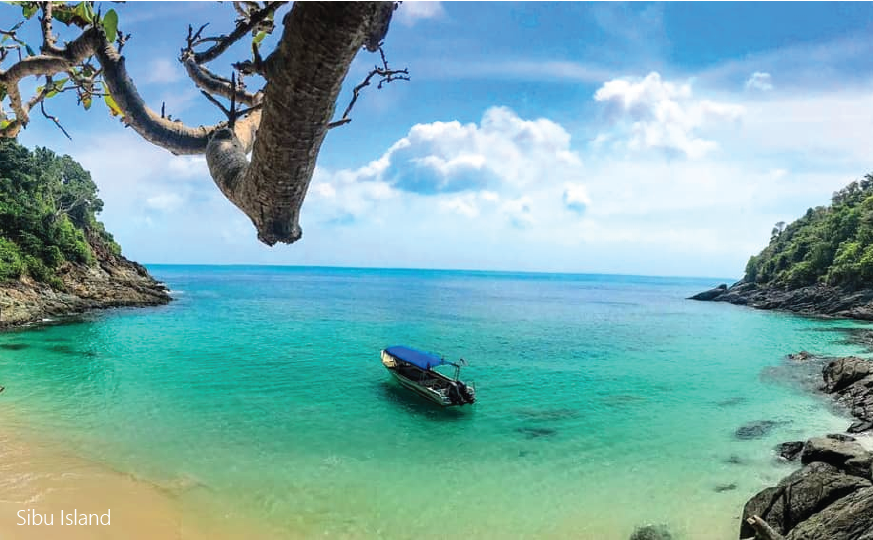 Image: rimba_resort
Sibu Island lies on the coast of Mersing, Johor. It is a cluster of islands that consist of Sibu Besar, Sibu Tengah, Sibu Kukus, and Sibu Hujung.
With peace and tranquillity as its main draw, the island itself offers endless freedom and privacy to travellers looking to get away from the business of modern life. Travellers can also choose to go down the active route if they so wish, where exciting water sports, angling activities and jungle trekking await.
You can walk the entire length of Pulau Sibu. Most of the resorts are linked either by the beach or by a marked jungle road. There are also concrete walkways built at specific points around the island.
Corporate events can be held on the island along the shore. Private beaches are available for team bonding activities with colleagues. Pulau Sibu is also great for honeymoon and wedding parties! Lots of seafront chalets are built for couples with a romantic theme to them. Better yet, the island provides conveniently secluded areas to give couples absolute privacy from the crowds.
Highlights:
Water sports activities: Snorkelling, scuba-diving, swimming, canoeing, sailing, windsurfing and fishing
Gain insight into rural daily life at nearby Kelongs (fishing villages)
Convenient to get around
---
20. Sipadan Island – Dive Deep Into Volcanic Waters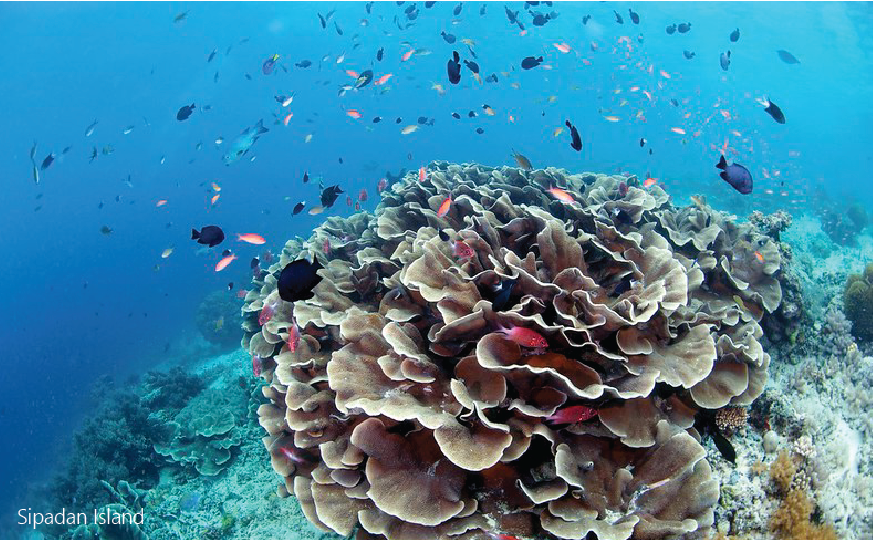 Image: Katja Hasselkus
Sipadan Island is located five degrees north of the Sulawesi Sea (Celebes) equator. Known as one of the world's best dive sites, this 40-acre oceanic island is made up of rich living corals rising on top of an extinct underwater volcano – 600 meters from the seabed!
The island is surrounded by deep waters and wall reefs that are home to some very large Ocean Pelagics like white, black and grey tipped Sharks, Trevallies, and Chevron and Yellowfin Barracudas. It is also well known for its large number of green and hawksbill turtles. In fact, it is not unusual for a diver to see more than 20 turtles on each dive.
Check out this cool infographic about diving in Malaysia!
The Sabah Parks Government issues a regular quota of 176 permits daily to each of the dive resorts and dive centres in the region to mitigate harm to the island's fragile ecosystems, with different allowances depending on the size of the resort.
Your resort or dive centre will send applications on your behalf, as the permits cannot be given directly to individuals. The 5 resorts that get the largest share of permits are Sipadan Mabul Resort, Mabul Water Bungalows, Sipadan-Kapalai Dive Resort, Borneo Divers Mabul Resort, Sipadan Water Village.
A permit is not needed for diving in nearby islands such as Mabul and Kapalai.
Read: A Step-by-Step Guide: How To Become A Certified PADI Open Water Diver In Malaysia
Highlights:
The only Oceanic Island in Malaysia with a prehistoric volcano rising from the ocean floor
Perfect for honeymooners, families, divers & non-divers
Tech Dive courses, cavern dive courses and Instructor courses available
Note: Sipadan Island will be closed from 1st November 2020 to 30th November 2020 for 'Marine Life Recuperation' so that the marine environment can have a full month to recover during that period
---
21. Tenggol Island – The Best Island For Snorkelling In Malaysia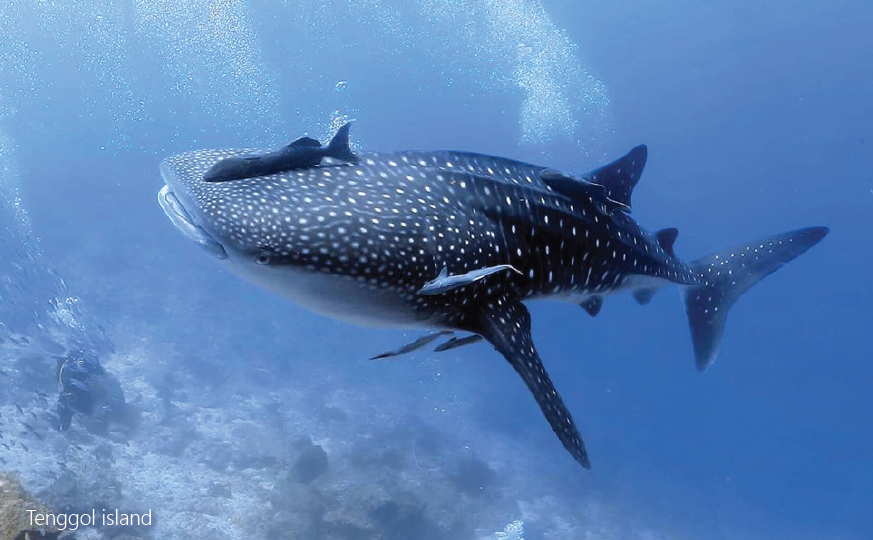 Image: @sofian_afroscubatenggol
Safely tucked away in the South China Sea off the east coast of Malaysia, Tenggol Island is about 29.7 km from Kuala Dungun, Terengganu and is well known for its gorgeous diving spots, lush tropical jungles and absolutely crystal clear waters. This small island is only about 3 km long and is mostly rocky with towering cliffs and vegetation, meaning that apart from diving and snorkelling, there is little reason to stay here.
However, where it shines – it shines well. Home to whale sharks, dense trees and wonderful coral reefs, Tenggol is one of East Malaysia's most stunning islands for snorkelling and diving for whale sharks. Its large number of shallow fringing coral reefs with calm waters allow a diverse species of fish to thrive. There is an abundance of tiny yet colourful reef fish, anemones, baby sharks and turtles. This is an excellent place for beginner snorkelers or divers to take their first step (or splash) into the sea!
Highlights:
Isolated and secluded island, perfect for a getaway
Well-preserved corals and exciting species of aquatic life
Marine activities such as island hopping, snorkelling and scuba diving
---
22. Tiga Island – As Seen On Television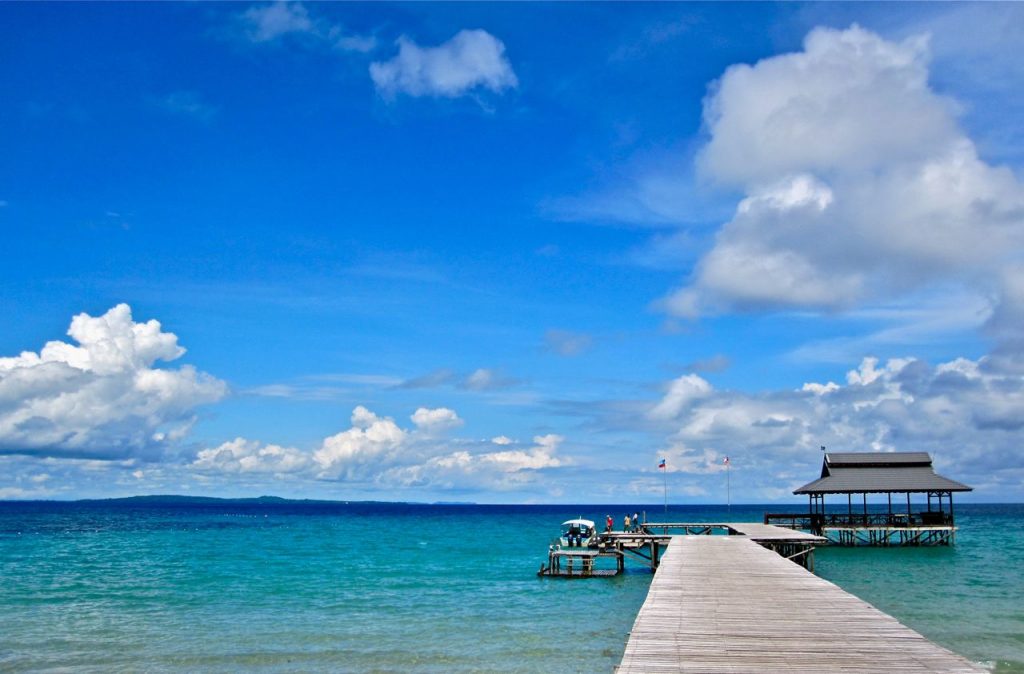 Ever wanted to visit a "studio set"? Well, now you can! Tiga Island near Kota Kinabalu in Sabah was the first location filmed by the hugely successful reality show "Survivor". Unsurprisingly, the island is a well-known location among fans of the TV show where 16 contestants find themselves in one of two tribes on Pulau Tiga's beach, isolated from the rest of the world.
Besides fawning over film sets, adventurous travellers can head out to explore the primitive wilderness, hike lush jungle trails and dive deep to explore the marine life. Some might choose to relax on hammocks with a good book or to sleep-in late at any one of the delightful chalets.
Another main draw of the island are the therapeutic mud volcanoes at its centre. The word "volcano" might make you think of erupting mud holes, but in reality, they are merely pools of bubbling mud from deep inside the earth. Immerse yourself in this muddy experience while holding on to ropes provided. The mud is believed to be rich in minerals and does wonders for the skin! 
Highlights:
Explore the filming location for the TV series "Survivor Island"
Dip into mineral-rich mud volcanoes for a therapeutic experience
Relax or head out on an island adventure in the jungle and below the waves
---
21. Timba Timba Island – The Captivating Gem Of Semporna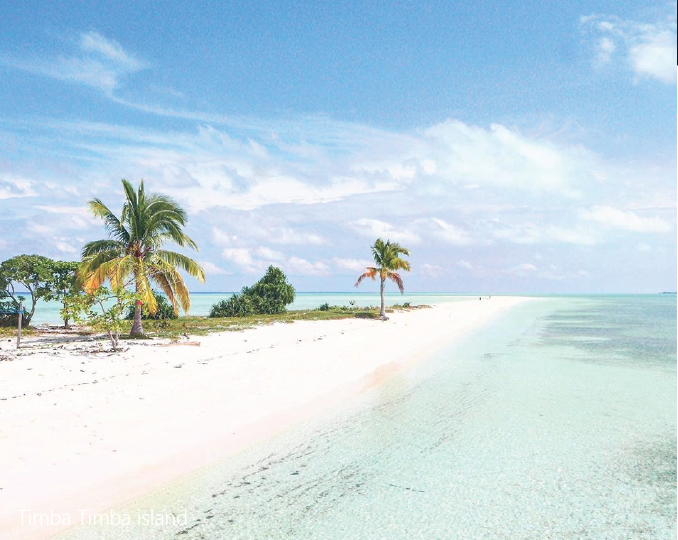 Image: @oscarignetik
Timba- Timba Island is a small island that lies within the Semporna cluster of islands and is a 15-minute boat ride away from Pom Pom Island. This tiny (only 1km long from end to end!) but the gorgeous island has a peaceful sand bar at its northern end, which is only exposed at low tide – similar to its close neighbour Mataking Island.
Timba-Timba Island's beautiful beach is white, clean and almost untouched. Travellers will be happy to find that it is home to a large variety of wildlife such as large cuttlefish, frogfish, crabs, sea snakes and sometimes even nurse sharks hiding under the reefs! Divers can expect to be treated to breathtaking sightings of turtles, blue-ribbon eels, moray eels, barracudas, lobsters, large coral trouts and snappers.
Among the best islands in Malaysia, this paradise is a common stop for snorkel day-trips and dive vacations. Travellers do not stay here for the night, but will often be brought over from neighbouring islands such as Pom Pom Island for snorkelling and diving trips. Operators offer lunch or tea breaks on Timba-Timba Island's beautiful beach so that everyone can take in gorgeous sweeping views of the ocean while enjoying their meal.
Highlights:
A tranquil sandbar that only surfaces during low-tide
Snorkel breathtaking underwater landscapes
Take super-instagrammable photos with a clean, pristine beach that are bound to impress
---
24. Tinggi Island – The Best Island In Malaysia For Gorgeous Panoramic Views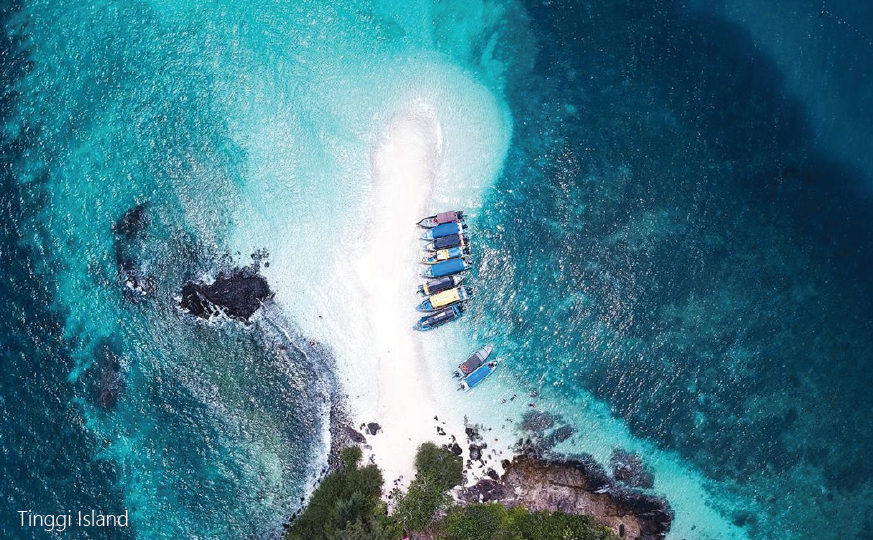 Image: @guaadli
Located 30 km from the east coast of Mersing, Tinggi Island is a mysterious tropical island perfect for a weekend escape from the busy city. With warm and clear water, it's a paradise for divers and snorkellers who wish to uncover the secrets of an underwater world.
Tinggi Island houses an extinct volcano in the centre. It gets its name for having one of the highest hilltops (600m tall Mount Semundu) among surrounding islands; as "Tinggi" means tall in Malay. The island is made up of fresh local fruit, rattan, wood and sheltered harbours and coral reefs that are simply full of diverse marine life. It has beautiful beaches dotted with caves ready for exploration.
Activities here include island hopping to nearby islands such as Pulau Harimau, jungle trekking, sea kayaking, or hiking up to Mount Semundu which will take around 3 hours. The peak will offer you beautiful panoramic views of Tinggi Island and its surrounding blue waters. It is definitely worth the trip!
Pulau Tinggi is small, with only two accommodations options in Pulau Tinggi: Tad Marine Resort and Shaz Resort. As you can expect, these are the ultimate island experiences and contribute greatly to making Pulau Tinggi one of the best islands in Malaysia.
Highlights:
Very idyllic and tranquil island for relaxing
Mount Semundu's 3-hour trail is great for adventurous hikers
Mingle with local folk and learn their culture
---
25. Tioman Island – One Of The Best Beaches In Southeast Asia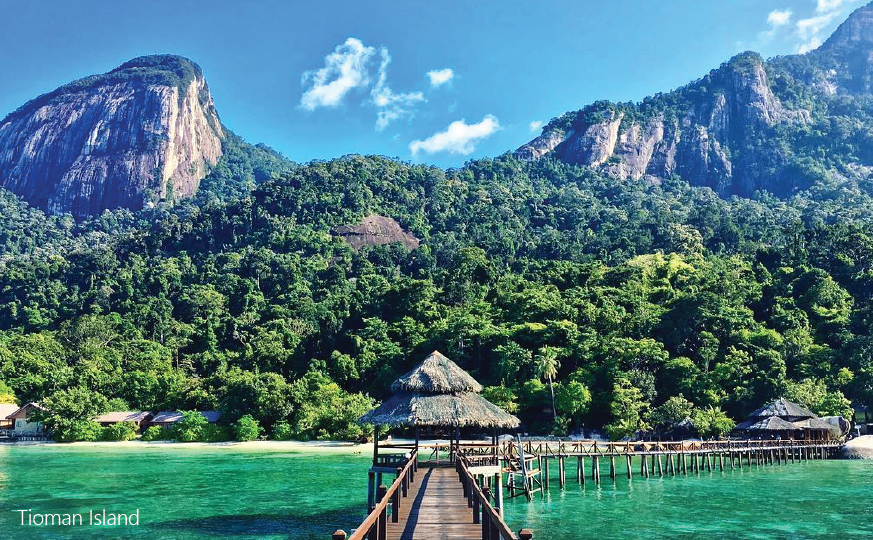 Image: @marshallkieron_
Did we leave the best for last? Not intentionally; and only because we told ourselves we'd write this in alphabetical order!
For many, Tioman Island offers a travel experience like no other. This is a duty-free island (and one of only four in Malaysia; the others being Labuan, Langkawi, and Pangkor Island), meaning that alcohol and tobacco are chee-aaap. But shopping is not all there is to it.
Tioman Island's Juara Beach was rated as one of the most beautiful beaches in the world (#21 as ranked by CNN in 2019). Hailed by many as a geological wonder, the island continues to charm visitors with its warm beaches, beautiful seas and lush greenery. Its waters are abundant with coral reefs and marine life, making it a hotspot for snorkelers and divers everywhere. By the way, did we mention that you can surf here?
Is this the best island in Malaysia? It's your call.
Read: Pulau Tioman Review: Is It Still Worth Going?
Highlights:
Buy alcohol and tobacco for cheap
Stay in dreamy over-water bungalows overlooking abundant marine wildlife
Kick back and relax on one of the most beautiful beaches in the world
---
What did you think of our list of 25 Best Islands in Malaysia? Of course, we understand that 'best' is subjective. Different people have different preferences and we respect that!
Ultimately, the goal here is to have a perfect vacation that will bring you the most joy – so you do you.
We'd love to hear from you, so please share your thoughts with us via Whatsapp or Facebook. Happy travels!
Related Tours