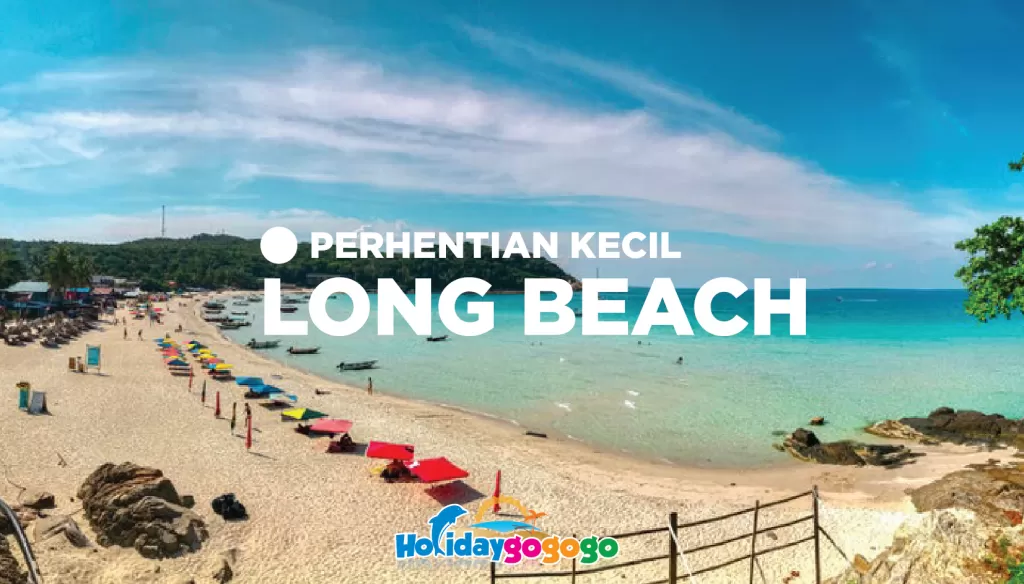 Perhentian Kecil, the smaller sibling of the Perhentian Islands, is home to some of the liveliest nightlife and exciting crowds. And the main hub of all its thrills lies on a spectacular stretch of white, pristine, sandy beach. We are, of course, talking about Long Beach (locals call it "Pasir Panjang"), a bustling activity-laden beach that lies on the eastern side of Perhentian Kecil.
So, what makes this beach stand out from all the others? Why is it so popular? What can you do here? Is this the right place for you to stay in? Let's find out together.
[lwptoc]
---
Introduction to Long Beach, Perhentian Kecil
Long Beach is the undisputed king of lively beaches on Perhentian Kecil. The beach offers travellers a place to chill and relax during the otherwise quiet nights out at sea. Here, travellers can easily find many open-air bars and restaurants, spilling across the sand when the sky gets dark. Party-goers will also be pleased with the weekend parties that go on and on until the wee morning hours. Fire shows, dining sessions, parties, beach bar dances, and more will take place here.
For this reason, the beach is home to a significant number of chalets and hostels that cater to a backpacker audience. Accommodation rates here vary greatly. There is the usual backpacker fare that goes for RM40/night, where you're basically given a bed and a shared bathroom. On the higher end of the spectrum, you can also find luxurious resorts that offer rates of RM1,000 and above per night. A lot of your accommodation decisions here will ultimately be made around whether you prefer the sound of waves crashing lulling you to sleep, or the pounding sounds of electrifying party music accompanying your merry nights.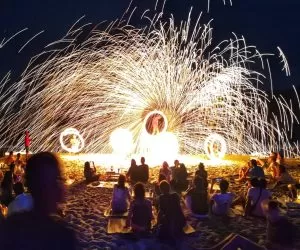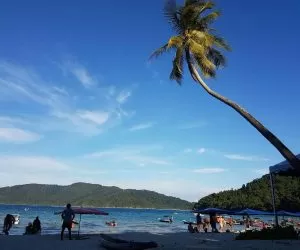 On Long Beach, you'll also find countless restaurants and cafes that serve more or less the same food (dishes vary between western, local Malay, or a mix of both). Barbecues are also a huge deal here. Every night, great fires are lit as trays of seafood are brought out and visitors pull up a chair and settle in for an evening of gastronomic delights. This is commonplace in Long Beach. Like we mentioned above, most restaurants serve more or less the same stuff. The difference here mainly lies in the pricing and taste.
… However!
Its greatest strengths are not necessarily an opinion shared by everyone. Not everyone appreciates loud music blaring into the night. Not everyone can cosy up in a bar or bistro.
I completely understand that. To be honest, I like my nights quiet, too. So if you're someone that would prefer a good night's rest so that you'll have the energy for an eventful day of snorkelling and beach sports ahead, then you would want to steer clear of staying in the central and southern parts of the beach. The northern tip of the beach is okay for travellers who prefer peace and quiet, though. That is where all the more upscale resorts are located and the area is amazingly quiet compared to the rest of the island. This is the best choice for travellers who want a mix of both peace and lively atmospheres during their holidays. You get to choose based on your mood!
Suggested Read: What are the differences between Perhentian Kecil and Perhentian Besar?
Long Beach Activities
Grab a book, wrap your towel around your waist, choose a shady umbrella spot and park yourself on the sandy white arch that is Long Beach. During the day, Long Beach sheds its party scene and offers travellers the perfect beach relaxation experience. You can spend virtually every afternoon here sprawled out and relaxing on the sand, listening to Spotify and scrolling through your phone. Anytime you feel like it, go for long, delicious swims in the emerald waters beyond!
Umbrellas are available for rent at just RM10/day. The shade is always handy to hide from the scorching summer heat of Perhentian Island.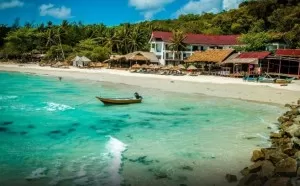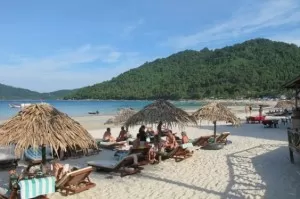 If you are adventurous enough, you can opt to explore Long Beach's surroundings via trekking. There are trails that allow you to walk from Long Beach to Coral Bay (1km) and from Long Beach to Fisherman Village (3,2km). The trek from Long Beach to Coral Bay is only 15 minutes long. It is a path that melds from perfectly paved to broken and wildly overgrown plants. However, because it weaves through the dense jungle, it is a great opportunity to spot some rare wildlife and fascinating flora. At the end of the trail, you'll arrive on the other side of Perhentian Kecil with a whole array of beautiful beaches for you to explore.
My personal recommendation is a particularly inviting trail from Long Beach to the Windmill perched on top of the hill (2km). This 20-minute walk will lead you down the other side of the wind turbines for stunning views over the glittering blue bay. This trail will also lead you to all of the island's northern beaches. A win-win scenario.
For most travellers, an essential activity here at Long Beach is, of course, snorkelling. If you're not diving during your vacation, snorkelling is another fantastic way to spend the day at the beach. With various pockets of thriving reefs found right off the beach, Long Beach is a great place to spot colourful fish swimming around in their natural habitats. Enter the water near the rocks around the Long Beach Jetty in the area called Baru Nisan for some easily accessible snorkelling. There are many tour operators here that can offer day-long snorkelling packages at sites around the island. You'll be almost guaranteed to see majestic turtles (and learn about their conservation), handsome sharks and all sorts of diverse marine life.
Alternatively, if you'd like to explore further beyond your swimming capabilities, you can consider renting a kayak for cheap. Kayaks can be rented by the hour (RM25) or by the day (RM60) right off Long Beach itself. You can paddle to nearby beaches, or simply row out to a good distance and capture the magnificent sunset from a private view. You can also row around the circumference of the island, although this will take a significant amount of time (5 – 6 hours) and a lot of energy!
Suggested Read: 10 Must-Visit Attractions on Perhentian Island
Long Beach Restaurants
After patrolling Long Beach, you'll notice that about right in the middle is a set of 4-5 different restaurants. To be honest, most of these restaurants have almost identical menus. The Perhentian Islands aren't large enough to accommodate cuisines from too many places.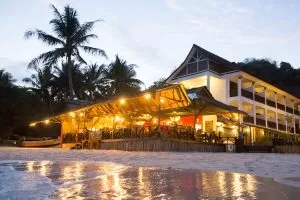 However, what's more, important is that they are still very reasonably priced and make for pretty good meals, as far as island dining goes. On average, you can expect to get a filling and tasty meal for around RM 10 – RM15; or RM 20 at the more westernised restaurants. Here are a few great restaurants you can try:
Chillout Cafe:  Located higher up on Long Beach (nearer to Mimpi Perhentian Resort), you'll find a restaurant with a giant, colourful signage that says "Chillout Cafe". Now listen to me. This is a MUST-TRY. At first glance, the food might seem a little pricer than other places, but it's absolutely delicious. Order the Nasi Goreng Ayam if you want to compare. It's a standard Malay dish. But boy oh boy, they certainly know their stuff when it comes to cooking. It was one of the better tasting fried rice I've had on the island. If that's not your thing, you can always try out their Roti Canai paired with refreshing fruit juices. Either way, you can't go wrong chilling out at Chillout Cafe.
The World Cafe: This is by far the best place to eat if you're craving European western food. Attached to Bubu Villa, this Italian establishment boasts of its creamy, yummy pasta but also serve a wide variety of other western dishes. You can find succulent offerings such as Smoked Salmon, Seared Scallops,  Gnocchi Pasta Topped with Grilled Prawns, BBQ Seafood and much more. I should mention that the seafood is very fresh and delicious and the staff are extremely friendly and kind. Travellers praise their bar as well, with excellent staff such as the barman and a decent wine list to boot. Obviously, prices here are slightly higher than the average beach stall fare, but trust me – it's worth every penny spent.
Tiara Cafe Longbeach: A humble cafe that serves traditional Malay delicacies, you can smell Tiara Cafe even before you see it. Some of their highlight dishes such as the Sotong Masak Kunyit (Tumeric Seasoned Squid), Siakap 3 Rasa, Tom Yam Seafood, Barbequed King Fish goes perfectly with some white rice or nasi goreng (fried rice). Couple this with a fantastic sea view and you've got yourself a perfect night's out with friends or family.
Oh Lala Restaurant: Now, I know not everyone comes to the Perhentian Islands for pizza…OK, fine. No one comes to the Perhentian Islands for pizza. But the Perhentian dive centre Oh Lala Divers, located on Long Beach itself, just happens to be a renown place for excellent thin-crust pizzas! Do not miss their pepperoni pizza and delicious stacked burgers. Combining the best of both worlds, this is a really awesome place to gather after dives and enjoy cheap beer,  pizza and burgers with your (hopefully) newfound dive buddies/friends!
Is Long Beach suitable for me?
Long Beach is full of activities for travellers to do. During the day, you'll see many foreigners sunbathing and relaxing to the sound of the waves. Come nightfall, the beach truly comes alive. For travellers who still find themselves energetic after a whole day of water exploration, this is the place to be.
If you're someone looking for a more social travel experience and can appreciate an active night scene, then Long Beach should be first on your travel list. You should also consider putting up a night here, just to experience the island nightlife. As far as budget goes, Long Beach has some of the cheapest accommodation options on the island. Hostels cater to a very active backpacker audience.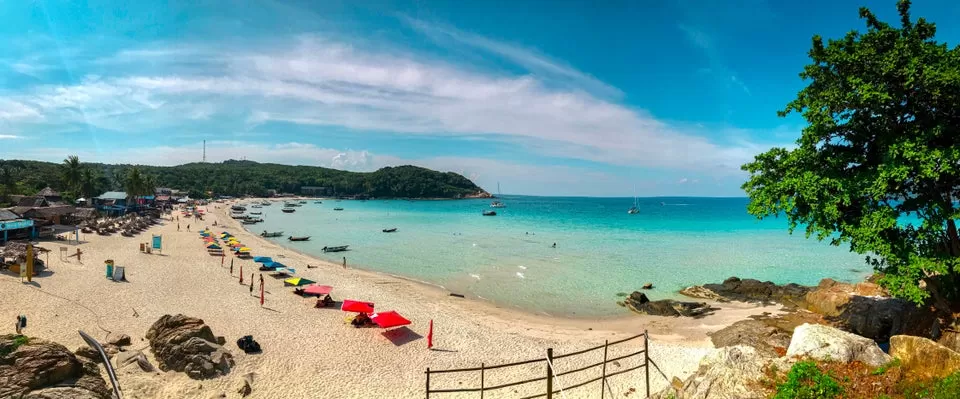 However, if you're travelling as a family or as a couple, you may want somewhere quieter to help you wind down and relax. In that case, I would suggest that you look elsewhere, or towards the northern end of the beach where the environment is a huge contrasting difference from the rest of the beach. Large resorts like Mimpi Perhentian and Bubu Resort, located on that end of the beach, offer guests serenity and an escape from all the noise on Long Beach.
But I highly recommend you stop by here at least once during your trip. During the day, Long Beach is a busy stretch of sand. You'll get a taste of the island bustle here with a wide range of activities and food to keep you occupied all day long. Long Beach is a lovely beach where travellers can go snorkelling, enjoy the island's local cuisine, fire-shows, spectacular sunrises and sunsets and of course, a very, very beautiful sandy beach.
Suggested Read: 7 Best Perhentian Island Resorts For A Peaceful Island Holiday!
How to get to Long Beach?
First, travellers looking to visit the Perhentian Islands will need to depart from the mainland at Kuala Besut. This jetty is the only getaway to Perhentian Island. Boat transfers are available from 8:00 am and 5:00 pm with no fixed departure times. This is because boats will wait to depart as soon as there are enough passengers.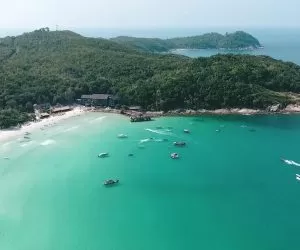 To get to Long Beach on Perhentian Kecil, travellers arriving from the mainland will need to catch a water taxi. All water taxis will offer you transport to Long Beach at a very minimal cost. Alternatively, travellers getting off the ferry at Coral Bay can choose to walk their way to the beach. It is a short walk – around 10 – 15 minutes. There is a walkway near Ombak Dive Resort which takes you through the dense jungle at the centre of the island. Along the way, immerse yourself in the natural surroundings of the primitive Perhentian forest. It is an established path and you will see some chalets dotted around it.
Long Beach Perhentian Kecil Tips
If you're here during low season, the boats and crowds will be few and far between, making for an excellent beach experience
Long Beach after dark is the liveliest place to be. You'll find many beach parties and bonfires held by local bars and resorts
Keep your eyes peeled for handsome water monitor lizards and cheeky geckos who roam the island's beaches and forests
On a scorching hot afternoon, you can get a fresh fruit smoothie from one of the many cafés on Long Beach
The waters around Long Beach are full of fauna and you can walk on its sandy floors. The sand gently slopes into the sea, making the

beach

here very suitable for swimming and other underwater activities
Long Beach has many hiking trails that allow you easy access to other places on the island. For the budget-conscious or environment-friendly folks, trekking is a great way to skip the water taxis altogether
Speaking of water taxis, Long Beach has a great number of boats that will happily take you to other beaches around the 2 Perhentian islands. The cost will vary based on the distance. Generally, expect to pay around RM10 – RM20 per trip
Be careful of boat anchors when walking along the beach and in the sea, especially at night
The monsoon season is from November to March. During this time, you can expect more rain and rough seas. Long Beach, as well as most resorts and boat transfers, will be closed
---
Popular Perhentian Island Tours