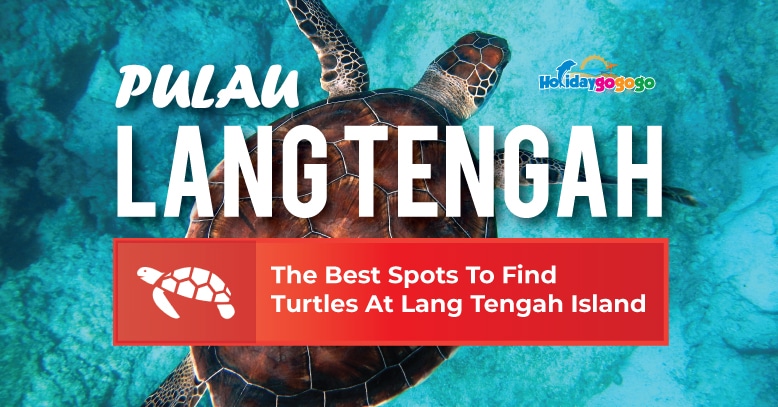 Just 30 minutes from Merang, Terengganu, lies Pulau Lang Tengah, a tiny jewel set in the middle of the 2 bigger, prominent islands, Perhentian and Redang. To give you an idea of how small it is, a speed boat ride around the island takes only 10 minutes!
Part of Malaysia's protected marine park, Lang Tengah Island is home to diverse flora and fauna relatively untouched by mass tourism. This pristine environment is further preserved by the limited number of resorts available on the island.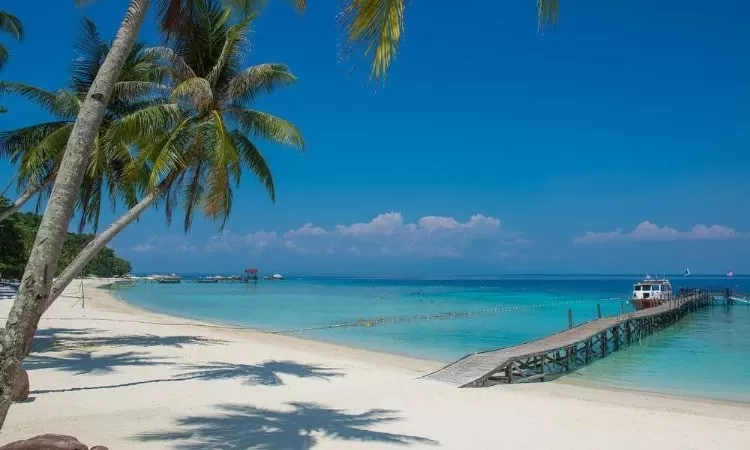 With only 3 operating resorts and a turtle conservation centre, you can be assured of dazzling white sands, sparkling blue waters and a constant stream of peace all day, every day. The tranquillity sets the mood for the many turtles that come to shore during the nesting period. This makes for a prime opportunity for families, couples or friends to experience Turtle-Spotting for Lang Tengah Turtles together!
[lwptoc]
---
Lang Tengah Turtles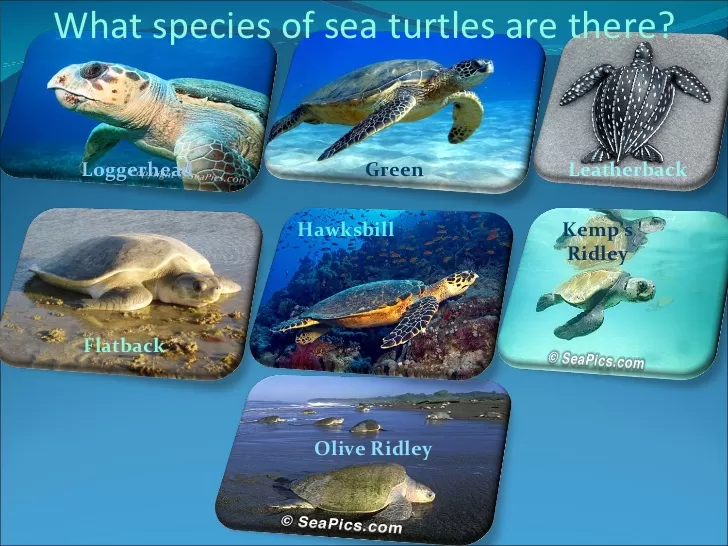 Image: Slideshare Jessica H. & seapics.com
There are 7 existing turtle species around the world. As rare as it is, Malaysia, specifically Lang Tengah Island, is blessed to be the dwelling place for 4 of them – Leatherback Turtle, Green Turtle, Hawksbill Turtle and Olive Ridley Turtle. The beaches and islands off Terengganu serve as a nesting ground for these turtles. The placid waters ensure a peaceful environment perfect for these turtles to thrive.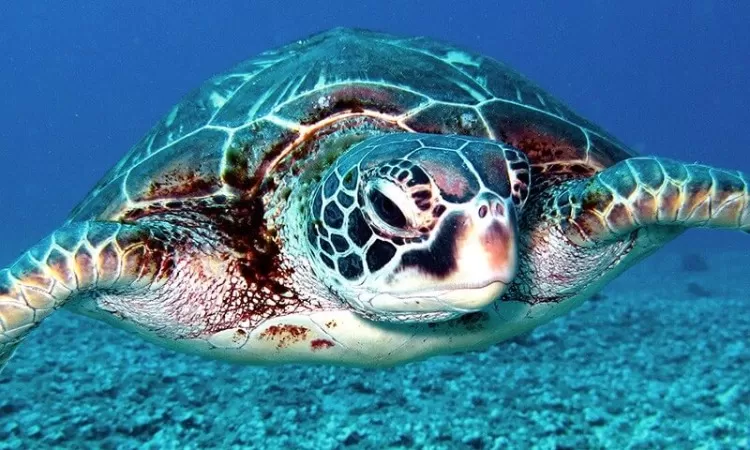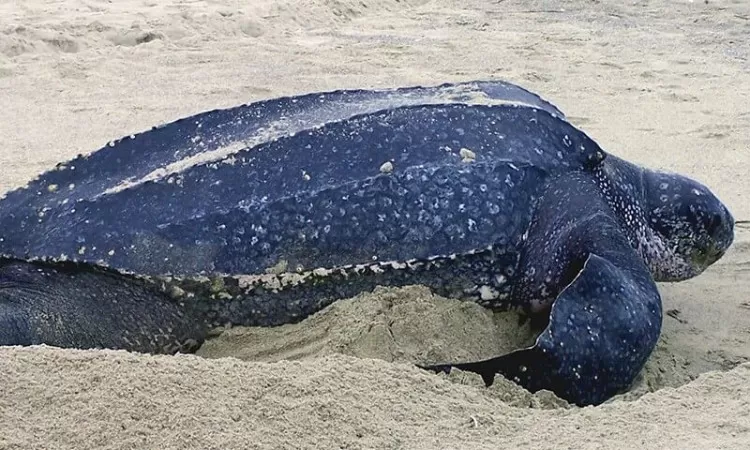 The Leatherback Turtle is so named due to its lack of a bony shell. Instead, it has a carapace covered by skin and is the only known turtle of its kind, making it Terengganu's iconic mascot. The Green Turtle is much more commonly sighted around Lang Tengah waters. Contrary to popular belief, it is named after the green fat found beneath its shell and not because of the colour of the turtle itself.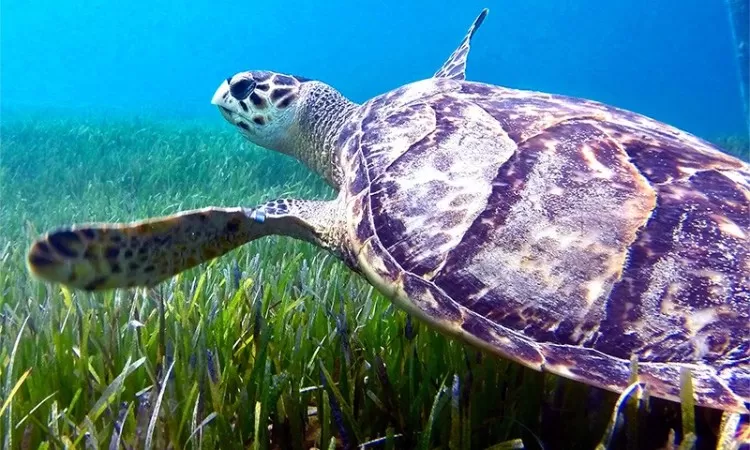 The Hawksbill Turtle is another familiar sight and is named for its narrow, pointed beak. Unlike the previously mentioned turtles, the Olive Ridley Turtle is found mainly in the waters of Borneo although there are sightings of these gentle creatures around Lang Tengah Island as well.
Where To Spot Turtles at Lang Tengah Island
Lang Tengah Island is relatively untouched. The 3 resorts in operation are found on the 2 main beaches, the western beach facing Perhentian Islands and the southern beach towards the mainland. There is also a smaller beach in the south that is wholly protected by the turtle conservationist group, Lang Tengah Turtle Watch.

Image: Beautiful Terengganu
These beaches and the surrounding waters provide countless opportunities to spot the turtle, with some locations having a higher chance than others. Also, activities such as diving and volunteering almost always guarantee a close encounter with Lang Tengah Turtles. Today's guide takes a look at some of the better locations and activities to spot these turtles.
Lang Tengah's Waters
Having a limited number of visitors safeguards the natural habitat, ensuring that the islands are kept pristine and conducive for wildlife to flourish. The inviting crystalline waters boast colourful reefs and corals teeming with abundant marine life.
These turtles mainly feed mainly jellyfish, squids, shrimps and sea-vegetation such as algae and seagrass, of which a constant supply is always available within the surrounding waters. As such, this provides visitors with an amazing opportunity to spot and swim the Lang Tengah turtles.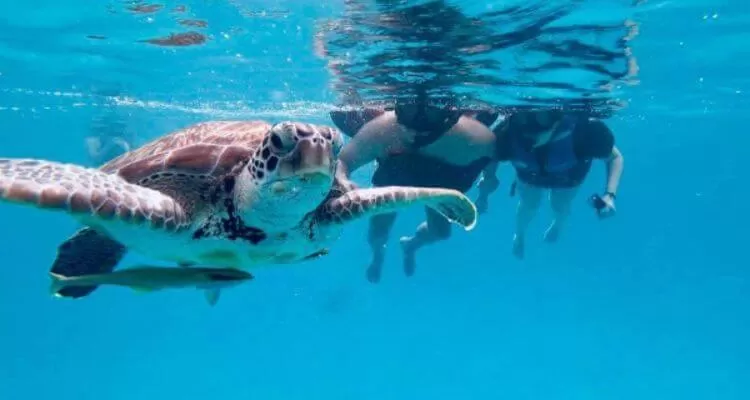 The turtles love swimming with humans and welcome any interaction. However, do be gentle without overwhelming them with hugs and kisses, as tempting as it is. These are wild creatures with a need for personal space.
Lang Tengah Snorkelling
A great way to get up close with the majestic Lang Tengah turtles is by snorkelling. This is a great way to find these turtles in their natural habitat. If you search for Lang Tengah Island on Instagram, there are countless pictures and videos of turtles gliding gracefully and feeding on the ample sea vegetation and other sea creatures.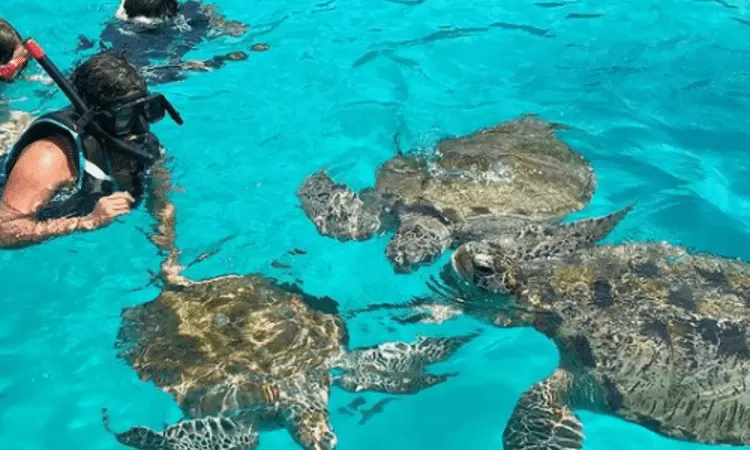 Image: @sueshaaribaby
You don't have to be a professional diver to swim with the turtles. All 3 resorts offer snorkelling gear and life jackets for free. Due to the lack of heavy underwater currents, spotting a turtle swimming casually in the shallow waters is not unheard of.
Moreover, snorkelling is a fun and safe activity for the whole family, ensuring the little ones are kept captivated throughout the experience.
Lang Tengah Diving Hotspots
If you are looking for something more adventurous, put on a scuba suit and dive deep underwater! A boat charter brings you to the best diving spots around the island, exponentially increasing your chances of spotting the turtles. Some of the best hotspots to spot these turtles include Blue Coral, Tanjung Nibong and Yellow Reef.
Blue Coral: Located on the western part of the island, just south of Goby Garden, lies Blue Coral. This colourful stretch of reefs and corals also covers most of the western waters and features gobies, clown fishes, anemones and squids. With a ready supply of food, the turtles are often spotted playing in and around the reefs.
Karang Nibong Laut: Located right on the northern tip of the island, the angular rock at the bottom is a turtle attraction. Lang Tengah turtles are commonly found feeding on the algae, sea sponges, and jellyfish on the huge rock formation. See them swim among the barracudas and sharks, and if you're lucky, even a whale shark!
Yellow Reef (Terumbu Kuning): Named after the yellow-coloured black coral trees and the yellow butterfly fish found at the depths, Yellow Reef is located on the south-western tip of Lang Tengah Island. A rock formation that is filled with crevices presents as a humble abode to the many nurse sharks, shrimps, flatworms and turtles!
Western & Southern Beach – Night Walk
During the nesting period, the female turtles make their way to the shore to lay their eggs at both the western and southern beach right in front of all the resorts. It is during these times that spotting these turtles is at its most accessible.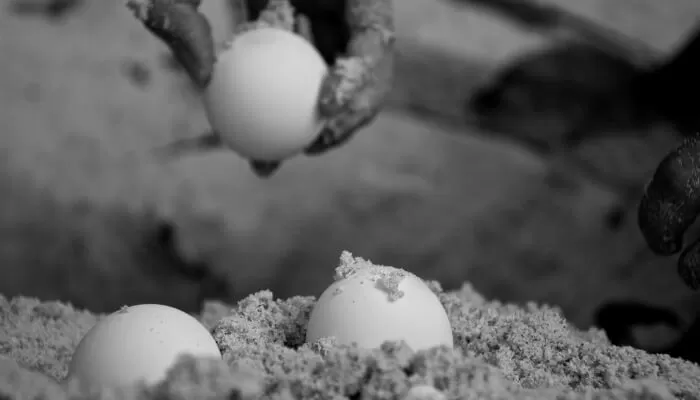 Before venturing out on a night walk, it is advisable to read up and have a basic knowledge or etiquette on observing these nesting turtles. Some of the more crucial guidelines include using only red light to avoid startling these turtles, keeping a wide distance and to always be silent throughout the observation.
Any disturbance may cause distress to the turtles.
Lang Tengah Turtle Watch at Turtle Bay
At times, the best way to experience something new is through volunteering. If you are interested in not only spotting them, but to get up close and personal with these turtles, why not join the Lang Tengah Turtle Watch instead!

Life at a conservation is an inspiring experience. Privately located away from the southern beach resort, Lang Tengah Turtle Watch faces Turtle Bay. It was founded mainly to observe turtle landings and protect their eggs from poachers. Throughout their stay, volunteers engage in activities such as nightly beach patrols, egg collection and nest monitoring. During the nesting period, you'll even get a chance to take care of the hatchlings.

Unlike the other turtle-spotting options, volunteering at a conservation is a much more serious endeavour, with heavier responsibilities to be managed. That being said, those with a keen interest in turtles should give this worthwhile opportunity a definite go.

Suggested Read: Lang Tengah Turtle Watch: Turtle Conservation In Paradise
How To Go To Lang Tengah Island
Merang Jetty is about 45 minutes north of Kuala Terengganu, the capital of Terengganu. To get to Merang Jetty, you need to take a bus or plane to Kuala Terengganu or Kota Bahru. The cheapest way would be by bus, but it takes a while to get there (around 6 hours). Going there by plane is quicker (1 hour) and more convenient.
From Kuala Terengganu, take a grab or bus to Merang. This journey will take 45 minutes. At the jetty, there are private ferry services that take you to the island. The ferry ride is about 30 minutes.
Do not be confused by the similar-sounding Marang, a small town south of Kuala Terengganu. Marang has boat services to Kapas Island instead.
Suggested Read: How to get to the islands in Terengganu
How To Get Around Lang Tengah Island
As it is a rather small island, there are no roads connecting the western and southern beach together. Instead, you can traverse the shoreline from one beach to the other. Do be careful of the tides when travelling via the beach route.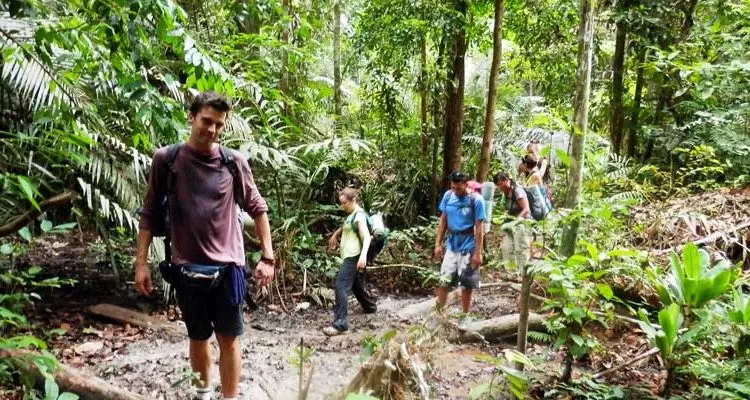 Another way to reach the other side of the island is to follow the straightforward jungle trail that connects the western beach to the southern beach. The route is very well-trodden although you do need to be wary of the snakes and other animals in the jungle.
Note: On Lang Tengah, it's common for tourists to stay at their resort. Exploring is possible but not as widely pursued, due to lack of convenient transportation around the island. There are lots to do at resorts. Besides the daily snorkelling or diving trips, visitors can also go hiking or kayaking. Resort packages also come inclusive of meals.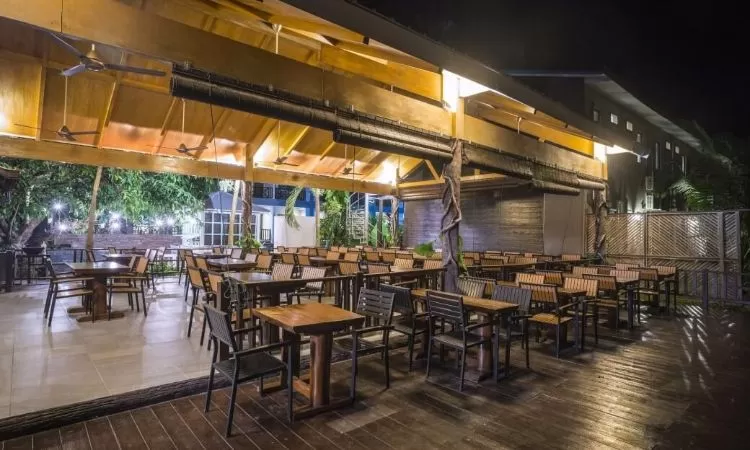 ---
Popular Lang Tengah Packages