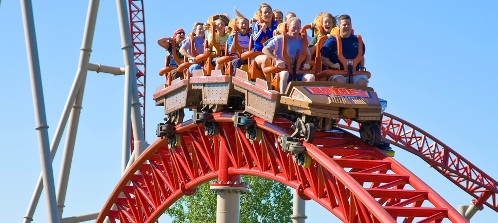 A country filled with diversified of things to do and see, Malaysia has so many fun filled activities to offer for its visitors. Other than to discover the unique cultures of Malaysia, more than a million of visitors come to Malaysia each year just to experience the fun and exciting activities in any of the many theme parks in Malaysia. The best way to find the best park according to your desired theme is no doubt by joining a theme park tour.
Located in the state of Johor, Legoland is the first international theme park in Malaysia. The park features more than 40 rides, attractions and shows that are much suitable and well preferred by children at all ages. Within the same state, Hello Kitty Land is another popular attraction in Johor. Most visitors to the state of Johor will spend 1 full day just to visit these 2 parks, many tour operators will pre arrange the tickets and accommodations before your arrival as the parks and hotels in Johor will get quite full during the peak seasons.
For visitors who prefer to stay atop, the theme parks in Genting Highlands offer plenty of exciting and interesting rides and activities. With the cooling climate at the summit, visitors will never get tired even after trying most of the rides in the parks. Genting Highlands will get very full not only during peak seasons but also during weekend, for visitors who are planning for a theme park tour should pre book the hotels in advanced to avoid any disappointment. Day trip to Genting Highland is also available but you will get different experience by staying overnight at the summit. If you wish to get wet, Sunway Lagoon Theme Park located in the Sunway city is the best place to go. The city also homes to a huge shopping mall called Sunway Pyramid and staying here is not a problem as well with the luxury spa resort located just within walking distance to both attractions.
If you are visiting Malaysia for a beach vacation with your family, perhaps you should consider staying in the Gold Coast Morib Water Theme Park Resort as your children will like the water theme park available in the resort area along the Morib Beach. The Outdoor Water Theme Park offers special water slides, water cannons, lazy rivers and other water thrills that will sure offer your children an unforgettable experience.
There are plentiful of theme parks in Malaysia featuring unique theme from each of the park. Some parks are located indoor where some other located outdoor. Depending on how you wish to enjoy your theme park tour, there are many theme park packages available that suit every need and every budget. The theme parks can become very full during peak seasons where the onsite and surrounding accommodations can also be fully booked. It is always recommended to get a theme park tour package that also covers for accommodation to avoid disappointment due to hotel unavailability.
If you interested to visit one of the popular theme park in Malaysia, here are recommended packages
Popular Theme Park Tour Packages