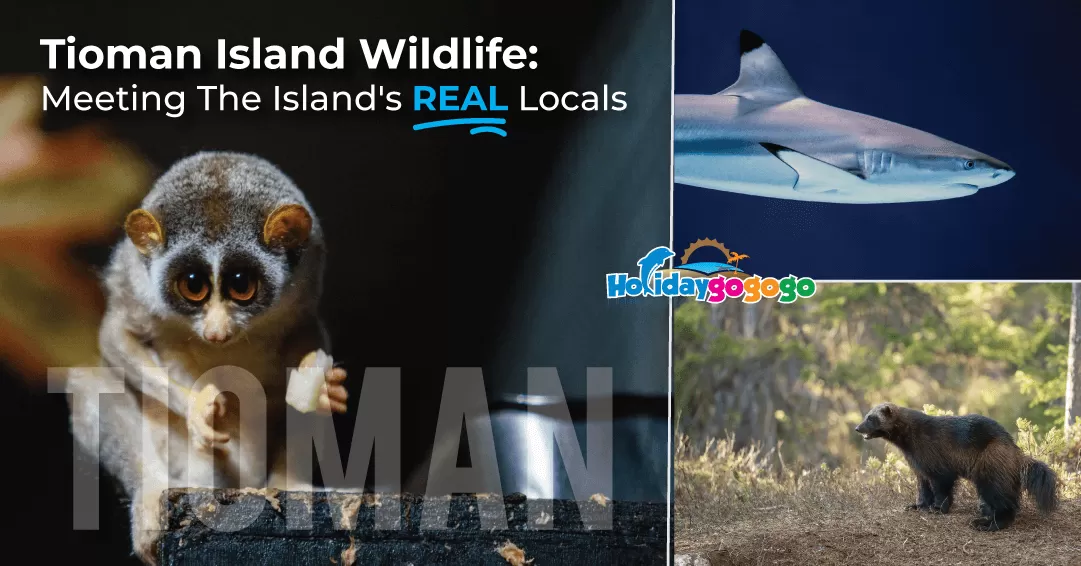 The island beckons, but it isn't just the waves doing the calling.
As local monkeys howl in the distance, we are reminded that Tioman Island is not just an underwater paradise but is also home to various wildlife – including those living above the waves.
What wildlife can you expect to see at Tioman Island? Where and how can you see them?
We'll cover all this and more in the following sections. So put your Animal Planet game-face on, prepare your cameras and sharpen your eyes (we're not kidding, some of these animals can be a tad hard to spot!) – it's time to meet the REAL locals of Tioman Island.
[lwptoc]
---
Wildlife in Tioman Island
In 1972, Tioman Island was declared a part of the Tioman Island Wildlife Reserve. This was established to safeguard and protect the marine flora and fauna, including fish, coral and other aquatic flora.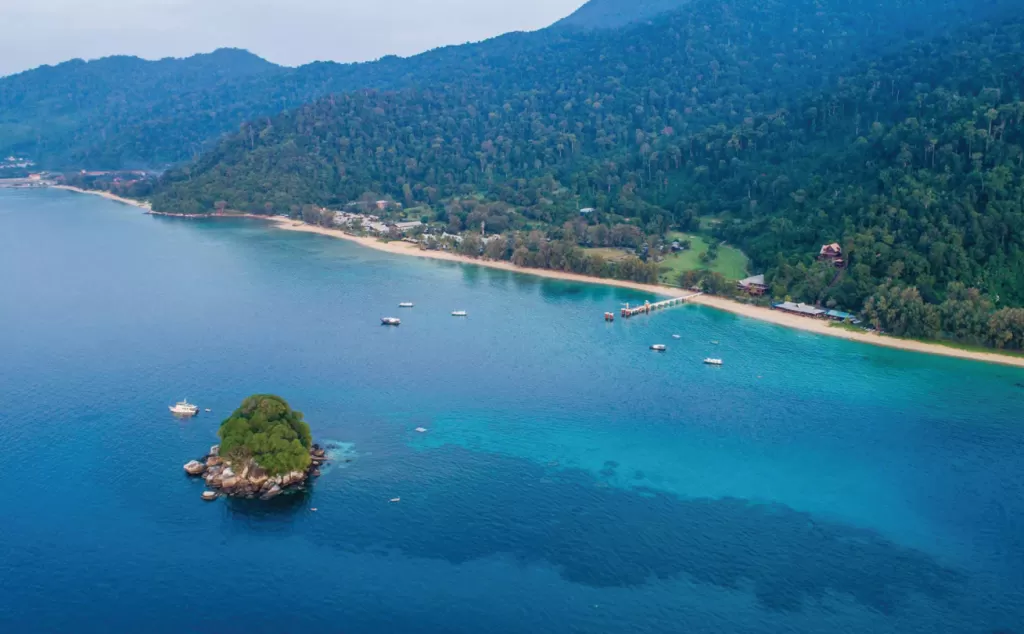 The island itself is home to more than 45 species of mammals, 48 freshwater fish species, 138 species of reptiles, 78 species of butterflies and literally thousands of ocean marine life species. This is an impressive number considering that the island only measures 136 km².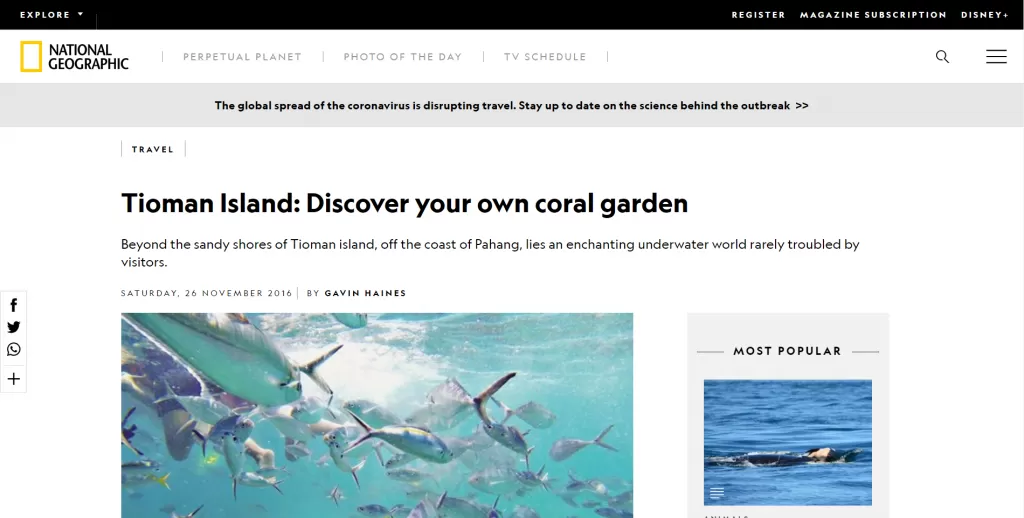 Indeed, Tioman's indigenous jungle flora and wildlife are so distinct and fascinating that it has even been featured in on Animal Planet and even National Geographic!
The island supports a diverse range of ecosystems. Many new species of wildlife have been discovered here over time, including rare mammals, reptiles, amphibians and colourful fish living on land and sea. And while traditionally the island's eco-tourism has mostly taken place around its waters, recent times have seen a gradual change to the status quo. More and more travellers are venturing into the shady depths of its primitive jungles and are discovering amazing sights as a result.
Suggested Read: Pulau Tioman Review: Is It Still Worth Going?
Tioman Wildlife In The Ocean
Tioman Island has one of the best underwater landscapes in the world. The island's waters are full of marine life and are ideal for diving and snorkelling. Tioman's corals have been carbon-dated to be over 6,000 years old! With nearly 200 hard and soft coral species and a fantastic assortment of reef fish, Tioman's endless underwater parade will keep you hooked for hours.
But what's so great about Tioman's underwater landscape is its accessibility. In fact, you won't even have to take a boat ride out to see the beautiful marine life. Swim out into the sea right off the beach, and you'll have the chance to find turtles, moral eels, and much more rare marine life! You will be delighted with the sights of corals and colourful fishes that dominate the landscape.
Not a fan of swimming with the local marine inhabitants? You can watch the marine life from a safe, dry vantage point by strolling along the many jetties that jut out from shore.
Snorkelling in Tioman
Snorkelling at Tioman, you will be able to see blacktip reef sharks, blue-spotted sting-rays, turtles, and colourful coral fish such as triggerfish, parrotfish, angelfish, clownfish and many more.
Of course, you can just pick a beach and snorkel away to get some amazing underwater views. We recommend the spot near the jetty of Air Batang village. The beaches at Juara or Salang are also known to have thriving corals and are beautiful spots to visit for snorkelling.
However, if you're looking for the best snorkel experience, head over to Coral Island, otherwise known as Pulau Tulai. This island is located off the northeastern coast of Tioman and is a 30-minute boat ride from Salang Village. A favourite snorkelling spot, the sea waters around the island are rich with coral reefs and marine life. At the same time, some famous dive sites can be found within its vicinity.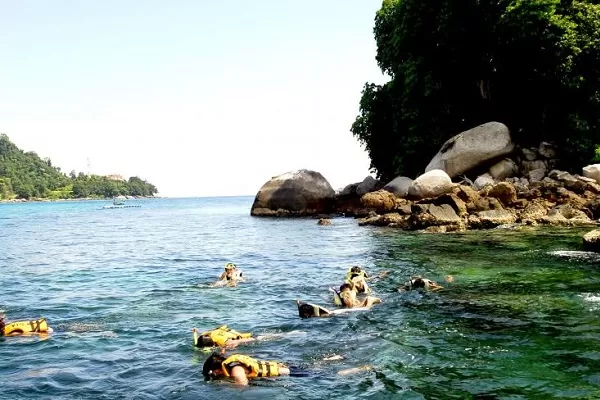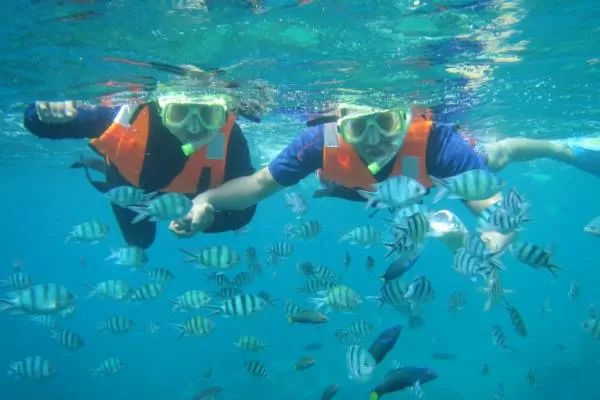 Pulau Renggis and Monkey Bay, where corals abound, are two other snorkelling spots worth checking out.
Suggested Read: Snorkelling in Tioman
Diving in Tioman
Tioman Island generously rewards those adventurous enough to dive its depths. Be on the lookout for some of the more massive creatures that roam the waters. These include blacktip reef sharks, green turtles, and manta rays.
These are truly great experiences. Keep your eyes peeled for very rare giant clams that are scattered all over the seafloor. They are the largest living molluscs.
Speaking of largest in size, depending on the season (March to May), you can even bump into the occasional whale shark. The whale shark is a slow-moving, filter-feeding carpet shark and the largest fish in the world. These gentle giants are harmless and are amazing to behold.
The coral gardens here are indeed very colourful, and macro subjects such as nudibranchs can easily be found in Pulau Tioman. An excellent spot to dive for underwater photography is Teluk Kador. Other great dive spots include Tiger Reef, Magician Rock and Malang Rock.
The best time to dive in Tioman is during the dry season between March and May when visibility is best. Tioman's water temperature ranges from 27 to 29°C.
Suggested Read: Diving in Tioman
Tioman Wildlife In The Jungle
Aside from its diverse aquatic landscape, Tioman's in-land is covered by lush, dense tropical rain forests dating from the last ice age. In fact, it is due to Tioman's primitive, emerald rainforest that it is commonly agreed to be the most biologically diverse island in the South China Sea.  Common wildlife to spot in its rainforest is the mouse deer, macaques, pythons, monitor lizards and flying foxes.
You will sometimes hear people referring to Tioman as "Malaysia's Galapagos Island". This is due to the evolutionary isolation and violent geological history of the island which has led to the occurrence of the "Darwinian Island" effect. Charles Darwin believed that the biodiversity found on islands was vastly different from that of the mainland. This is clearly evidenced on Tioman, where many plant and animal species have strayed from their continental cousins and have become distinct species altogether. In fact, until today there are several endemic wildlife species that can only be found in Tioman and nowhere else in the world.
The cherry on top is that Tioman's jungles and the wildlife living in it, much like its beautiful underwater-scapes, are very accessible to nature explorers. This island forgoes vehicle tar roads and makes do with walking trails instead. While these trails serve a very practical purpose by connecting the different villages on the island, they simultaneously offer great opportunities for wildlife watching.
Walking over the island through the jungle is a popular activity for travellers and locals. Not only it is the most economical way to get around,  but it is also the best way to spot some of the more timid wildlife. There is also something remarkably peaceful in immersing oneself in the tranquillity of lush, green mother nature.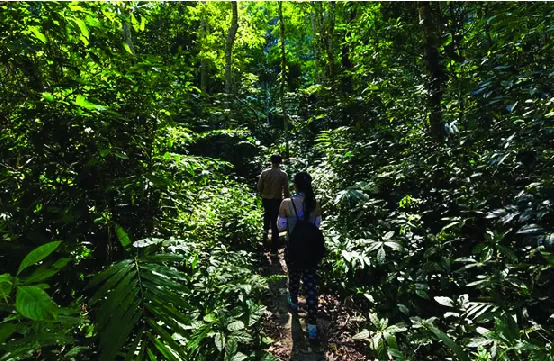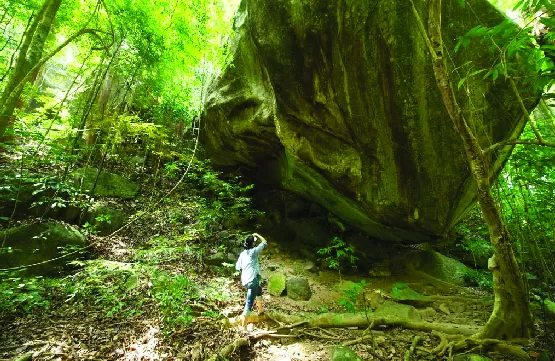 Tioman Wildlife In The River
Tread carefully in Tioman's rivers as you might come across on some unsuspecting frogs or lizards. You might see the poisonous rock frog and the occasional black-spotted rock gecko. Of course, the reptilian stars of the island – the monitor lizard – is bound to make an appearance sometime. These large carnivorous lizards can grow up to 7-feet long and can be pretty fast when they want to. So admire with caution (and by that, we mean at a safe distance!).
Some other rare wildlife to spot are the soft-shelled turtle and the Tioman walking catfish – both being very rare but possible encounters during rainforest walks.
Tioman Wildlife Up The Dragon Horns
Towering above Tioman Island is the famous 'Dragon Horns', otherwise known as the twin peaks of Gunung Nenek Semukut, a mountain at Mukut Village.
A route up to the peaks from Mukut Village will let you encounter some rare Tioman wildlife that are only found here! These include some protected species, such as black giant squirrels, binturong, red-giant flying squirrels, common palm civets and a nocturnal variety of mouse deer.
If you're patient, still, and lucky enough, you might also spot the highly elusive colugos – a primitive, tree-dwelling mammal that can glide to up to 100 metres. There have also been rare documented reports of wolverines. Locals have reported few sightings over the years of large, predator-like animals that live on the mountain. As of today it still remains a mystery as to how many species of carnivores live amongst the island's peaks.
Do note that this can be a challenging trail and not suitable for families with younger members. However, it's entirely worth the effort. Some scrapes and a steep climb later, you'll find yourself standing on top of the world taking in the breathtaking view of Tioman's south coast.
It is possible to do some nocturnal exploring while in Kampung Mukut as well. You can arrange for night excursions with local guides to stake out nocturnal animals like mouse deer, porcupines, birds and certain species of snakes and insects.
Tioman Wildlife In The Sky
Malaysia is well-known for being a bird-watching haven as it is located on the cross-migratory path of various bird species. Frequent sightings of migratory birds on Tioman, including some quite rare species due to its unique evolutionary growth, has propelled the island to international recognition as a hotspot for bird-watchers. As Tioman is being discovered by these birds as an ideal place for quick rests, fresh water and energy reserves, more migratory bird species are being spotted.
As of today, the island is home to 134 recorded bird species. Common sightings include egrets, herons, mynas, bitterns, frigatebirds, imperial pigeons and sea eagles. Fun fact: there is a story that the name "Tioman" actually originates from the word "Tioang Man" – a word in the local dialect that means "My Hill Myna" in English.
The island is also home to some less common species including the critically endangered Christmas Island frigatebird.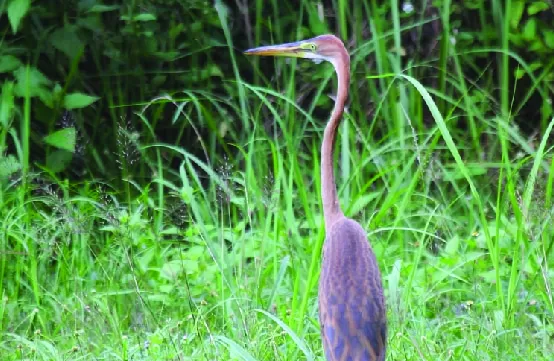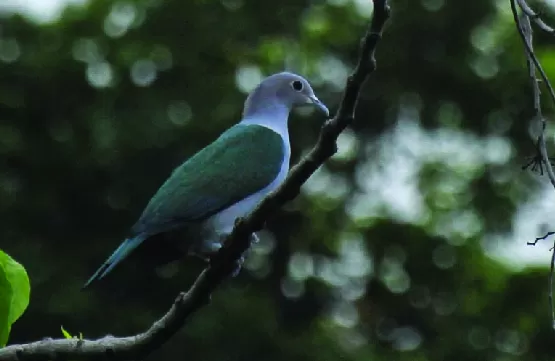 Image:
digdeep 
Snakes in Tioman
As you trek through the jungles, look carefully for graceful snakes in the trees. The snakes are mostly harmless and the average traveller will not spot many, if at all.
However, with a bit of looking, the reptilian wonders of Tioman open up for your exploration! Check out the uniquely-shaped oriental vine snake that hides in lower shrubs and is a fantastic model for any photograph. Its unique pupils and head shape make it stand out.
You might also be impressed to know that Tioman is no stranger to pythons. The reticulated python is relatively common for those who actively seek it, especially during rainy periods and along the rivers and streams that flow into the ocean. Multiple snake species, including king cobras, also descend from the mountains during the rainy season and have been sighted a few times around chalets.
Snakes make up an important part of wildlife in Tioman. So don't be surprised if you bump into one or two during your next trip here.
Tioman's Rafflesia Flowers
I know this isn't technically part of Tioman wildlife, but it's something special to share. Recently, Rafflesia flowers were discovered growing in Juara's backyard! In fact, Tioman Island is one of the few places in South-East Asia which can reliably offer Rafflesia sightings. Provided you know where to look, you can spot them along the trail to Juara Village. Hire a local guide if you would like to increase your chances of spotting one.
If you're lucky, you might catch them in full bloom. A Rafflesia in full bloom is a very rare sight as it only blooms 3-5 days a year at completely random times. There is also a vine toughness requirement – only one species of vine in the world can support the growth of this spectacular flower.
---
Popular Tioman Tours