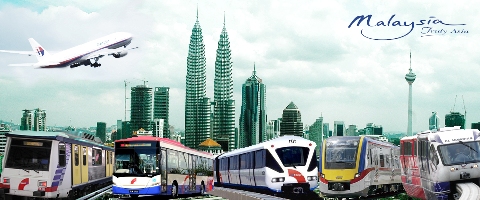 A tropical country located in the region of South East Asia with its peninsular bordered with Thailand and Singapore, Sabah and Sarawak on the Borneo Island neighboring with Brunei and Kalimantan, Malaysia is a perfect destination to go if you are looking for a vacation in a tropical climate. With so many things to see and do, visitors are basically spoiled with choices while having their vacation in Malaysia. Getting into Malaysia is relatively easy and you can generally arrive in Malaysia via air, sea and land transportation.
By Air
Landing to Malaysia by air is the easiest mode of transportation, with so many international and domestic airports within the country and so many airlines operating within the region, travelers no longer need to worry on how to go to Malaysia from any parts of the world. Most visitors to Malaysia's Peninsular will land on Kuala Lumpur International Airport (KLIA) or Low Cost Carrier Terminal (LCCT) as these are the main air transportation hub in the country. Whereby, visitors to the East of Malaysia will mostly land on Kota Kinabalu International Airport or Kuching International Airport.
By Land
To access Malaysia via land transport is also possible. For visitors come to Malaysia from Singapore, there are plenty of coach or taxi services available to connect visitors via the state of Johor to other major cities within the country. For traveler who prefer self drive, there are also plenty of car rental agencies can be found either in Singapore or Johor. Commuting between Malaysia and Thailand via land transport is also easy by crossing through Padang Besar in Perlis or Bukit Kayu Hitam in Kedah. Likewise, there are also many taxi and coach services available to ease the transportation between these 2 countries.
By Sea
Commuting by sea transportation seems to be less popular for traveler visit to Malaysia, however, if you enjoy the ocean, this is still a viable transportation mode to Malaysia. There are routine ferry and boat services operating from Singapore, Satun of Thailand and Sumatra of Indonesia. For visitors who prefer sea transportation to Malaysia is recommended to check the latest local ferry and boat schedule as well as the ticket availability.
Getting to Malaysia is very easy nowadays and the most preferred mode of transportation is still by air. With the fierce airlines competition, traveler can expect to get cheap flight tickets in most of the time throughout the year. If your travel plan can be confirmed earlier, booking the flight ticket at least 3 months in advanced will also get you some discounts on the air ticket. Do take note that entrance visa is required for certain nationalities, you are recommended to check our visa requirement for further details.