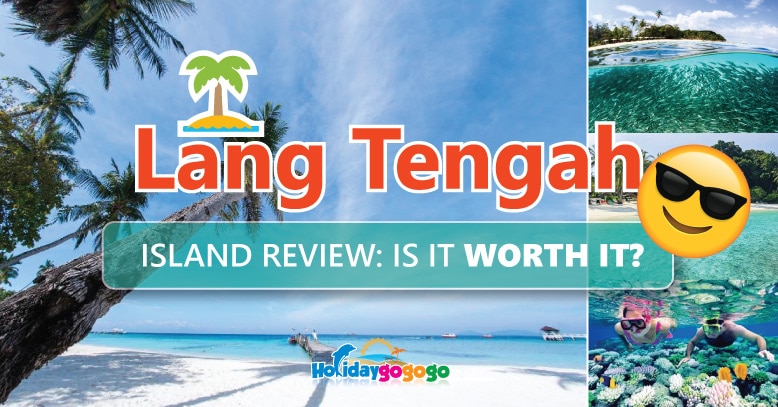 With current forecasts for international travels only resuming in two years, it seems like now is the best time to continue discovering what our nature-rich nation has to offer. An island trip to one of our beautiful gems sounds about perfect for a short retreat. One such haven, Pulau Lang Tengah (Lang Tengah Island), makes for an ideal destination for all travellers, be they families, friends, couples, and even lone rangers. It's high time we share with you our of Lang Tengah Island review .
[lwptoc numeration="none"]
---
What You Need To Know About Lang Tengah Island
Set in-between two popular islands, Perhentian and Redang, Lang Tengah Island more than makes up for its diminutive size through its pristine beaches, quieter ambience and untouched natural wonders. The constant peace is further boosted by having only three resorts that are set on the western and southern coast of the island. A turtle conservation centre makes the south-eastern cove its home.
 
Located just 30 minutes from Terengganu, the short boat ride ends with a welcoming sight of lush greenery with remarkable fine, white sands set amidst stunning turquoise waters. The dry months of April to September presents itself as a splendid time to visit this little jewel, with rainstorms kept to a minimum.
As always, do take note that the islands off the east coast of peninsula Malaysia are closed from November to February, due to the monsoon season. The currents will be strong and the waves choppy, prohibiting almost all forms of water activities. Most resorts and boat operators are also closed during this time. Always be aware of this useful little info when planning your trip to any of the east coast gems.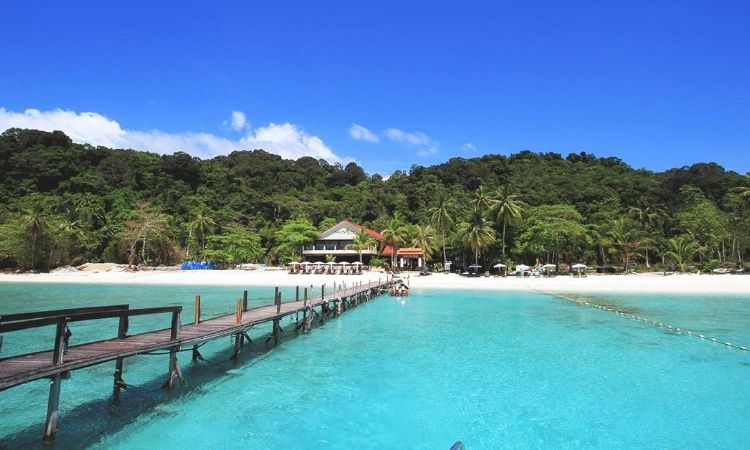 Uncovering Lang Tengah Island
A smart traveller is a prepared traveller. We've compiled a list of information about Lang Tengah Island and review how worthy it is to be one of this year's top destinations.
1. Peace – A State of Mind
Unlike other popular east coast islands like the aforementioned Perhentian and Redang, as well as the beloved Tioman further south, Lang Tengah Island is still rather secluded. A small island with little development, Lang Tengah Island receives much less tourist traffic due to its size and the limited number of resorts.
This is a refreshing contrast to the other islands that, though part of the protected marine park, have long established themselves as the ultimate backpacker's dream.
Only two jetties, a long straight road and a few hiking trails connect the three resorts and the turtle conservation centre. The lack of infrastructure is further enforced by the limited number of rooms available at the three resorts, limiting crowds and ensuring you the utmost privacy.
Take a walk along the beach and you'll find isolated spots too many to count, where endless relaxation is guaranteed. This slow, quiet ambience is an effective remedy in comforting the mind and unwinding the body.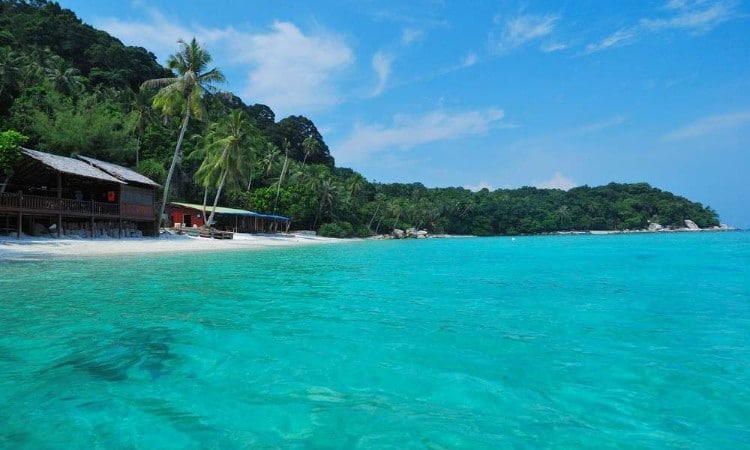 Image: Beautiful Terengganu
2. Perpetual Natural Beauty
Lang Tengah Island is a treasure trove of natural beauty. A dense forest inland is home to a substantial number of flora and fauna. The diverse marine life rewards swimmers, divers and snorkellers with an immersive, colourful experience.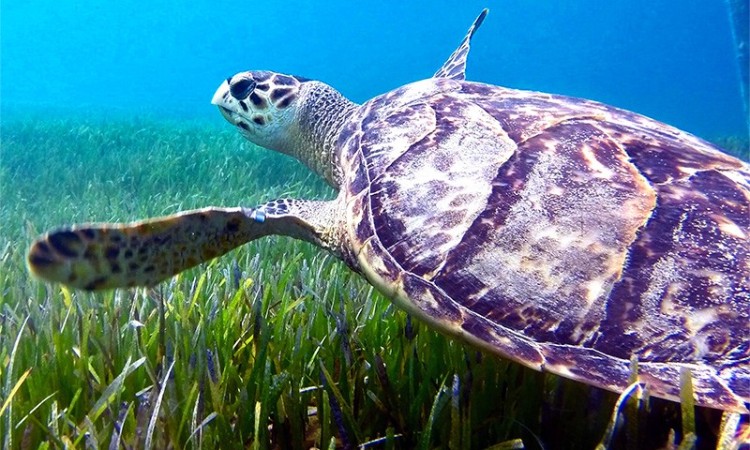 Lang Tengah Island's immaculate allure extends to the horizons. Vivid scenes await at every turn, bestowing a majestic view of nature at its finest. Batu Kuching, a rocky formation accessible by the hiking trail, is about 25 minutes away from the resorts and is a splendid spot to catch the sunrise. Sunsets, on the other hand, are much more convenient, as the western beach that is bathed in its setting rays every day is where two of the resorts are located.
Whatever your choice may be, on land or in the sea, set for dusk or up for dawn, hides your future memory thereupon.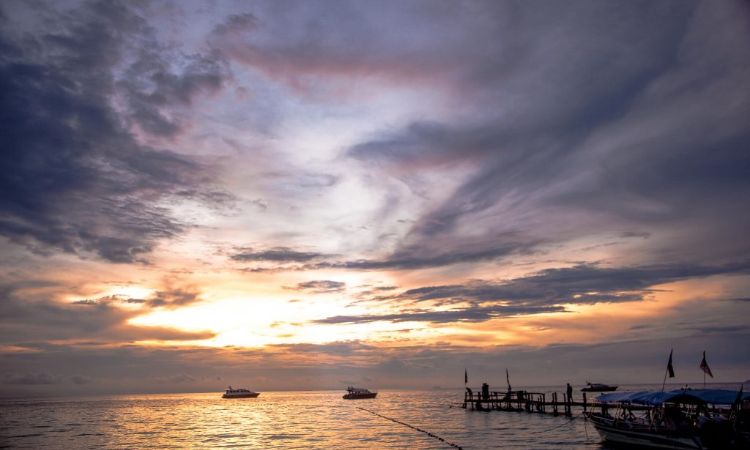 Suggested Read: Let's Compare Pulau Redang, Pulau Perhentian and Pulau Lang Tengah!
3. What To Do At Lang Tengah
Beneath Lang Tengah Island's chill vibes lies an invigorating excitement waiting to be unleashed. Work up a sweat with a moderate hike into the woods and discover the small, obscure eastern and northern beaches. Or choose the sea route and kayak around the island.
The inviting waters are definitely not to be missed. With marine life available in abundance, take a dive and swim with the colourful fishes, turtles, rays and even sharks! Even the slower-paced snorkelling in shallower waters will reward you with a sight forever etched in memories.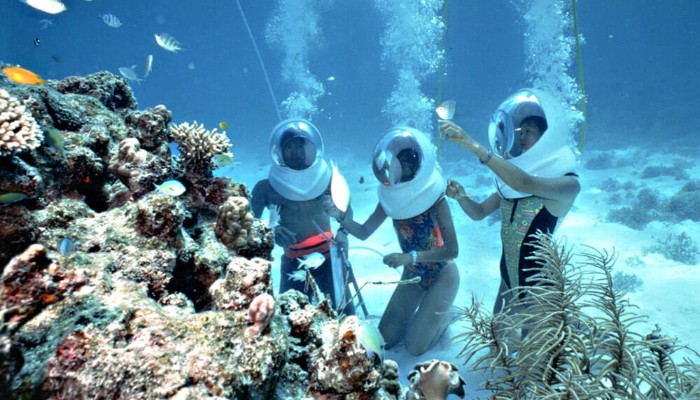 A unique experience not to be missed is a visit to the turtle conservation centre, otherwise known as Lang Tengah Turtle Watch. Gain valuable insight why Malaysia is home to most of the turtles' species in the world.
If you're lucky, you may even catch the hatching of eggs. This is when the cute baby turtles hatch from their eggs and wade into the sea. Interested? Check out our previous article that extensively covers the Lang Tengah Turtle Watch.
4. Food at Lang Tengah
One thing that Malaysians love is food. Sure, the options for lunch and dinner are limited to the packages offered by three resorts, but in true Malaysian style, they do not disappoint.
Local dishes, international cuisines and even fusion delicacies are served. Only the freshest of ingredients are used in their daily menu. Savour the robust flavour of smoked fish, meat and chicken complemented smoothly with the zesty taste of soup and the assorted spicy sambals.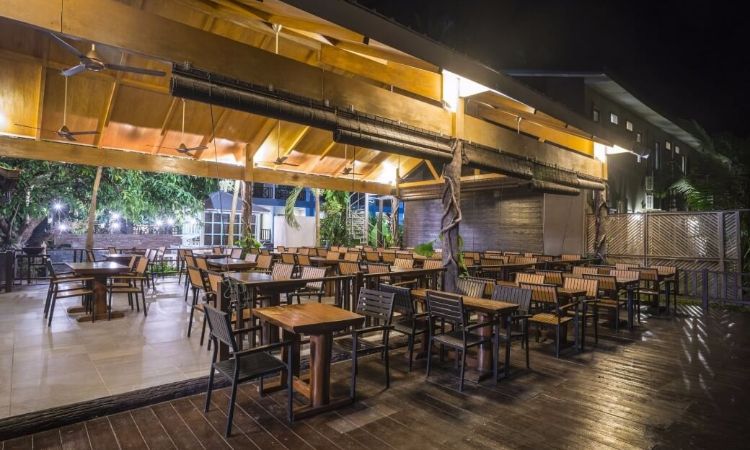 Barbeques are served during weekends, adding more choices to the menu besides the daily choices of local favourites such as Pineapple Fried Rice, Nasi Goreng Kampung, Tom Yum Soup and Creamy Pastas.
5. Prices at Lang Tengah
We wouldn't want to leave out pricing in our Lang Tengah review. Generally, you can expect higher prices at Lang Tengah Island compared to the mainland.
Food prices not part of the package can range anywhere between RM15 to RM30. Activities that require rental of equipment such as snorkelling gear and bicycles are priced below RM20. Chartering a boat for island-hopping or a short diving trip is also affordable, with the only setback being the need for a set number of participants before moving off.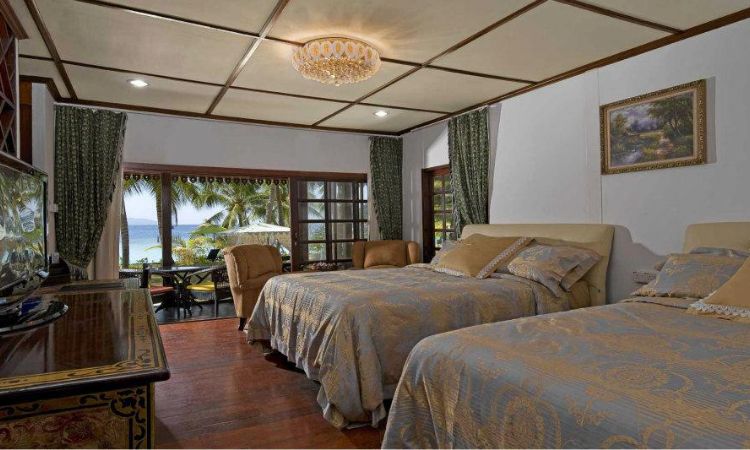 Package prices vary, depending on which resort and accommodation type you choose. Cheaper packages, inclusive of meals and activities, can go for as low as RM200+ per pax/night; premium options can go as high as RM600+ per pax/night.
For what it offers, Lang Tengah Island, is reasonably priced. Often called as the Maldives of Terengganu, it offers privacy and untouched beauty unrivalled anywhere else in Malaysia. Getting this sort of peace and tranquillity is incredibly rare, so rest assured that you'll be getting your money's worth. It also helps that prices here are not too extravagant, making it an attractive choice for any traveller looking for a secluded weekend getaway.
Lang Tengah Attractions
What Lang Tengah Review will be complete without listing some attractions that the island is famous for?
1. Visit Batu Kuching for an unobstructed view
Lang Tengah Island is strategically positioned to capture the sun's rays from dusk to dawn. On the other side of Turtle Bay in the south, is Batu Kuching, a rocky formation in the shape of a cat. It has an unobstructed view of the endless sea and nearby Redang island. Try setting out early in the morning and catch the first rays of the rising sun.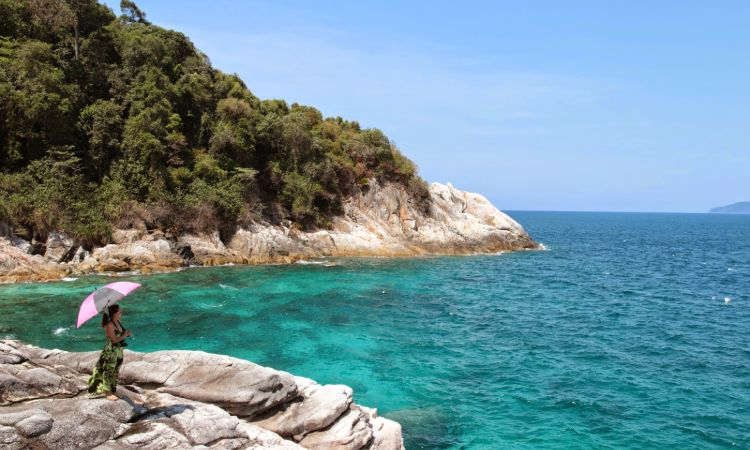 Image: Chillout, Soulout, Freakout
It is also a hot spot among adventurous travellers for some adrenaline-inducing cliff-jumping!
2. Stop by Pantai Pasir Air for the best sunsets
A small lagoon just beyond Sari Pacifica Resort, Pantai Pasir Air boasts an empty beach with almost no spiky corals or urchins. The beach is an excellent site to unwind, catch a tan or just to hang out with friends and families, uninterrupted. This is also the best spot to watch sunsets as it is situated on the western part of the island.
3. Be amazed by colourful marine life at Batu Bulan
A small islet resembling a crescent moon, Batu Bulan is accessible by a longer trek through the jungle. For a small sum, a guide is available for request at the reception. Grab your snorkelling gear, and together with your guide, set out for a small adventure. Snorkelling at Batu Bulan is a treat as it is an ideal spot to see the colourful corals, fishes and turtles feeding on the sea vegetation.
4. Learn about turtles at Lang Tengah Turtle Watch
Set on Turtle Bay south of the island, the turtle conservation group, as shared earlier offers a different experience to the whole island living. Get up close and personal with the different turtle species returning to Lang Tengah Island to lay their eggs. As a day visitor, you can interact with the staff and learn more about these beautiful turtles. If you're lucky enough, you may even be invited to a hatchling event at night.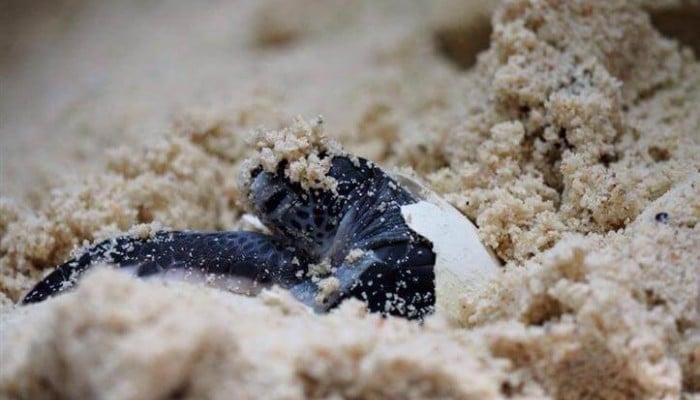 Travellers with time to spare and a heart for these majestic creatures can sign up for a volunteer programme. The key to safeguarding Lang Tengah's nesting population of turtles is constant and continued human protection, as this is the main deterrent to egg poachers. You will live 24 hours a day in the camp and join patrols as well as nest relocation activities. Along the way, make friends from other countries, experience fireflies, phosphorescence, shooting stars, and mysterious sea creatures who appear out of the sea to meet you!
Sounds like a fun summer break to me.
Suggested Read: Lang Tengah Turtle Watch: Turtle Conservation In Paradise
How To Get To Lang Tengah Island
A trip to Lang Tengah Island starts off from Merang Jetty. The jetty is located about 45 minutes north of Kuala Terengganu, the capital of Terengganu. The ferry services to the island are, for the most part, part of the package offered by the individual resorts. There are private ferry services that take you to the island although prices may vary among these independent service providers.
Do take note that Marang, a small town south of Kuala Terengganu and similar sounding to Merang, has boat services to Kapas Island instead.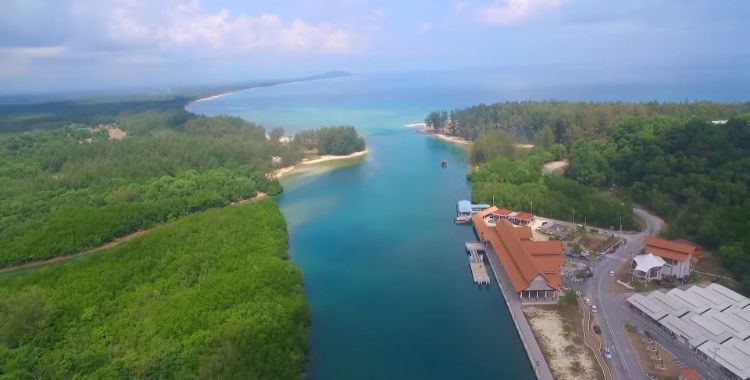 Getting Around Lang Tengah Island
As it is a rather small island, Lang Tengah Island has no roads connecting the western and southern beaches together. Instead, you can traverse the shoreline from one beach to the other. Do be careful of the tides when travelling via the beach route.
Jungle trekking is a great way to explore the island. The trails start from the resorts located on the western beach and is linked to the southern and eastern part of the island.
A leisurely stroll through the whole stretch of the western beach is highly encouraged. For those looking for something quicker, bicycles are available for rent.
So, Is Lang Tengah Island Worth It?
Pandemic or no pandemic, Lang Tengah Island is highly worth a visit. Lang Tengah Island is proof that the grass is not always greener on the other side. Its natural beauty and affordability, as well as its convenient accessibility, is a testament to Malaysia's international reputation as a dream getaway.
Our Lang Tengah Island review concludes that this island should be a definite addition to any travel list for years to come!
---
Popular Lang Tengah Packages