Tioman Island is one of Malaysia's top travel destinations for a reason. This small island is home to idyllic villages famous for leisure and water activities. Its sandy-white beaches, calm waters, lush rainforests, and captivating marine life appeals to every type of traveller! What's even better is the fact that you get to see and experience more of the island as Tioman villages and beaches are easily accessible by ferry.
[lwptoc]
---
Introduction to Kampung Tekek (Tekek Village)
Tekek Pulau Tioman is the largest village and commercial hub with basic modern infrastructures such as a bank, clinic, airport, school, and duty-free shops. Located in the middle of the island between Paya and Ayer Batang, Tekek Village is easily accessible from the mainland in Mersing via ferry.
Getting to and around Tekek Tioman
Tekek is the third stop on the 2-hour ferry route from Mersing Jetty or Tanjung Gemok Jetty. The road in Tekek Pulau Tioman connects the southern area of the village from Berjaya Tioman Resort to the northern area leading to Tekek Jetty. Exploring the village is convenient by foot, motorcycle, and car. Accessible roads connect Tekek Village and neighbouring villages such as ABC Village and Genting Village. You can rent a 4WD to visit Juara or a ferry ride to get to Salang.
If you are travelling on a budget, Tekek is the place to stay as you can move around and enjoy the best experiences Tioman has to offer from leisure and water activities, places to eat, and more!
Best Things To Do at Tekek Tioman
As many resorts are located in Tekek Tioman, there are endless leisure and water activities to enjoy.
Here's a list of the best things to do in Tekek.
Snorkelling
Due to perfect clarity during mid-year, Tekek Tioman is a haven for snorkellers! One of the best snorkelling sites in Tioman, Renggis Island is just a 5-minute boat ride from Tekek. At Renggis Island, get close to nature and discover yellowtail fusiliers, scorpionfish, turtles, lionfish, blue-spotted stingray, and pufferfish!
The Marine Park Centre is another convenient and affordable place to snorkel. Take a quick boat ride from Tekek to this place where you can feed the fishes and enjoy other water-based activities such as water volleyball.
Suggested read: Snorkelling in Tioman
Scuba diving
Most dive centres are located in Tekek offering a variety of diving courses for beginners and PADI certification. Swiss Cottage Tioman is the only resort in Tioman where you can go freediving, one the most challenging and rewarding type of deep water diving. Freediving courses and suitable diving gear are available at the resort.
The 5-Star PADI dive centre at Berjaya Tioman Resort is sought after by new and expert divers. You will be accompanied by a certified PADI instructor on your diving adventure as you take underwater photographs of Tioman's pristine Staghorn corals and fascinating sea sponges.
Suggested read: Diving in Tioman
Jungle trekking
Adventure seekers would enjoy the challenging jungle trails of Tekek-Juara which runs across the middle of Tioman Island. The 7 km trail allows visitors to experience the beauty of Malaysia's lush rainforest and endangered Tioman wildlife such as mouse deers, binturong (bearcat), oriental vine snakes, black giant squirrels, and frigatebirds.
Take a 700m detour to Ali's Waterfall and freshen up!
Duty-free shopping
Although Tioman is a duty-free zone, the largest duty-free shop is located in Tekek Village! The best items to purchase at Vision Commerce Duty-Free Shop are quality chocolates, alcohol, and cigarettes. This spacious duty-free shop also sells essential travel items such as sunblock lotion and swimwear. For intricate handmade jewellery such as trinkets, check out Cheers Souvenirs.
ATV ride
Popular resorts such as Berjaya Tioman Resort offer exciting ATV rides around Tioman Island to their guests for an affordable price. Go for an early morning or late afternoon ride and watch the amazing sunset view at the southern part of Tekek, Tioman. This adventurous ride starts from the resort leading to Bunut Beach and back to the resort.
Suggested read: 9 Thrilling Activities At Tioman Island
Yoga retreat
Swiss Cottage Tioman offers soul-healing yoga workshops on a seasonal basis. Led by passionate and experienced yoga practitioners, these sessions will rejuvenate your mind, body, and soul through wellness practices such as Pranayama (breathing technique practices), aerial yoga, and sound bath sessions.
Sunbathing
If you prefer serenity, Tekek Beach is a great place for sunbathing or a relaxing swim when the tides are low.
Cycling
Explore the village cycling along the paved roads from one end of Tekek right up to the Marine Park or neighbouring villages such as ABC Village. Check with your resort if they offer bicycles for rent and enjoy cycling amidst the cool sea breeze, breathtaking ocean view, and rustic charm of a Malay-style village.
Golfing
The only golf course in Tioman is located in the luxurious Berjaya Tioman Resort. The vast 18-hole golf course appeals to both new and professional golfers. Its narrow alleys and spectacular view of the island are more than money can buy!
Batik painting
At Swiss Cottage Tioman, you can get creative and make unique batik artwork from start to finish under the guidance of batik artist, Rikki Powe.
Where to Stay in Tekek Tioman
Berjaya Tioman Resort
This high-end resort is the largest in Tioman. Experience an idyllic beach vacation with a wide range of modern facilities such as the Ayura Spa, Matahari Restaurant, an 18-hole golf course, beach bar, gym, and dive centre. Honeymooners may opt for the SeaView Chalet overlooking the majestic ocean view while leisure travellers may prefer the serene Garden View Chalet close to nature in a private spot at the courtyard. Set against a traditional village-style living with a laidback ambience, it is also a romantic destination wedding spot for couples who love the ocean and adventure!
The in-house 5-Star PADI dive centre is value for money as new and experienced divers get to go on amazing diving trips nearby Tekek. Check with the resort on the availability of boat transfers for island hopping trips and see more of Tioman's natural beauty!
Worthy mentions are two restaurants in the resort – Matahari Restaurant and Fortune Courtyard. At Matahari Restaurant, you can be sure to sample authentic and unique Thai-fusion-style dishes with flavourful local herbs and spices. Enjoy a spectacular beach view as you dine all day at the Fortune Courtyard and savour scrumptious Asian and Western cuisine. Don't miss the seafood barbeque dinner as Tioman is known for its fresh seafood.
Go Deeper Tioman
Their Tube Rooms features container-style accommodation. This budget-friendly resort is located near the Marine Park and is known for its dive centre, a close-knit establishment with friendly instructors, allowing a more personal and unique diving experience, especially for beginners. The in-house bar (Smelly Oyster Bar) and restaurant (Blue Hole Bistro) serves light snacks, fresh juices, handmade pizzas, seafood barbeque, and steamboat. A must-try is the Coconut Smoothie made from fresh coconuts picked daily!
Recommended Tioman Tour Packages:
3d2n-Go Deeper Tioman Chalet-Free & Easy Package
3d2n Go Deeper Tioman Chalet Snorkelling Package
Swiss Cottage Tioman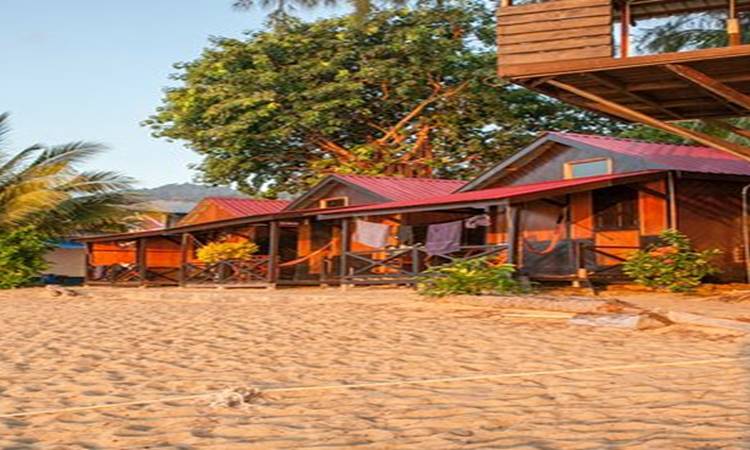 This family-owned resort strikes a balance between comfort and affordability. It ticks all the right boxes for family and budget travellers. Choose from rooms with a sea view or garden view with basic amenities including free Wi-Fi. A major attraction at this resort are water activities from freediving to paddle boarding under the guidance of trained PADI instructors. The resort's boat trips for snorkelling to Renggis Island and Coral Island or fishing trips are highly recommended. Yoga and batik painting workshops here are popular among tourists, so check with the resort on its availability.
Places to Eat at Tekek Tioman
Delima Tomyam & Seafood Restaurant
Sample home-style Thai food and fresh seafood here. There is also has another branch near Tekek Jetty.
Warong Syahirah
Local and international tourists crowd this place for cheap, local dishes in a sizeable portion.
Tioman Cabana Bistro
A friendly joint with a great sea view serving vegetarian/vegan-friendly food and live music. A must-try here is the Vegetarian Burger!
Sarang Seafood Restaurant
One of the popular Chinese restaurants in Tekek serving authentic Chinese-style seafood. Be sure to taste the Kam Heong crab and Szechuan chicken!
General Travel Information on Tekek Tioman
Tekek Health Clinic
This is the only clinic in Tioman. Even locals living in other villages come here by water taxi for medical emergencies.
Tioman Airport
Although the airport is no longer in operation for commercial flights, it is still open to chartered services. The airport is located near the only bank and ATM on the island. Top up your cash in Mersing before heading to Tioman.
Bank Simpanan Nasional
Located near Tioman Airport, this is the only bank on the island with an ATM.
Wi-Fi in Tioman
The connection is poor even at resorts. Purchase a SIM card package at any mini-mart or the post office (near Tioman Airport).
Wild Animals
Cats, monkeys, and monitor lizards are common in Tioman. Don't feed them or leave food lying around!