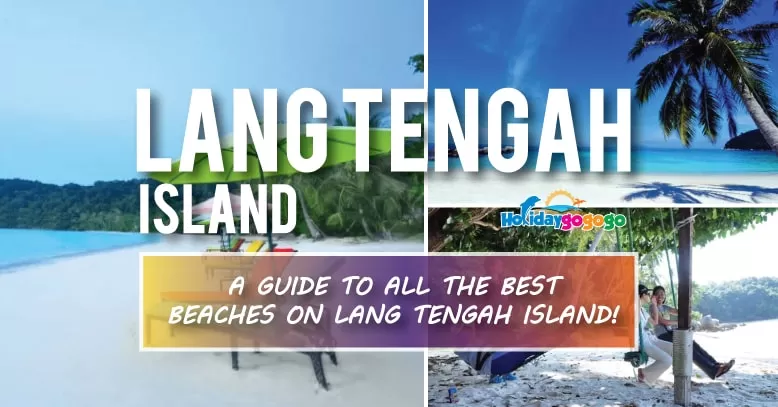 Tucked between the popular Redang and Perhentian Islands, Lang Tengah Island is often overlooked by travellers visiting Malaysia East Coast. If you're seeking a private corner on quiet shores with plenty to see and do, Lang Tengah's superb beach selection will not disappoint you.  In fact, this tiny tropical island is dubbed as the "Maldives of Southeast Asia" for its unspoilt beauty that can blow the minds of anyone who visits!
The island itself isn't large and offers four main beaches. Three of which are owned respectively by the three resorts on this island. With idyllic white sandy beaches, clear blue waters and wonderful marine biodiversity, Lang Tengah is the perfect island paradise that you'll be dreaming to visit after CMCO.
[lwptoc numeration="none" numerationSuffix="none"]
---
The Best Beaches On Lang Tengah Island
1. Summer Bay Beach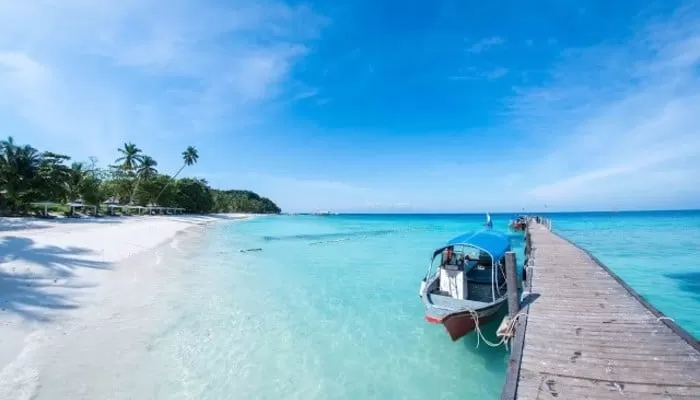 This Lang Tengah Beach is framed by pretty blue skies and tranquil blue waters. You can find it just in front of the Summer Bay Beach Resort (which, by the way, came in first in our comparison of all 3 Lang Tengah Resorts).
Suggested Read: Comparing all 3 Lang Tengah Resorts – Which is the best?
Here in this beautiful Lang Tengah beach, not only can you can get stunning pictures with the ocean and the beach in the background; you can even take a shot with the underwater marine life during frequent snorkelling trips. For professional photographers, you can rent drones here for aerial photography and videography landscape or learn more about underwater photography.
Just grab your camera and explore the beautiful below-water scenery around here!
To help you create quality photos that will last forever, the resort offers in-house photography services. This will certainly help you to capture some highly instagrammable shots with your loved ones on the beach!
As a bonus, you may find a view that seems out of a science-fiction fairytale on this beach.  The resort has a 'blue tears' tour on this very beach when it is the right time and weather to spot the shiny dazzling blue sand.
These blue sparkles are actually ostracods, which gives off bio-luminescent blue light as they are washed ashore.
Catching a glimpse of them takes enough luck as it is.
However, if your luck is through the roof on that night, you may even spot shooting stars falling all over the night sky!
What is a beach holiday without a dip into these waters? You should not miss the opportunity to dive at Lang Tengah, especially when there's a dive school in Summer Bay Resort itself!
The Lang Tengah SCUBA Adventure Club offers various PADI courses for you to learn from. It covers all the way from the basics to professional scuba knowledge.
For those without time to take a full course, you can enrol in Discovery Scuba Diving. Discovery diving is a one-off diving experience. Discovery fun dives do not require a license and enable you to start diving immediately under a professional instructor.
Suggested Read: A Step-by-Step Guide: How To Become A Certified PADI Open Water Diver In Malaysia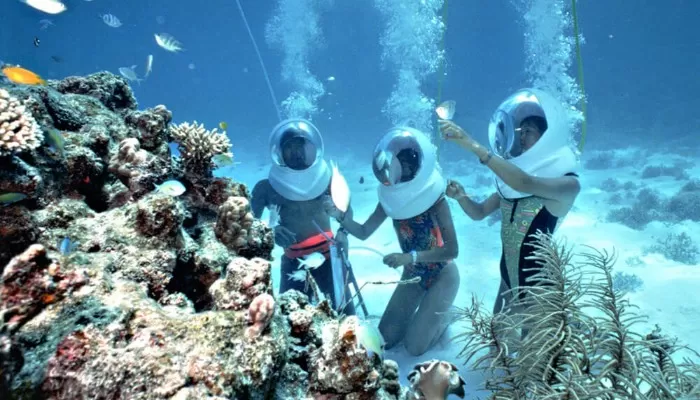 Have you ever heard of Scuba Walk? It is s 'sea trekking' in the underwater world. You will be equipped with an aqua helmet with oxygen supply, just like an astronaut spacewalking outside the space station!
For non-swimmers, Summer Bay Resort offers you the chance to experience the underwater world with your friends so you no longer have to sit on the beach and watch woefully while your friends enjoy themselves in the sea.
There are so many activities waiting for you to explore and to experience at this beach. Summer Bay Beach is perfect for travellers who are seeking for non-stop beach action during their stay at Lang Tengah Island.
Note: Summer Bay is the newest and the most visited resort on the island. Unfortunately, this also means that the beach might be busier with lots of families with kids. We recommend visiting here during non-school holidays periods for a quieter getaway.
2. Sari Pacifica Beach
While Summer Bay Beach is perfect for travellers looking to spend their endless energy, Sari Pacifica Beach Resort is quite the opposite.
This stunning beach in front of Sari Pacifica Beach Resort & Spa is relatively secluded and is the perfect place to calm your mind.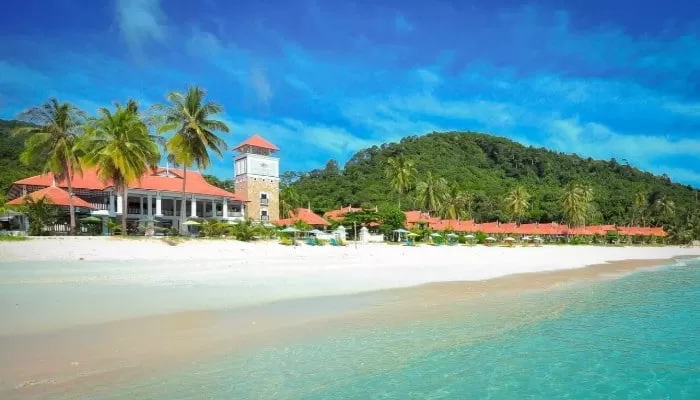 The beach itself is breath-taking. The sight of powdery white sand with calm blue waters is enough to relax anyone instantly. You can spend a few hours at this Lang Tengah beach just lazing around and taking in the beauty around you.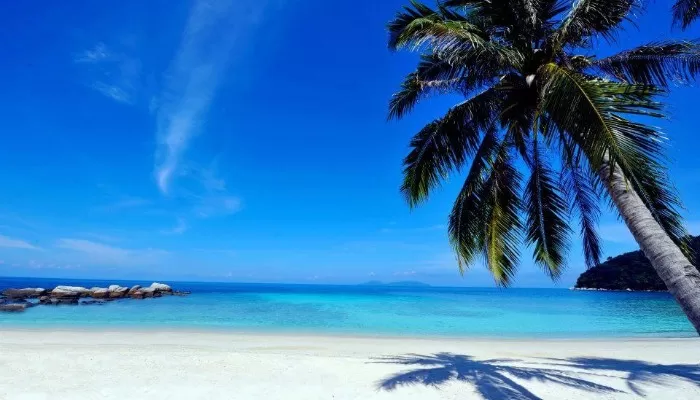 On the far eastern end of the beach, there is a tiny cove where the water is almost free from spiky coral and the beach is always empty. This spot offers a pleasant respite from other guests. It's also a great time to have some cosy private time with your family.
Sunbathing under the sun, strolling the beach, building sandcastles… think all the things you can do if you visit here with your loved ones. Whatever you do here, I believe you'll be having a great time together.
The jetty in front of the beach is another attraction you can explore here in Sari Pacifica Beach.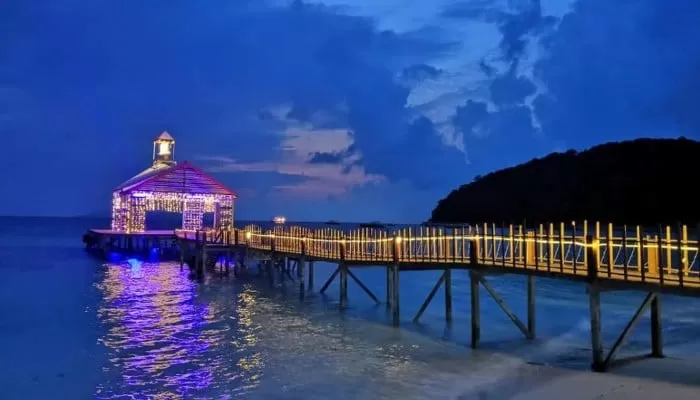 During the day, boat shuttles stop here to off-load passengers. But when night falls, it lights up in gorgeous colour! Romantic lovebirds can opt to have a romantic candlelight dinner here as well (after having a special arrangement with the resort, of course). Imagine sitting here to see nocturnal fishes swim by, stargazing to find the mysteries of the night sky or listening to the sounds of the waves crashing onto the shore.
For many couples, one of the most romantic moments in their relationship is made here!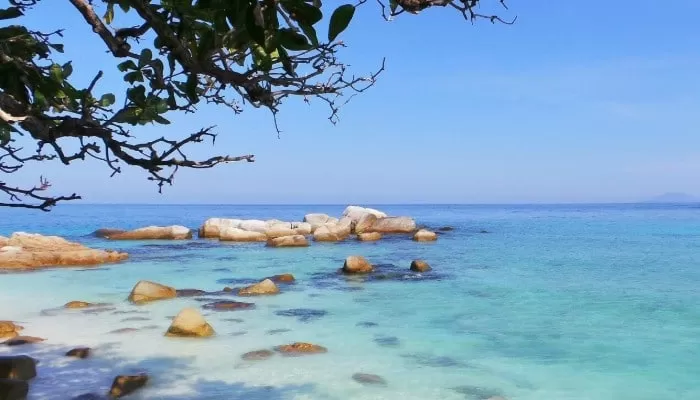 If you spot a unique blue coral patch that somehow taints the water bluer and clearer at the southern end of the Sari Pacifica beach, congratulations! You have found one of the famous diving spots in Lang Tengah Island.
This is the Blue Coral viewing spot! You can rent snorkelling or scuba diving equipment from the Sari Pacifica Resort directly or have a chat with the friendly staff in the dive centre to arrange a tour under the sea.
3. D'Coconut Lagoon's Beaches
Have you noticed the word 'beach' in the title is plural? Yep, D'coconut Lagoon Resort actually owns not one, but TWO beaches for guests to enjoy!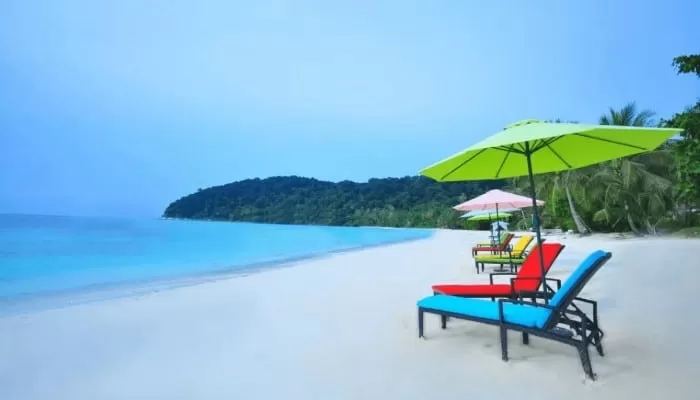 Isolated and idyllic, these two beaches are twin stunners. To distinguish between them, we'll call them East Beach and West Beach.
The West beach is the more extended beach out of the two. It is connected to the western wing of the resort. Most of D'coconut Lagoon Resort's facilities, including the main restaurant, beach bar and bungalows, are in the west wing of the resort. This makes it super convenient for beach-goers to refresh themselves with a refreshing drink after a hot afternoon out.
East Beach is smaller with coarser sand. To get to East Beach, you can take a quick path through the lush tropical jungle that will reward you with plenty of flora and fauna to see.
But don't let the beach's tamer appearance fool you. The waters of East Beach are simply teeming with marine life!
An additional point for East Beach as the dive school of D'coconut Lagoon is located here, in the eastern wing of the resort. You can easily rent your snorkelling or diving equipment and jump right in for some underwater fun.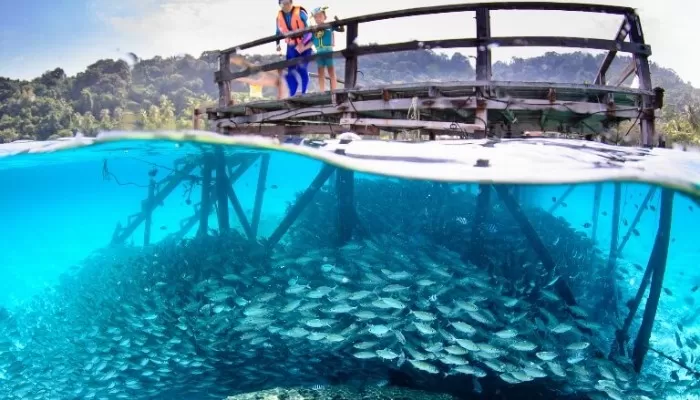 D'coconut Lagoon Resort's beaches are right next to some of the best diving spots in Lang Tengah. This is the Yellow Reef and the House Reef.
Suggested Read: Diving in Lang Tengah Island: The Definitive Guide
The short distance between the dive sites and the beach means you'll spend less time on boat rides, and more time to venture in the natural habitat of various fishes and colourful sea coral.
Every morning, the island stirs as the sun rises. The best part is you can be apart of its daily awakening ritual.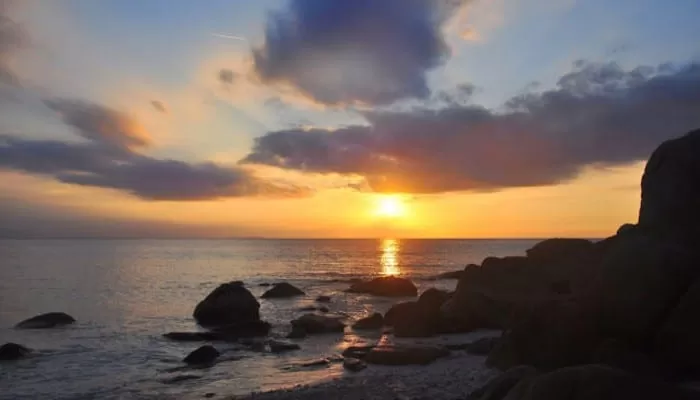 As the sun rises, the gleaming blue ocean turns into a lava-gold colour, making it a truly scenic sight to catch while visiting this Lang Tengah Beach. There is a tall rock in front of D'coconut Lagoon Resort that you can climb to have the best view of Lang Tengah's sunrise. Be sure to have an early night's rest to catch the view before the world wakes up!
4. Turtle Bay
For nature lovers, this Lang Tengah Beach definitely deserves a spot on your travel bucket list!
Turtle Bay (just like the name implies) is the home of a conservation organisation called the Lang Tengah Turtle Watch (LTTW). You can find the centre and its beach on the southern tip of the island.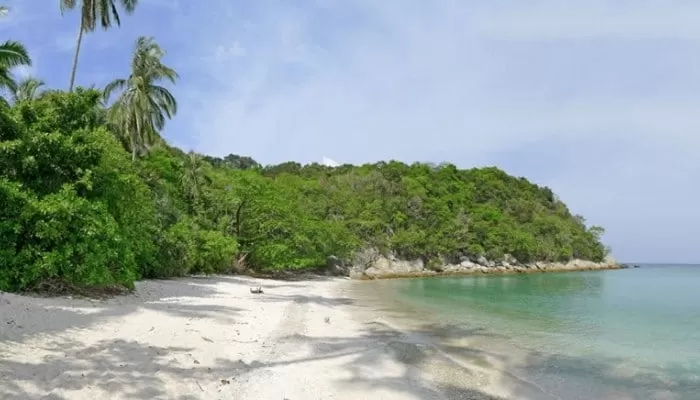 They are dedicated to protecting the marine park's turtles, fragile coral reefs and other marine life.
Most travellers come here to be a part of the volunteer programs.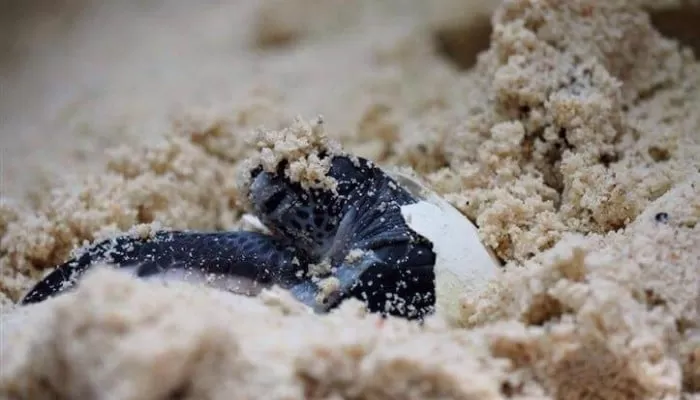 However, you're still welcome to visit the Watch as a day-time visitor. You can chat with the staff, learn more about their work and even watch as they go about their daily tasks.
If you visit from June onwards, you may even have the chance to witness the miraculous moment when the turtle hatchlings are released and they gradually make their way into the sea.
To reach this beach, you can simply follow a relaxing and easy jungle path (with ropes to aid your journey) among plenty of coconut and banana trees. You can even have some wild interactions with animals such as big monitor lizards along the trek.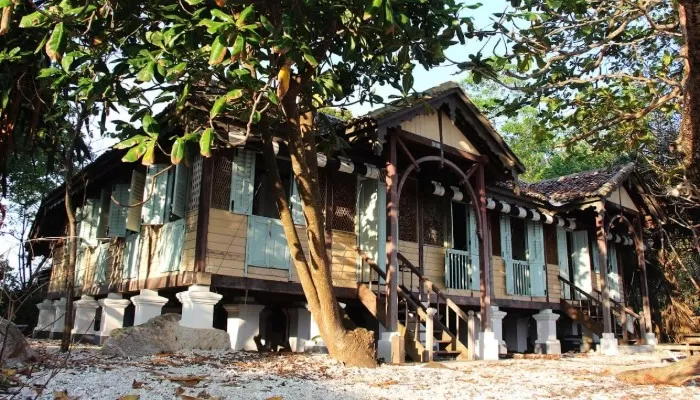 For volunteers, this is the Resthouse at LLTW where you will stay and help to protect the endangered turtle species. The volunteer programs are mostly 2 to 4 weeks long. The fee you pay covers expenses such as accommodation, project training and food. Want to know more about what you can do to help the LLTW turtle conversation project at Turtle Bay? Read our detailed article about LLTW here!
---
Popular Lang Tengah Packages