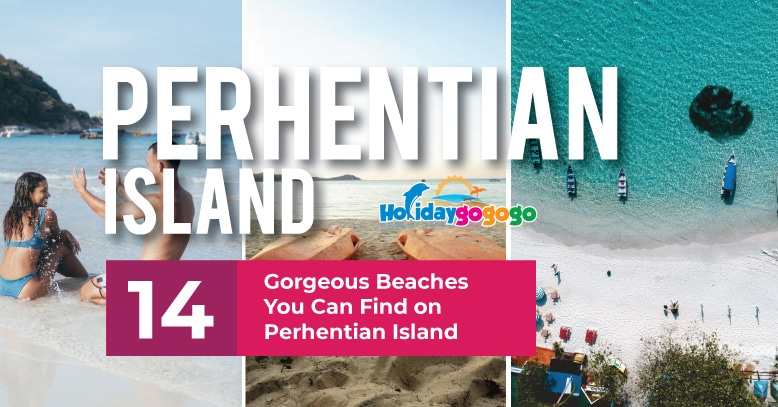 Imagine lazing on a white sandy beach in the Perhentian Islands – relaxing while listening to the calming sound of waves lapping against the shore. The turquoise-hued waters, warm sand, and relaxing ambience of beaches in Perhentian Island draw passionate travellers here every year. If what you're seeking is unending beach bliss, you've finally found it.
Perhentian means "stopping point" in Malay. Indeed, it is a beautiful place to stop and relax on the beach. The Perhentian Islands are formed by islands: Perhentian Besar (the larger island) and Perhentian Kecil (the smaller one). To make it easier for you to plan your best beach vacation in Perhentian Island, we've listed 14 different superb beaches on both Perhentian islands with completely different personalities.
[lwptoc numeration="none"]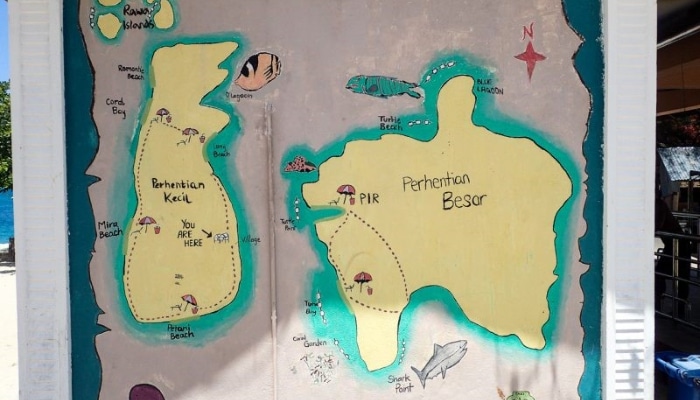 ---
Perhentian Besar
Big Perhentian Island is known for its peace and relaxing atmosphere. The beaches here reflect that, as they are perfect for guests who prefer to step away from the crowds. Wandering around Perhentian Besar will reveal beautiful hidden bays and quiet coves. Here are all 6 of them:
1. Teluk Pauh – An Underwater Paradise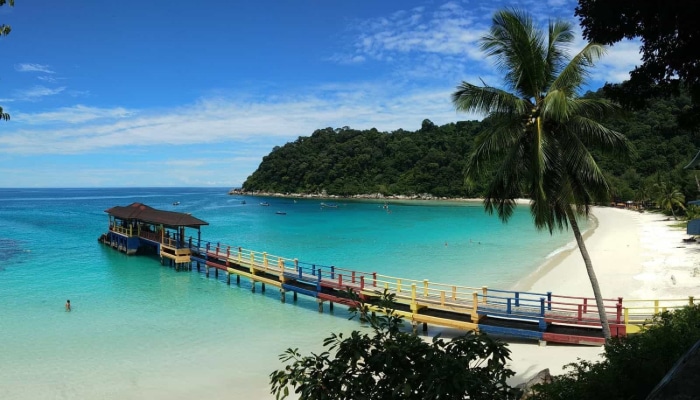 Image Credit: A trekker's Paradise (Travel Mermaid)
Located on the western coast of Perhentian Besar, Teluk Pauh is one of the most gorgeous, and consequently, one of the most visited places in Perhentian Island. There's plenty to see and do here: spend the sunny day snorkelling or swimming in the warm waters of the South China Sea. With crystal-clear water right off the beach, you can directly interact with marine life underwater, such as giant clams, colourful fish species (including Nemo!), impressive green hump head parrotfish, and a diverse species of corals.
With a jetty and accommodation nearby, this serene slice of paradise is super convenient for travellers looking to make a full-day excursion out of it. A typical day here includes island-hopping, dining in the many restaurants or enjoying a refreshing sip in the bar. You'll find no shortage of decent accommodation and a wide selection of restaurants. The brilliant location of this beach makes it one of the most superb beaches on Perhentian Besar!
Suggested Read: What are the differences between Perhentian Kecil and Perhentian Besar? A Tale of Two Islands
2. Teluk Keke – A campsite under the stars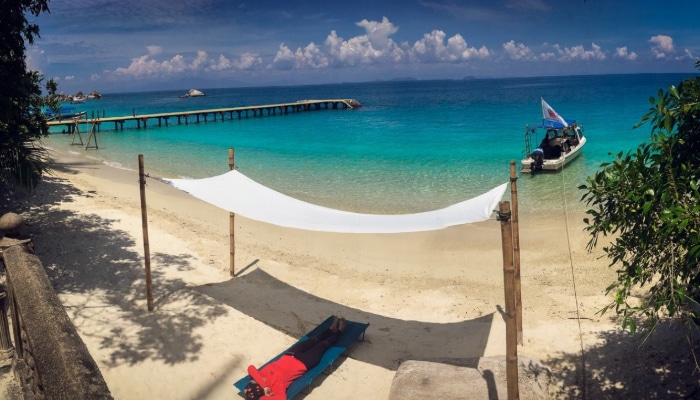 Image Credit: Teluk Keke Archives (Dive Buddy Malaysia)
Teluk Keke is a beautiful beach located southwest of Perhentian Besar. Crystal clear waters and powdery white sand make Teluk Keke a great option when looking for an ideal beach in Perhentian Besar.  It is quite under-developed, making it a great spot to escape from crowds and enjoy solitude with an occasional dip into the ocean.
Looking for the best place to commune with nature on Perhentian Island? Look no further than Teluk Keke. There are plenty of activities offered on Perhentian Besar. Still, if you would like to experience something different, you will find a campground to the south side of the beach where you can stay overnight under the stars. This makes for an unforgettable experience on Perhentian Island.
3. Turtle Beach – As The Name Suggests…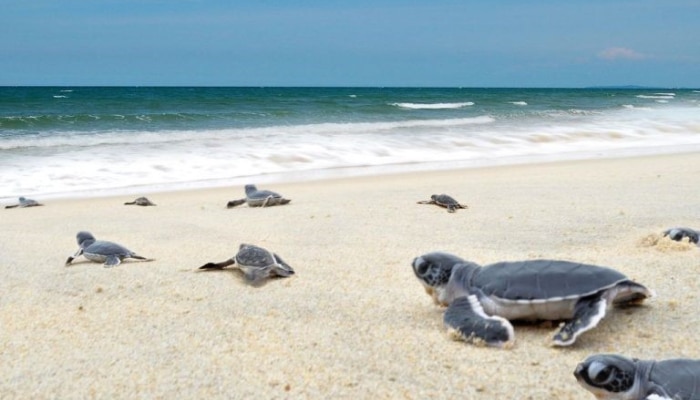 As you would expect, the best place to catch sight of turtles is on the aptly named Turtle Beach or Turtle Sanctuary Beach that lies on the northern side of the Island. Not only does this stunning island beach offer you the chance to get to know the turtles personally while snorkeling, but there is also a high chance of meeting handsome reef sharks as well!
We recommend visiting here between April to August to get an up-close look at turtle nesting during an evening or sunrise turtle walk, or between June to October to observe the thrilling moments of a turtle egg hatching. For those wanting to know, you can volunteer to be a part of the Perhentian Turtle Project to protect the endangered species.
4. Tuna Bay – A lone beach perfect for families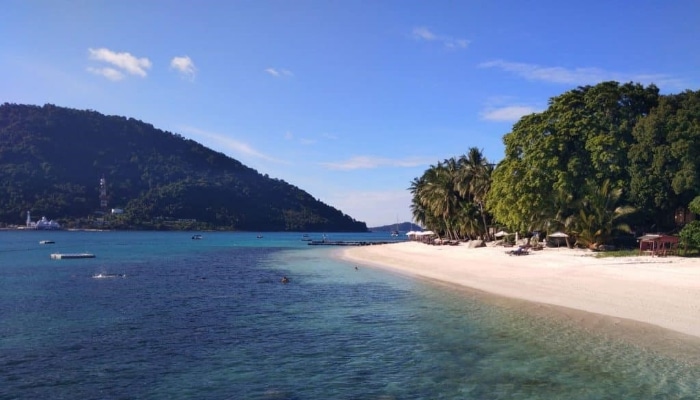 Image Credit: Tuna Bay Beach (Travel Mermaid)
Along the west side, but a little further south, lies the secluded Tuna Bay. This beach is located in front of Tuna Bay Island Resort. It is roped off to protect the corals so it is considered there is a relatively secluded bay where no boats can get to. With no boats to spoil the views, Tuna Bay is a scenic and Instagram-worthy beach on Perhentian Besar.
As a bonus, the beach is well suited for families with children to dip into the ocean without worrying about the presence of boats nearby. Digging the sand, strolling along the shoreline or seeing the coral and fishes under crystalline water without getting wet… Think all the things you can do with your family around this splendid Perhentian beach!
5. Abdul Beach – Beach bliss on a budget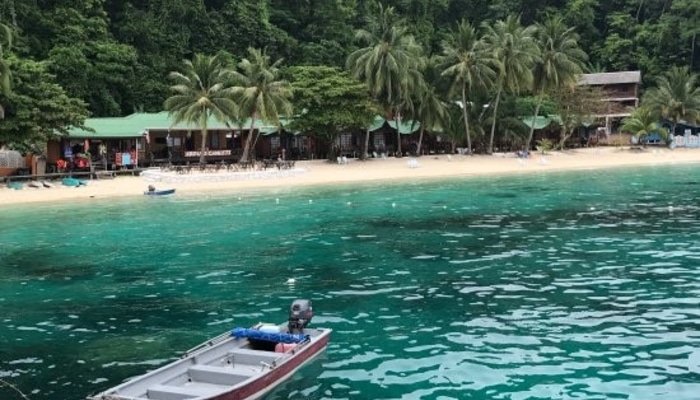 Abdul Beach is another piece of paradise tucked away in Perhentian Besar. It is a continuation from Tuna Bay, but there are some little perks that make it different. The adjoining pier at Abdul Beach is where you will have a complete and beautiful ocean view. Since the water runs deep, you don't have to worry about corals hurting you while swimming.
Located just in front of the beach, you'll find Abdul's Chalet Resort, which is a budget traveller's stalwart. A small shop sells necessities at a reasonable price. There is a beachfront restaurant as well in the chalet to fill your stomach with fresh seafood dishes. If you are not looking for luxury and want an affordable but still memorable holiday, Abdul Beach is the place for you!
6. Flora Bay – Diving Paradise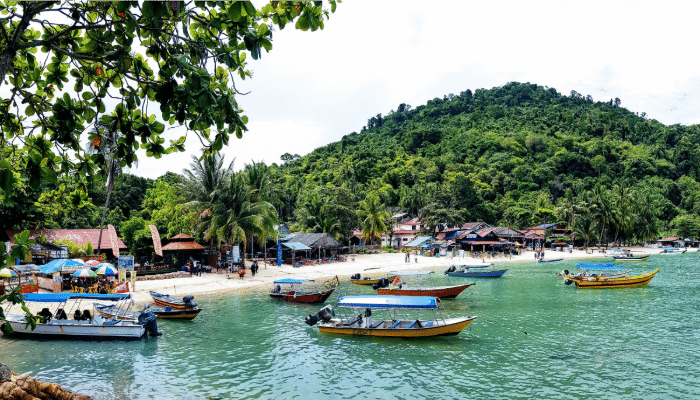 Whether you are just about to start your scuba diving adventure or a dive as a seasoned expert scuba diver, this is the perfect diving location for you. This large bay, also known as Teluk Dalam Beach, is nestled in the southern tip of Perhentian Besar. The beach is long and curved with white sand set against warm, crystal clear water. Shark Point lies nearby, so you may even meet some friendly reef sharks when you snorkel here too!
Besides, the first 5-star Professional Association of Diving Instructors (PADI) Instructor Development Centre – Flora Bay Divers, lies just steps away from Flora Bay. Fully equipped with scuba diving tools, you'll definitely have the most enjoyable, safe, and fun diving experience here in all of Perhentian Besar.
Perhentian Kecil
The smaller Perhentian Island may be smaller in size, but it is well-loved for its backpacker-style beach party scene. It has earned its mark as an affordable, social, adventurous stop that caters to adventurous travellers!
7. Long Beach – Absorb the Perhentian nightlife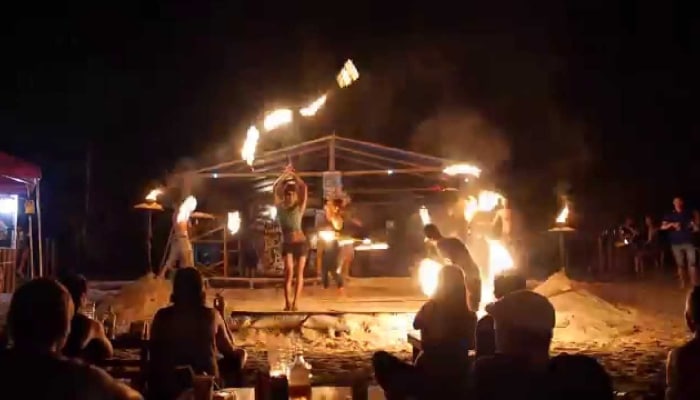 Long Beach is undoubtedly the most famous beach in Perhentian Kecil. Located on the east coast of Perhentian Kecil, this superb beach is not only about tanning and relaxing on the powdery white sand but to enjoy rocking nightlife!
The beach is mostly filled with rented umbrellas by day, and lively beach bars with fire shows at night (the official starting time is 10 pm). While great bonfires burn, you can bring your food and drinks or purchase it at the local bars to enjoy the show.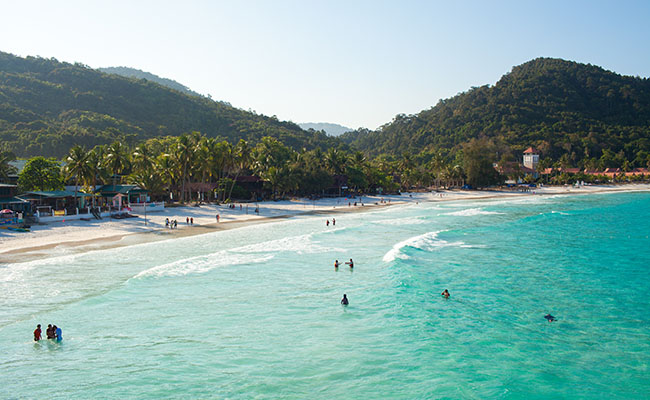 This beach attracts mostly backpackers and divers for its myriad of accommodation options. These range from luxury resorts to massive bungalows – all catering to different travellers' needs and budgets. As the name implies, Long Beach is long and wide enough to accommodate visitors even during the peak season, so you don't have to worry about finding a place to stay here!
Suggested Read: Long Beach, Perhentian Kecil: The Essential Guide
8. Coral Bay – A quiet retreat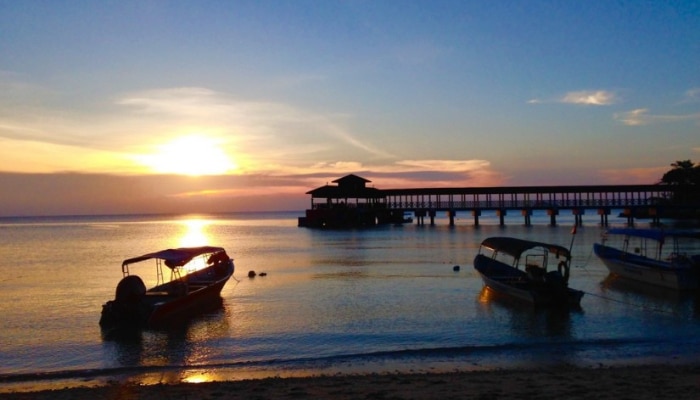 Coral Bay is another main beach on Perhentian Kecil, but it is a lot more subdued than Long Beach, although this is where the main jetty is. While the parties happen on the other side of the Island, travellers here can lie down on the beach and watch the stars in the night sky. There is a short walking path that takes you to back to Long Beach on the other side of the Island. The path takes only 10-15 minutes to navigate, in case you wish to visit the best of both worlds in Perhentian Kecil.
Coral Bay is the perfect Perhentian beach to watch the sunset. Clear turquoise waters, perfect white sand, and a clean coast… you'll soon forget all the hustle and bustle in the city just by enjoying the view here. Although Coral Bay is smaller, you'll still find a couple of laid-back beach restaurants and bars. Mark your map on this site if you prefer to be removed from the party scene.
9. Romantic Beach – Redefine your relationship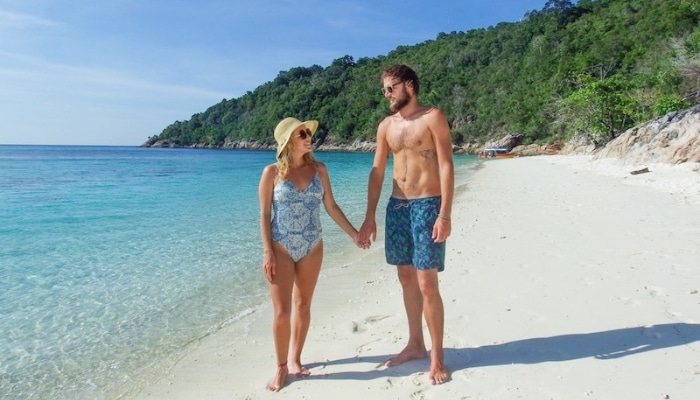 Image credit: the married wanderers
There's no doubt that Romantic Beach is one of the most spectacular amongst the beaches of Perhentian Kecil. Situated relatively close to Coral Bay, this beach is simply perfect for travellers (especially couples). Couples can complement their existing photo albums with a beautiful picture of two lovebirds on a gorgeous beach in Perhentian Island.
However, if you want to enjoy your romantic moment, it's highly recommendable to go early in the morning or late in the afternoon as it is a popular spot for snorkelling excursions in Perhentian Kecil.
This gorgeous Perhentian beach is accessible by boat or through a rocky path. The former will require you to hire a taxi boat to take you there. In contrast, the latter will take more effort but the beautiful scenery along the way is absolutely worth it.
10. Adam and Eve Beach – A serene escapade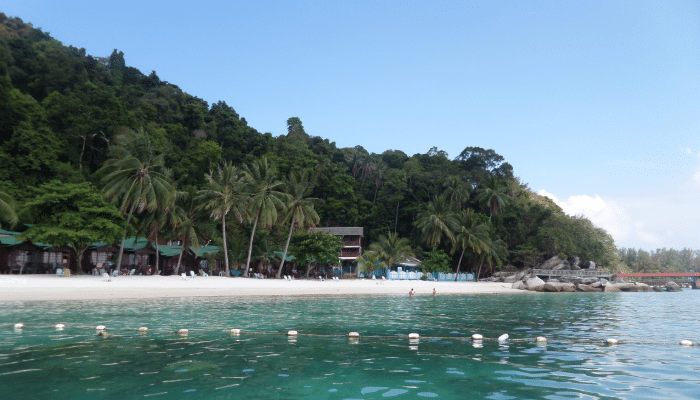 About a 10- to 15-minute walk to the south of Turtle Beach via the jungle trail, Adam & Eve beach is another isolated beach in Perhentian Kecil where you can just sunbathe and relax. Although it is not the largest beach on the Island, there is solid snorkelling offshore at the southern part where you can swim around to reach even more scheduled beach.
There is plenty of space with a lot of shaded trees as well on the northern end of the beach, so this beach is unlikely to be crowded. Travellers come here to go snorkelling, which you can do all over the Perhentian Islands really.  But the real draw is spending time topping up your tan with a good book. Don't be surprised if you find yourself sunbathing here all alone on this Perhentian beach!
11. Rainforest Beach – An authentic island living experience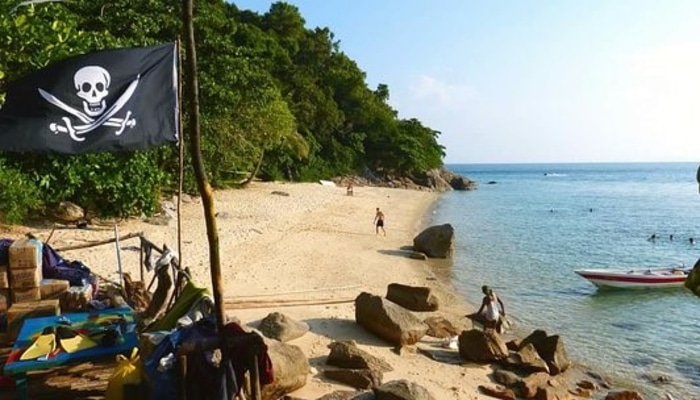 Nestled on the western side of Perhentian Kecil, this extremely chill Perhentian beach is named after a nearby campsite, namely the Rainforest Campsite that is hidden in the jungle.
If you are: a) a nature lover; b) looking for an authentic island living experience in a tent under the stars: c) a place with excellent access to a gorgeous beach; then you will find all your expectations met here.
The establishment is rather laidback, but you won't have to prepare your own tent as travellers are not allowed to camp in their own tents. Instead, the establishment has provided fully set-up tents and complete facilities such as mattress, bathrooms and much more for visitors. There is even a restaurant on-site where you can order from.
From the campground to the beach, it is just a short 5-minute stroll. Now that's what I call good accessibility.
12. Petani Beach – Experience the Local Vibes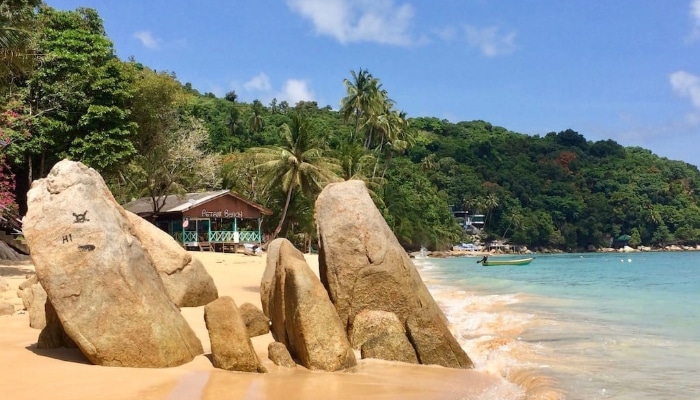 Framed by huge rocks on either side, Petani Beach is another relatively secluded beach located southeast of Perhentian Kecil. Peaceful, laidback and elegant, this Perhentian beach is pretty close to southern beaches of Perhentian Besar. Similar to those, getting here is very easy via affordable water taxi rides.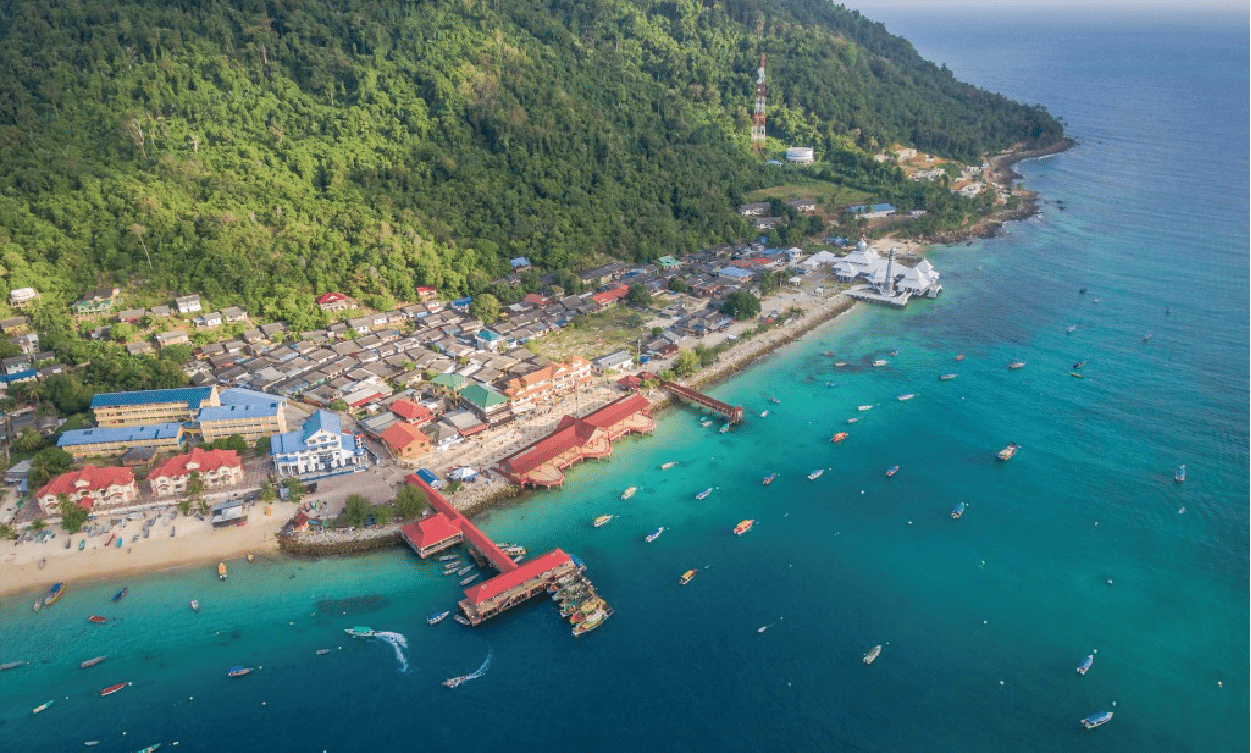 Suppose you want to see more than just a spectacular beach. In that case, a small Terengganu fishing village where the Island's locals reside at the southernmost tip of Perhentian Kecil will make for an interesting afternoon visit. Travellers may reach Fisherman's Village by a jungle trail (at a slow pace, a 30-minute walk) from Petani Beach to experience real, authentic local life on Perhentian Island!
13. Mira Beach – Isolated paradise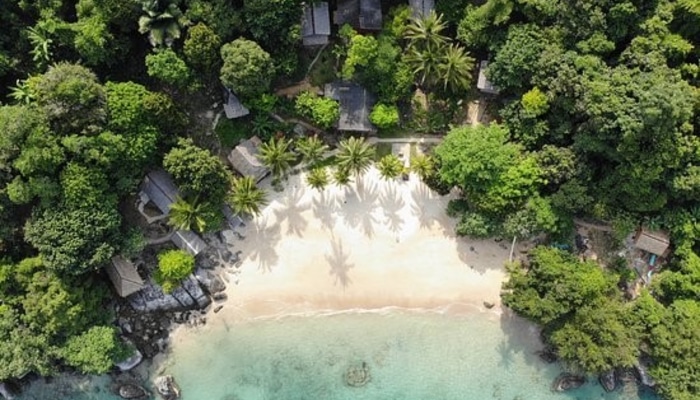 Surrounded by tropical greens, Mira Beach, also known as Keranji Beach, is a tiny beach with just one resort (Keranji Beach Resort) and some bungalows.
At Keranji Beach Café, you can order a variety of drinks, fresh juices, shakes and more! What's a better way to spend your day than sipping cool drinks in a beachfront café with a spectacular sea view?
This beach is located in the southern part of Perhentian Kecil, nearby Petani Beach and Rainforest Beach. As most travellers spend their time resting in their hammocks on the terrace of their bungalows, you can hardly find any footprints (people!) on the white sandy Perhentian beach.
If what you're after are a calm mind and cool head, then head on to Mira Beach at Perhentian Island this very instant!
14. Isabelle Beach – Hidden from the world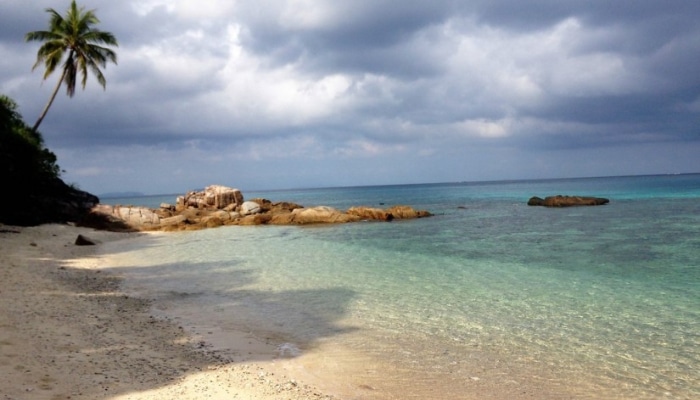 A long jungle trail in Perhentian Kecil connects Long Beach, Adam and Eve Beach, and finally, Isabelle Beach.
This is the only path to the beach as you won't find many water taxi trips here. Suited in the more laid-back zone of Perhentian Kecil, this beach is relatively smaller than other beaches. But it is also where you can savour the ocean's stunning view without anything obscuring your view.
This little hidden beach is off the beaten path, so if maximum tranquillity is what you're after, then this is the beach for you.
Suggested Read: 10 Must-Visit Attractions on Perhentian Island
---
Popular Perhentian Island Tours