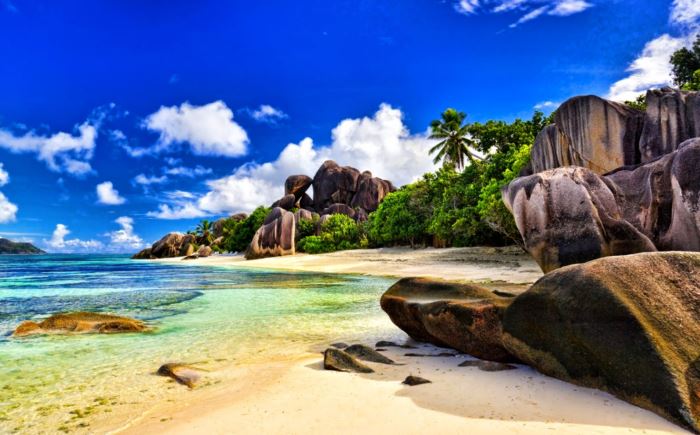 Tour Highlights:
Explore the settings of the highest-grossing Indonesian movie "Laksar Pelangi".
Nostalgic visit to Kampung Ahok/Vivi, the childhood home of former Jakarta governor.
Go on an island-hopping tour to the archipelago surrounding Belitung.
Experience snorkeling surrounded by coral reefs and tropical fishes.
Boost up your trip with a cup of authentic local coffee at Warung Kongdjie.
Experience ecotourism by visiting Bukit Peramun and Mangrove Gusong Bugis.
---
Itinerary:
Belitung time zone
Day 1 :
Welcome to Belitung, Indonesia, a perfect getaway destination from the hustle and bustle of the concrete jungle! Upon your arrival at H.A.S. Hanandjoeddin International Airport in the afternoon, our driver will pick you up from the airport and we will head toward Restaurant Raja Seafood for an authentic Indonesian lunch.
After lunch, we will visit to SD Muhammadiyah Gantong, or known as the Rainbow Troops Elementary School. Belitung has gained its bombastic fame as the hit Indonesia movie "Laksar Pelangi" was filmed here and the flick was so famous that they rebuilt the school set  for the tourists to visit. It's highly recommended that you watch this movie based on inspiring and heart-touching story from Andrea Hirata prior your visit!
Not far away, we will head to this photogenic spot – Rumah Keong (Kirana Dock) to check out these masterpieces. The snail-house alike architecture is made by rattan where you can take funky photographs with it. Then, we will continue to Museum Word Andrea Hirata (own expense for entrance ticket), a literature museum that showcases inspiring quotes from the movie "Laskar Pelangi" and also the commemoration of the novel itself.
SD Muhammadiyah Gantong, Rumah Keong, Museum Word Andrea Hirata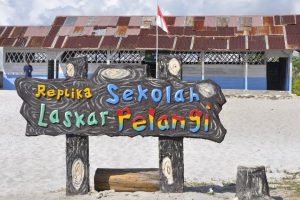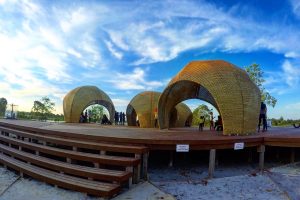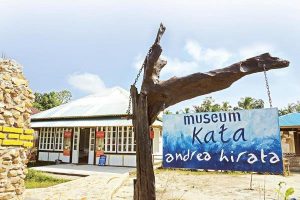 Finally, we will pay a short visit to Kampung Ahok/Vivi, the village was once the childhood house of the former Jakarta governor where his life during the old days was displayed. There are also couples of cafes and souvenir shops in the village. We will then leave for your hotel and proceed for check-in.
At night, have your dinner at Restaurant Belitung Tempo Dulu, a culturally themed restaurant that serves genuine Indonesia dishes. Enjoy the delicious food with a nostalgic ambiance to end the first night of your trip.
Meal Plan: Lunch, Dinner
---
Day 2 :
Enjoy a scrumptious breakfast in the hotel and get your sunglasses ready for our island-hopping tour today! Our driver will transfer you from the hotel to Tanjung Kelayang Beach and board to a chartered fishing boat as you arrived at the beach. Here we sail towards our first stop of the day, the Garuda Rock Island! The huge granite rocks on the island resemble the mythical Garuda eagle associated with Hinduism, don't miss out on capturing this masterpiece crafted by mother nature! Then we will continue to Sand island, a satellite-sized islet where the presence is dependent on the sea tide. You will be captivated by a group of starfishes lazing in the crystal-clear water if luck strikes!
Our island-hopping tour continues to Sailing Rock island, as the name says, a granite rock formation looks like a sailing boat when you see it from far. Then we will head towards Lengkuas Island for snorkeling sessions, get enthralled by distinctive varieties of tropical species in the underwater kingdom. Since there is a Dutch colonial-era lighthouse on the island, you can climb up and catch a rewarding panoramic view of the borderless ocean!
Garuda Rock Island, Sand Island, Sailing Rock Island and Lengkuas Island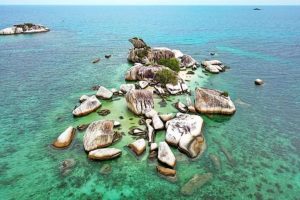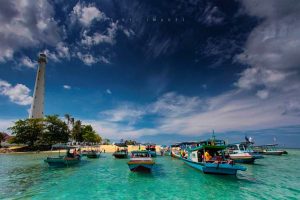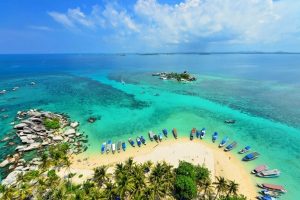 Enjoy your fulfilling lunch at Kepayang Island to recharge. Then we will leave for the largest island among the archipelago of North Belitung, Kelayang Island. Enjoy a carpet of white sands with the turquoise ocean, explore the turtle conservation and more. We will also go for a small adventure walk to explore the Kelayang cave, walking down to the cave in between huge rocks and narrow pathways, we will end up coming to a natural pool amidst the boulders. With the light rays illuminate from the gaps of the rocks and reflect on the water, it creates a stunning photograph!
Before heading back to the hotel, we will spend some time at Tanjung Kelayang Beach (Rainbow Troops Beach), another setting of the movie "Laskar Pelangi". Take a relaxing stroll while enjoying the sea breeze, or take some pictures of the unique, huge granite boulders that dotted along the beach.
Tanjung Kelayang Beach, Kelayang Cave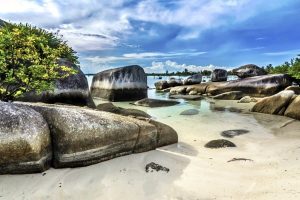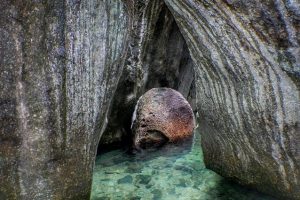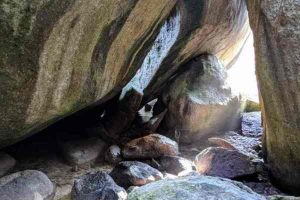 At night, we will have dinner at Restaurant Pandan Alam/Dapoer Belitung. Before we call it a day, enjoy a cup of heart-warming local coffee at the quaint café, the famous Kongdjie coffee.
Coffee Break Kongdjie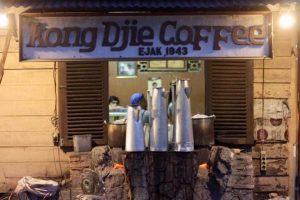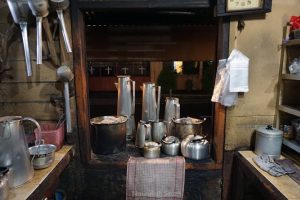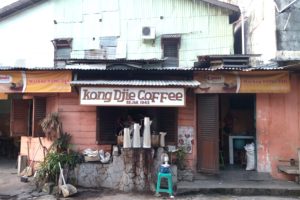 Meal Plan: Breakfast, Lunch, Dinner
---
Day 3 :
Enjoy your breakfast in the hotel and our driver will pick you up and head to Tanjung Tinggi Beach (Rainbow Troops Beach) again to have a morning beach session where you can go for a splash in the expanse blue water. Or you can even grab Belitung famous lime juice and just enjoy the beautiful shoreline.
After that, we will leave for Bukit Peramun, it is a granite hill covered in dense jungle and has been a popular geosite for tourists. You will be accompanied by a guide and begin your 2-hours trekking on the scenic trail to the peak. Reconnect yourself to the lush environment while trekking as the hill is teeming with a variety of flora and fauna! Enjoy the breathtaking view of Belitung as you reach the top.
Enjoy a much-deserved lunch at Restaurant Ketapang Beach and continue to Bukit Berahu Beach that has a solemn and shady ambiance. Waking down the paved stairs, immerse yourself in the beautiful combination of clear water, pristine beach and blue skies of this little paradise. Then, warm yourself up with a cup of coffee and some local snacks in Kongdjie cafe.
Bukit Peramun, Bukit Berahu Beach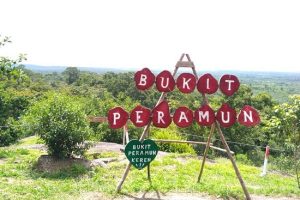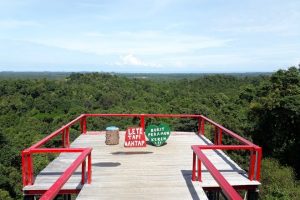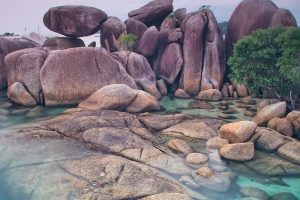 We will leave to Mangrove Gusong Bugis, a new destination that offers an amalgam of nature and spectacular sceneries. The mangrove park was previously transformed from an abandoned mining site where the local authorities have planted more than 15,000 mangrove trees to build a livable habitat and enhance the ecosystem. Walking towards the wharf, as the twilight falls, enjoy a dramatic sunset drama with rich hues of red and orange-gold stretches.
Mangrove Gusong Bugis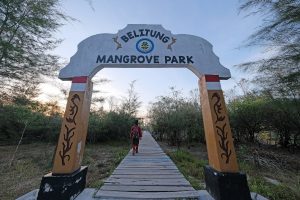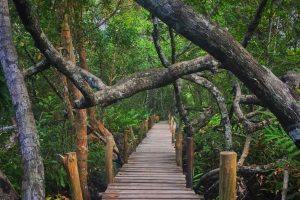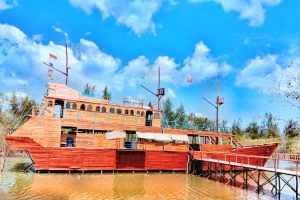 Our driver will transfer you back to the hotel for a short break. Then, we will have dinner at Restaurant Dopoer Belitung and also visit the local traditional outlet for a souvenir shopping spree. Local crackers, fish floss, and shrimp paste are the perfect gifts to family and friends or even for yourself!
Our driver will transfer you back to the hotel at the end of the day.
Meal Plan: Breakfast, Lunch, Dinner
---
Day 4 :
Enjoy a delightful breakfast in the hotel and proceed to check-out. Our driver will send you to H.A.S. Hanandjoeddin International Airport for your departure flight back home. We hope you enjoy your holiday in Belitung, see you again!
Meal Plan: Breakfast
---
Includes:
3 nights accommodation (standard room)
2 ways Belitung International Airport transfer
Breakfast, Lunch & dinner as stated in the itinerary meal plan
1x Coffeebreak (Coffee Kongdjie)
Mineral Water during a trip
Snorkeling equipment + life jacket
All entrance fees as mentioned in the itinerary
---
Excludes:
Flight ticket to Belitung
Travel Insurance (strongly recommended to purchase)
Entrance ticket for Museum Word Andrea Hirata
Any other service/tax/entrance ticket not stated in the

Includes

section
---
Important Notes:
Itinerary and package content is subject to last-minute changes due to weather or operational issue.
Activity stated is provided on a complimentary basis, no refund will be made for cancellation of activities due to weather or operational issue.
Holidaygogogo reserves the right to change to other hotels in the same class if the hotel stated below is not available during the travel date.
No changes in room arrangement are allowed after full payment made.
This tour only departs from Kuala Lumpur International Airport 2 (KLIA2) on:
This tour only returns from H.A.S. Hanandjoeddin International Airport (TJQ) on:
Child age between 4 to 7 years old (based on date of birth) is entitled as child rate.
Infant below 3 years old (based on date of birth) is free of charge.
Other terms and conditions for booking.
All pricing are inclusive of related taxes.
---
Package Price: RM (per person)
Early Bird Promotion
Validity: 1 Nov 2019 – 31 Dec 2020
Pricing is calculated based on per person
Hotel
Group Size
2 Person
3 Person
4-7 Person
8-10 Person
Fairfield By Marriot (4*)
1,185
1,015
925
890
BW Suite (4*)
1,170
1,015
925
890
MaxOne Belstar Belitung (3*)
980
875
790
770
Havana Mutiara (3*)
960
790
720
685
Browse More Resort Photos:
Fairfield By Marriot
BW Suite
MaxOne Belstar Belitung
Havana Mutiara
A surcharge of RM155/person on 23 Dec 2019 – 02 Jan  2020.
---
WhatsApp us to get more details!
Please WhatsApp us by clicking the WhatsApp Button.
We are reachable by call too:
+6016-3526385
+6010-2216385
You may also fill up the Inquiry Form below:
[wpforms id="86470″]
Related Belitung Tour Packages:
Updated: 19 Nov 2019
Customer Reviews on 4D3N Best Of Belitung Tour Package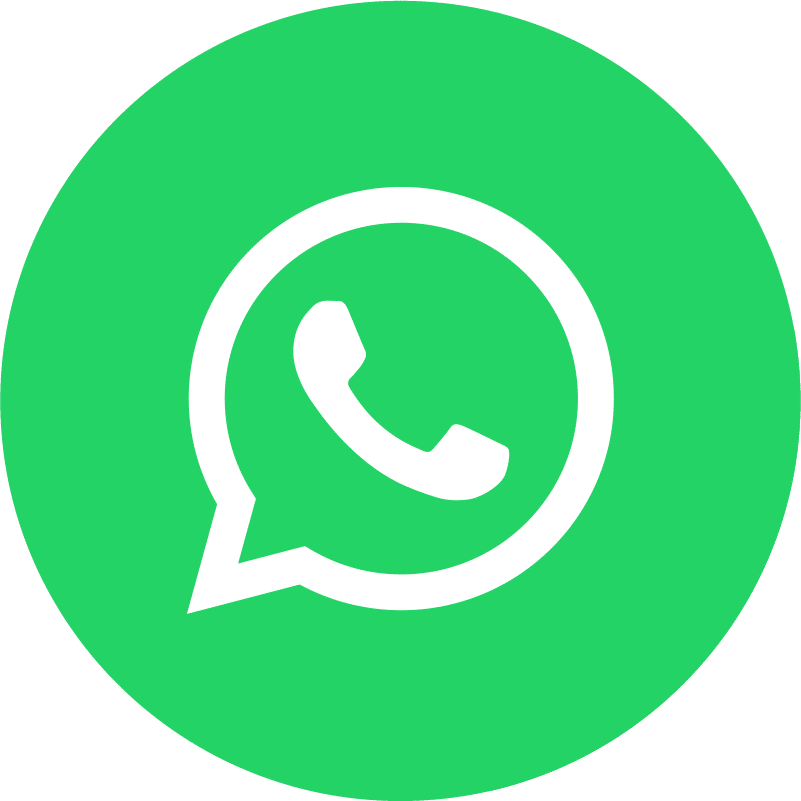 HolidayGoGoGo
Average rating:
4 reviews
Feb 20, 2020
We are satisfied about this trip, the tour guide is able to speak well in English and Malay (mixed), we feel so lucky to meet him. There is no shopping stop like other tour, you dont need to worry about being trapped in shopping outlets. The itinerary is all about sightseeing and enjoy the nature. It is a very relaxing tour and we love it so much. We will recommend to our friends 🙂
Feb 1, 2020
We chosen this package because Airasia is having promotion flight in Jan, this is a non shopping tour so we managed to enjoy the tour very much, the scenery, the culture and the people here are good. The hotel arrangement was good but breakfast choices can be improved, the room is big enough for us 3 adults. The tour guide is friendly and taking care us very well. This package is worth it and it was arranged on private basis without other tourists, so we really manage to enjoy.
Feb 1, 2020
We visit belitung during chinese new year break, the weather is nice and hot, sea condition is calm and clean water. The tour guide is friendly and attentive, we like his attitude. The hotel is clean and nice, even though we chose the mid range hotel. At that price, it is exceeded our expectation. Well done holidaygogogo team!
Jan 1, 2020
It is a very nice place to explore, we have been to many islands around Malaysia, Thailand and Indonesia, but Belitung is one of the best that we have seen so far. Good job on the conservation!