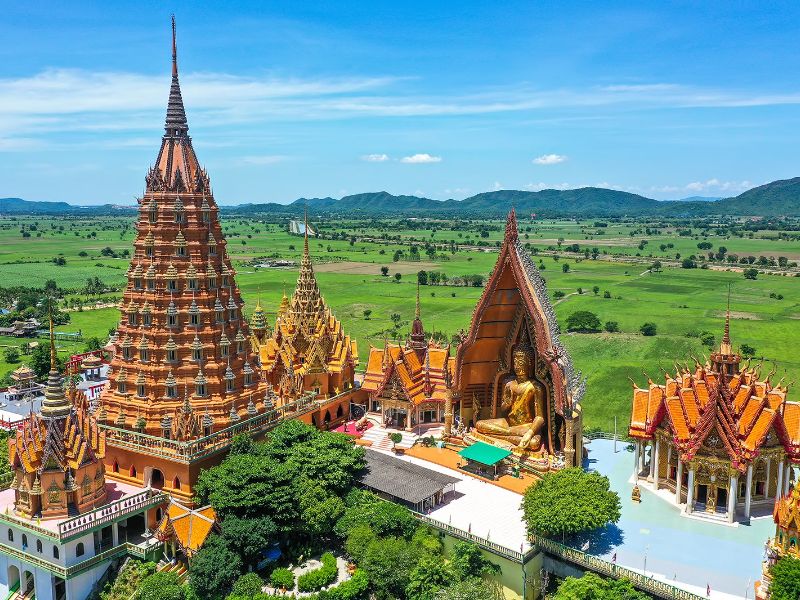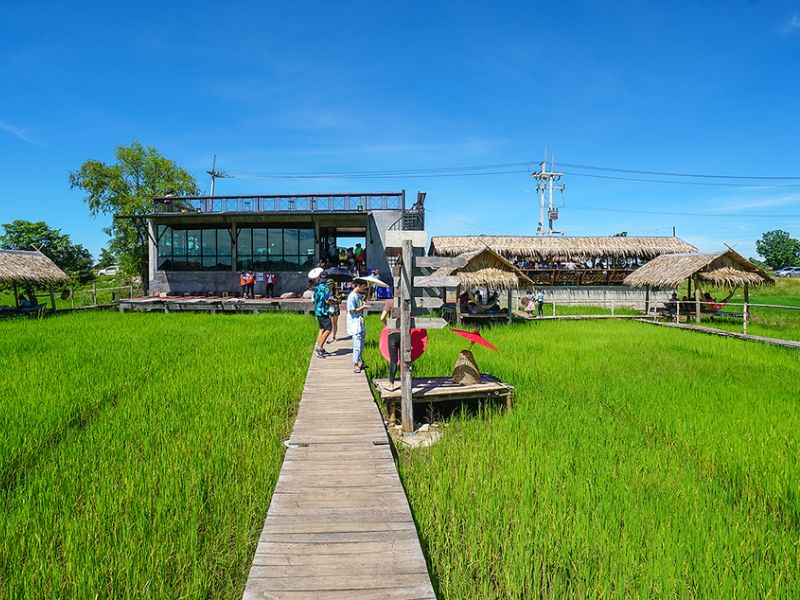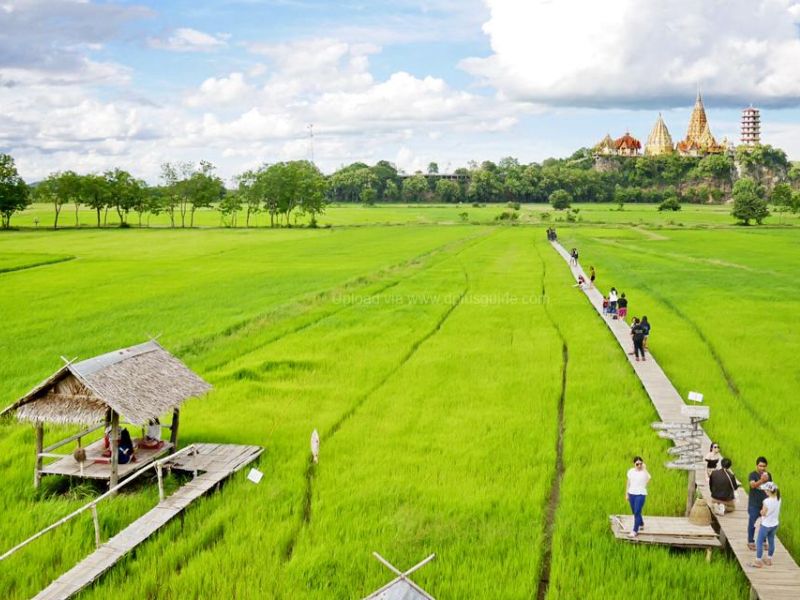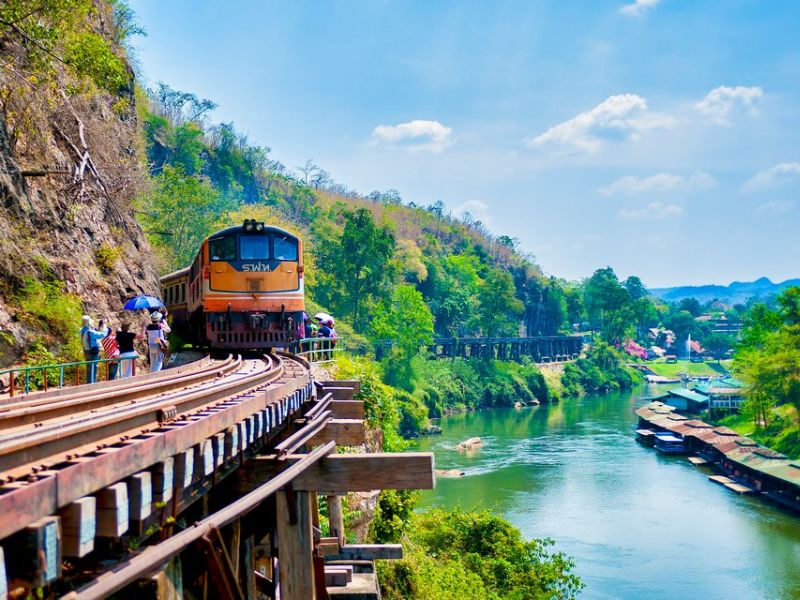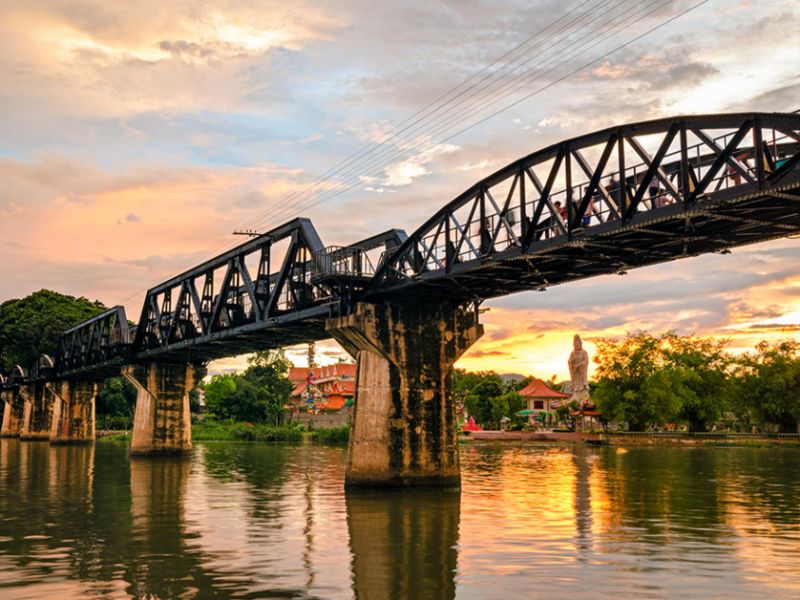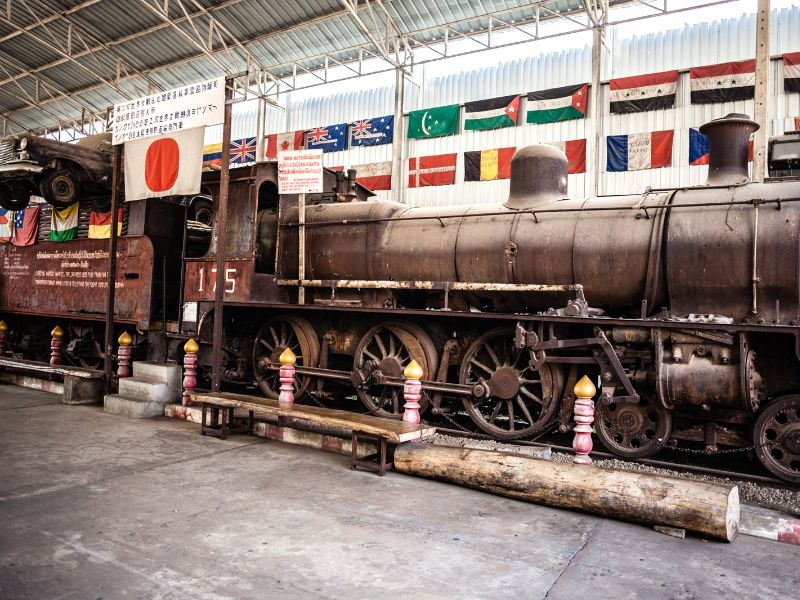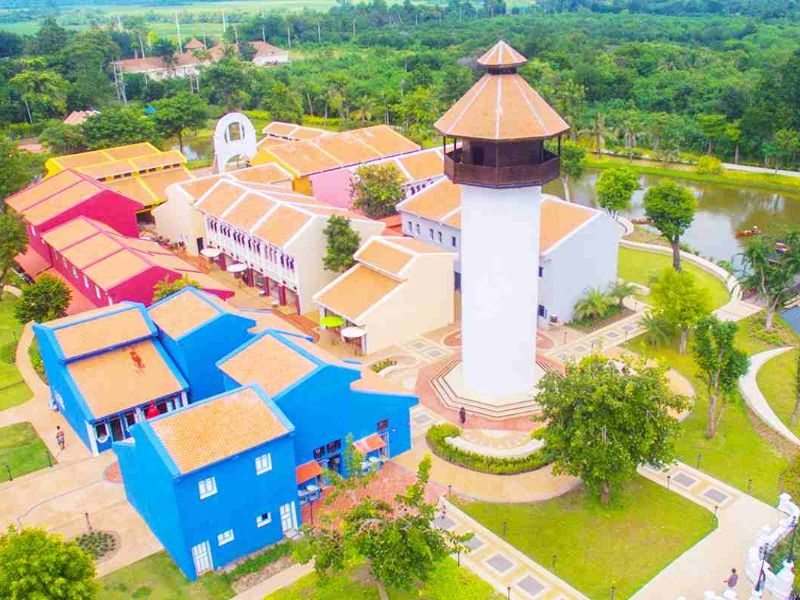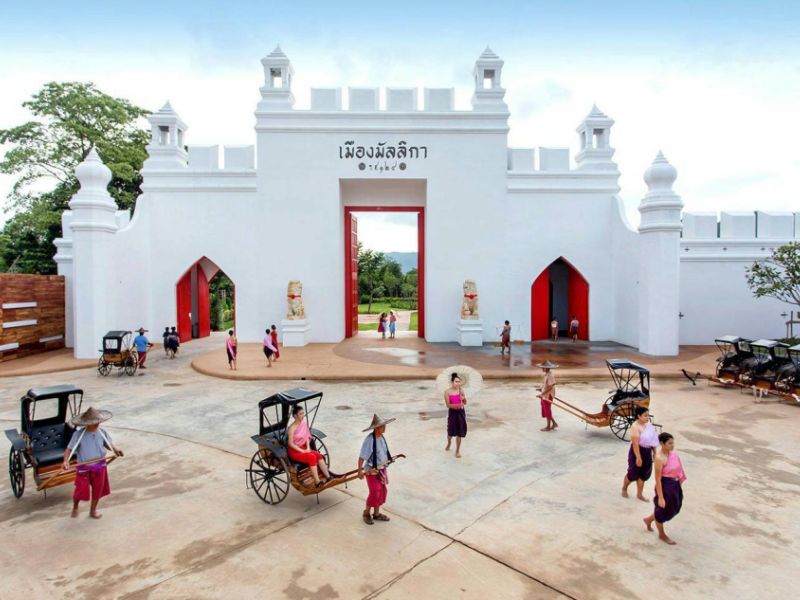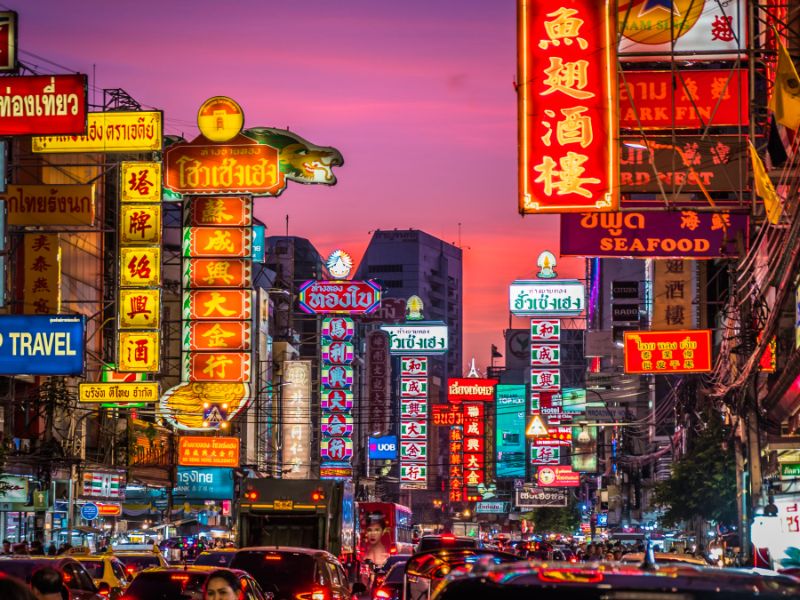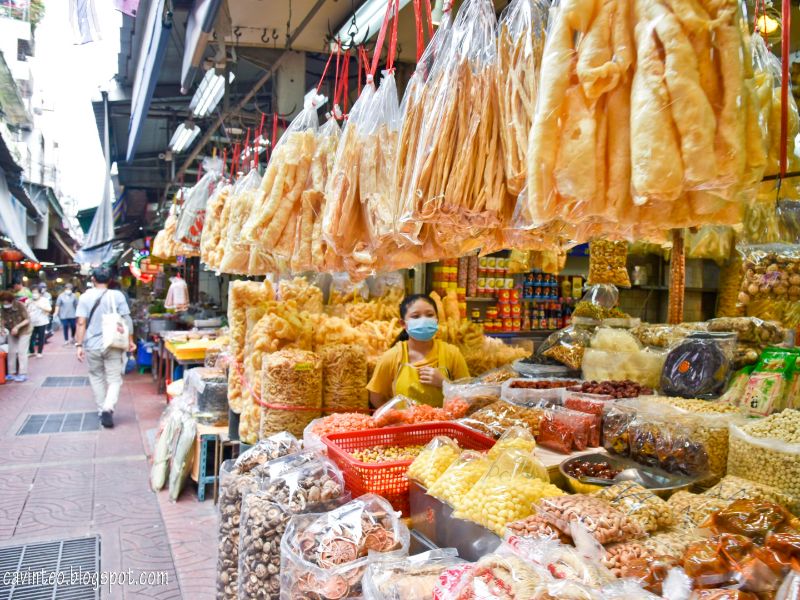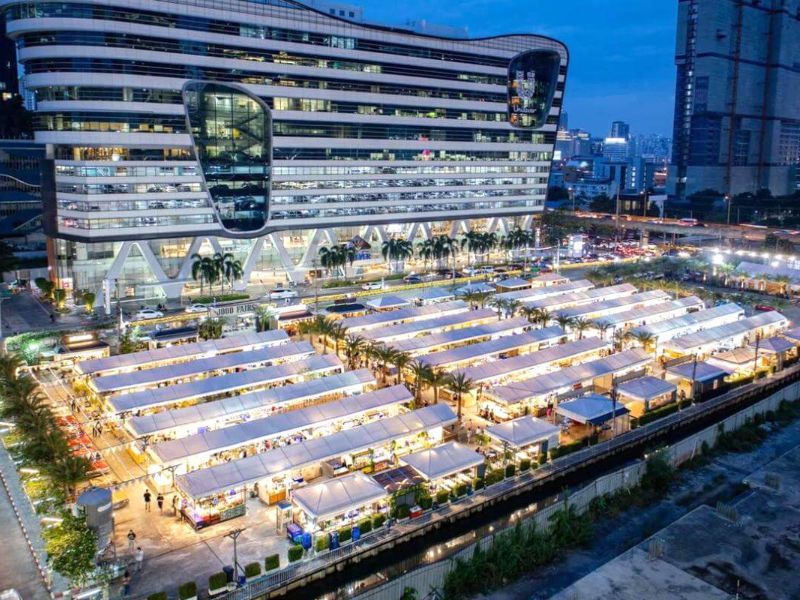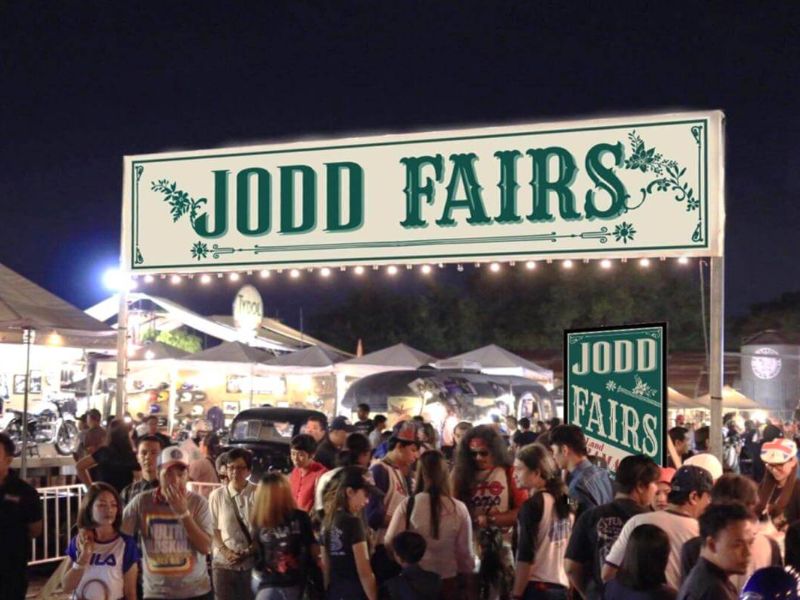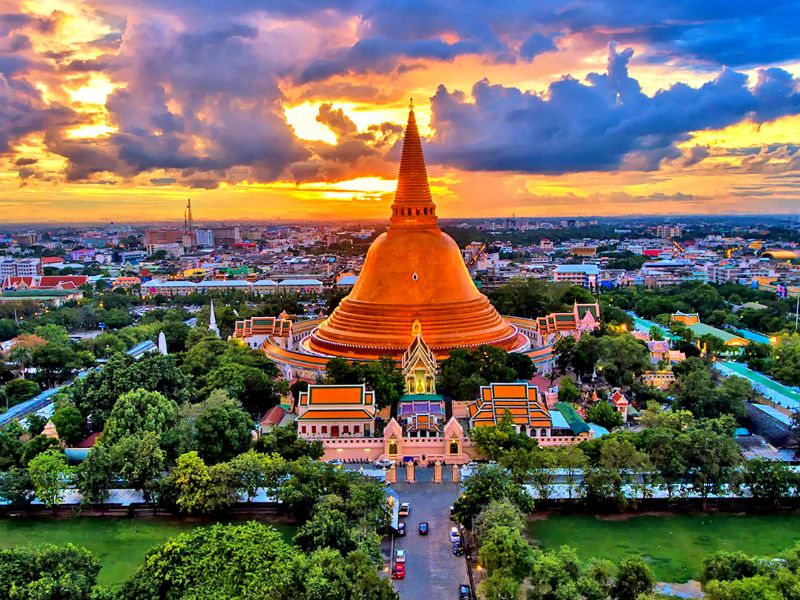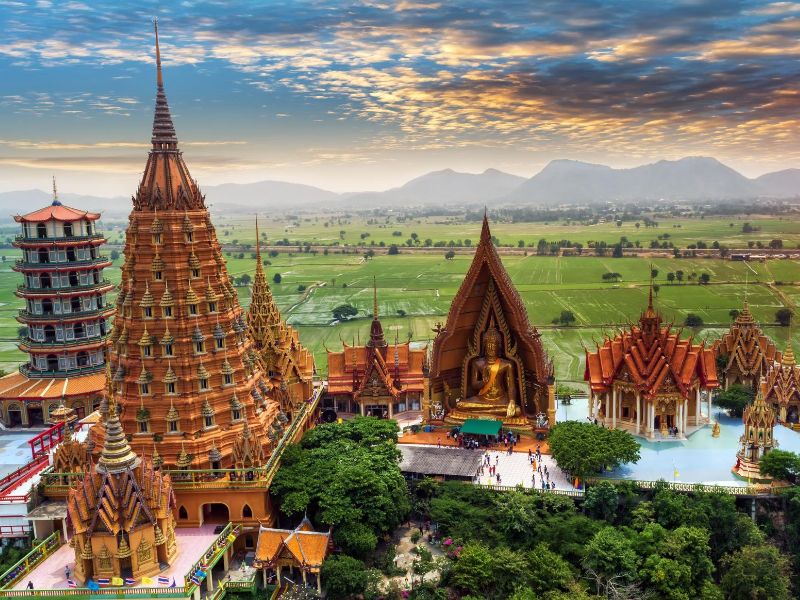 Wat Tham Sua Kanchanaburi
River Kwai Death of Railway
Death Railway and River Kwai
Jeath War Museum at Kanchanaburi
Mallika City Kanchanaburi
Nightlife at Yaowarat Chinatown
Street Food at Yaowarat Chinatown
Night view of Jodd Fairs Night Market
Crowd of Jodd Fairs Night Market

365 reviews
From
RM
1,265
- RM
1,835
---
Latest online promotion for 4d3n Bangkok + Nakhon Pathom + Kanchanaburi Tour Package, book with Holidaygogogo to save more! Chat with us today to find out more!
Tour Highlights
Marvel at the majestic dragon statue at Wat Samphran, a true Dragon Ball fantasy brought to life. 

Experience the poignant history of the Death Railway on a riveting train ride through stunning landscapes. 

Step back in time at Mallika RE 124, immersing yourself in the rich heritage of Siamese culture.
---
Itinerary:
---
Day 1
Welcome to Bangkok, where vibrant city life meets cultural splendor! Get ready to immerse yourself in a mesmerizing journey of flavors, sights, and sounds. Let our warm 'meet and greet' embrace you with Thai hospitality, ensuring your adventure begins with unforgettable memories. 
Key attractions highlight: Temples in Bangkok
Wat Samphran
Unleash your inner adventurer at Wat Samphran, a hidden gem in Nakhon Pathom. Behold the awe-inspiring sight of a colossal dragon, reminiscent of Shen Long from Dragon Ball, gracefully coiled around a towering 17-story structure. Break free from the crowds as you touch the dragon's chin, channelling your desires into wishes. 
Wat Tham Sua
Indulge in an explosion of flavors as you savor the fiery delight of Volcano River Prawn for a lunch to remember. Then embark on a thrilling journey to Tiger Cave Temple aka Wat Tham Sua, where ancient wonders and serene spirituality intertwine. Marvel at the vast expanse of this sacred space, adorned with majestic gilded Buddha Images, the largest in Kanchanaburi. Beyond its role as a meditation center, this site unveils archaeological treasures and fascinating historical tales. 
Embark on a culinary adventure as you indulge in a tantalizing dinner at a local night market, savoring exotic flavors under the vibrant city lights. Experience the buzz of the market before retreating to your hotel for a well-deserved rest.
Tour Summary:
Meet & greet from Bangkok Intl airport
Visit to Wat Samphran Temple (Dragon Temple)
Lunch (Volcano River Parwn)
Visit to Wat Tham Sua (Tiger Temple with cable car)
Stop at Meena Café
Dinner
Visit to night market
Check in hotel
Meal Plan: Lunch & Dinner
---
Day 2
Rise and shine to a delightful breakfast, fueling your energy for an exhilarating day ahead. Brace yourself for a whirlwind of sightseeing and thrilling activities, ready to create lasting memories at every turn.
Key attractions highlight: River Kwai Death Train Ride
The JEATH War Museum
Step back in time at the JEATH War Museum (acronym for Japan, England, America, Australia, Thailand and Holland), where poignant stories unfold. Immerse yourself in the harrowing accounts of prisoners of war, as photographs and illustrations unveil their wartime struggles. Witness history firsthand within the very walls that once housed these brave souls, their legacy preserved for generations to come.
River Kwai Death Train Ride
Embark on a riveting train ride along the historic Death Railway, traversing breathtaking landscapes of mountains, dense jungles, and serene streams. Uncover the poignant tales of POWs who endured unimaginable hardships. Afterward, savor a delicious local lunch, uniting flavors and history in an unforgettable experience.
Mallika RE 124
Step into a bygone era at Mallika RE 124, a mesmerizing retro-city showcasing the Siamese lifestyle of yesteryears. Immerse yourself in the enchanting ambiance of King Chulalongkorn's reign, relishing the attractions and indulging in a Thai costume experience. Let nostalgia transport you to a time of abundance and cultural richness.
Retreat to your hotel, a sanctuary of comfort and relaxation, where you can unwind and reflect on the day's adventures, rejuvenating for the excitement that awaits tomorrow.
Tour Summary:
Breakfast at hotel
Visit to Jeath War Museum
Train ride at River Kwai Death of Railway station
Lunch
Visit to Mallika RE124 Village (Incl Thai costume experience)
Stop at Chan Nature Café
Dinner at Floating Raft Restaurant
Back to hotel
Meal Plan: Breafast, Lunch & Dinner
---
Day 3
Begin your day with a delightful breakfast and check out from the hotel. Get ready to transfer back to Bangkok, relishing a scrumptious lunch before immersing yourself in the vibrant culinary wonders of Yaowarat, Chinatown.
Key attractions highlight: Chinatown in Bangkok
Yaowarat Chinatown
Immerse yourself in the vibrant energy of Yaowarat Chinatown, where narrow lanes, bustling streets, and charming shophouses create a captivating atmosphere. Explore temples, browse shopping arcades, and indulge in an array of mouthwatering culinary delights. 
Leather Shop
Immerse yourself in a world of craftsmanship at a Thai leather shop, where handmade wonders await leather enthusiasts. Discover bespoke creations, from genuine to faux leather, and find your perfect treasure. Afterward, savor a delectable lunch before setting off on your journey to Pattaya.
Gems Gallery
Step into a realm of beauty and luxury at Gems Gallery Pattaya, where Thai artisans weave magic into every exquisite jewelry piece. Discover a treasure trove of over 50,000 unique designs, tempting even the most discerning connoisseurs. With certificates and a lifetime guarantee, your chosen piece becomes a cherished symbol of enduring quality and timeless elegance.
Jodd Fairs Night Market
Step into a food lover's paradise at Jodd Fairs Night Market in Bangkok. With an impressive lineup of over 600 food vendors, from restaurants to street food stalls, prepare for a culinary adventure of epic proportions. 
Retire to your hotel, where comfort and serenity await, providing a well-deserved rest after a day filled with adventure and discovery.
Tour Summary:
Breakfast at Hotel, check out Kanchanaburi hotel
Back to Bangkok
Lunch
Stop at Yaowarat China Town
Visit to Leather shop, Gem Gallery & Honey Farm
Stop at Jodd Fair Night Market, dinner at own cost
Check in hotel
Meal Plan: Breakfast & Lunch
---
Day 4
Awaken to a delightful breakfast at the hotel, bidding farewell to a memorable stay. With heartfelt goodbyes, transfer to the airport, carrying cherished memories and the promise of future adventures.
Tour Summary:
Breakfast at hotel
Check out
Transfer to airport
Meal Plan: Breakfast
---
Includes:
3 nights accommodation
Meals as stated in itinerary meal plan
2 ways airport transfer
All the way with 1 tour guide (mandarin or English) & 1 driver.
4 days transportation & tour entrance fee as per stated.
---
Excludes:
Return air ticket to and from Bangkok
Tour guide tipping 400thb/per person (est. RM50-55)
Tours & entrance fee that not stated in program
Meals that not stated in program.
Travel insurance

(strongly recommended to purchase)
Other expenses not stated in the "Includes" section
---
Important notes:
Itinerary and package content is subject to last minute changes due to weather or operational issue.
Activity stated (if included) is provided on complimentary basis, no refund will be made for cancellation of activities due to weather or operational issue.
Other terms and conditions for booking.
All the photos shown are for reference purpose only, there may be different design/decoration/setup on actual unit.
Hotel room type subject to availability and the rate are subjected to change without prior notice.
All package requires a minimum of 4 pax and above.
Package are valid for arrival & departure at Don Mueang airport & Suvarnabhumi airport.
Pick up transfer from hotel will arrange 4 hours before passenger departure flight time.
Infant 24 months below – FOC , passport copy is required when sending booking for verification.
Van will be using for the number of pax below 9 pax and tour bus will be using for the pax above 10.
---
Price:
Pricing is based on per person basis
Traveling Period: 01 June 2023 – 31 October 2023
4-5 pax
6-7 pax
8-9 pax
10-12 pax
13-14 pax
3 Stars
Adult
RM 1640
RM 1390
RM 1265
RM 1400
RM 1265
Extra bed
RM 1555
RM 1320
RM 1200
RM 1330
RM 1200
No bed
RM 1230
RM 1040
RM 950
RM 1050
RM 950
4 Stars
Adult
RM 1835
RM 1585
RM 1460
RM 1595
RM 1460
Extra bed
RM 1745
RM 1505
RM 1390
RM 1515
RM 1385
No bed
RM 1380
RM 1190
RM 1095
RM 1195
RM 1095
Remarks:

HUB ERAWAN RESORT (River Kwai) weekend (Fri-Sun) surcharge : 250 THB/pax/night (~RM33)
4 stars hotels: Weekend (Fri-Sun) surcharge : 300 THB/pax/night (~RM40)
---
6 Benefits for booking with Holidaygogogo Tours Sdn Bhd, no more worry of SCAMMER!
1 to 1 personalized customer service & tour suggestion. We want to make sure you get the fastest response and latest information, even during weekends or public holidays. 

Licensed travel agency under

Ministry of Tourism MOTAC

&

 

Malaysian Association of Tour and Travel Agents MATTA

. Click above link and enter our company name Holidaygogogo Tours to check our license and membership. We are not scammers. 

More than 10 years experience in the tourism industry. We are serious in doing business. 

5 star customer rating in

Google

&

Facebook

. We let our customers judge us publicly, only agencies who provide the best service dare to do so.

Regular on site inspection to ensure product quality is met according to customer requirements. 

Reservation is done with complete paperwork and supporting documentation. We don't collect payment without any documentation, we will ensure all the reservations are done before collecting payment.
Customer Reviews for Holidaygogogo: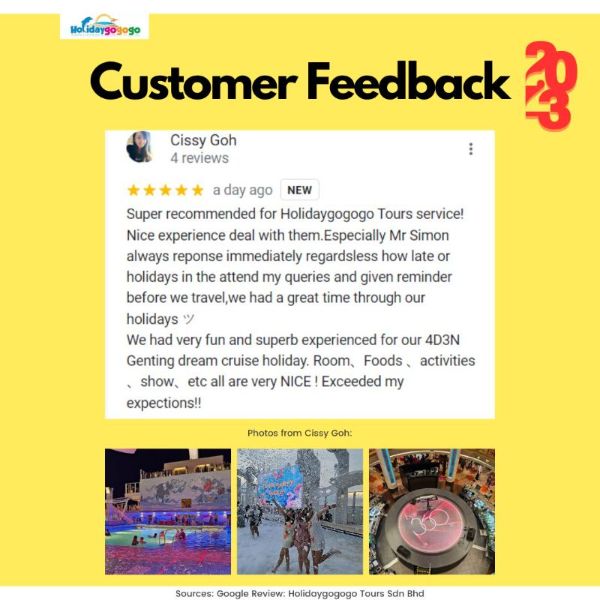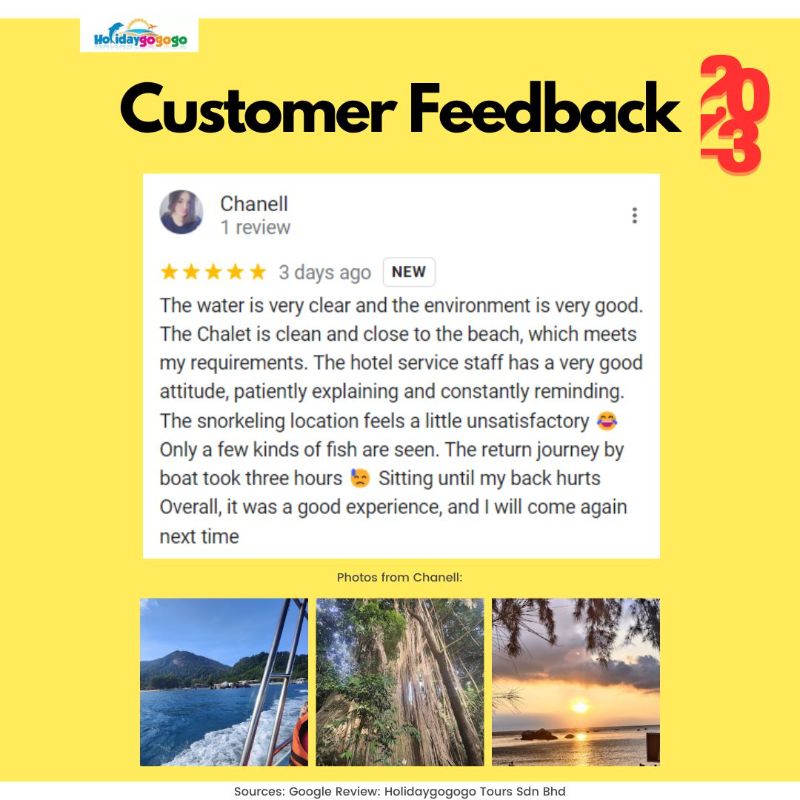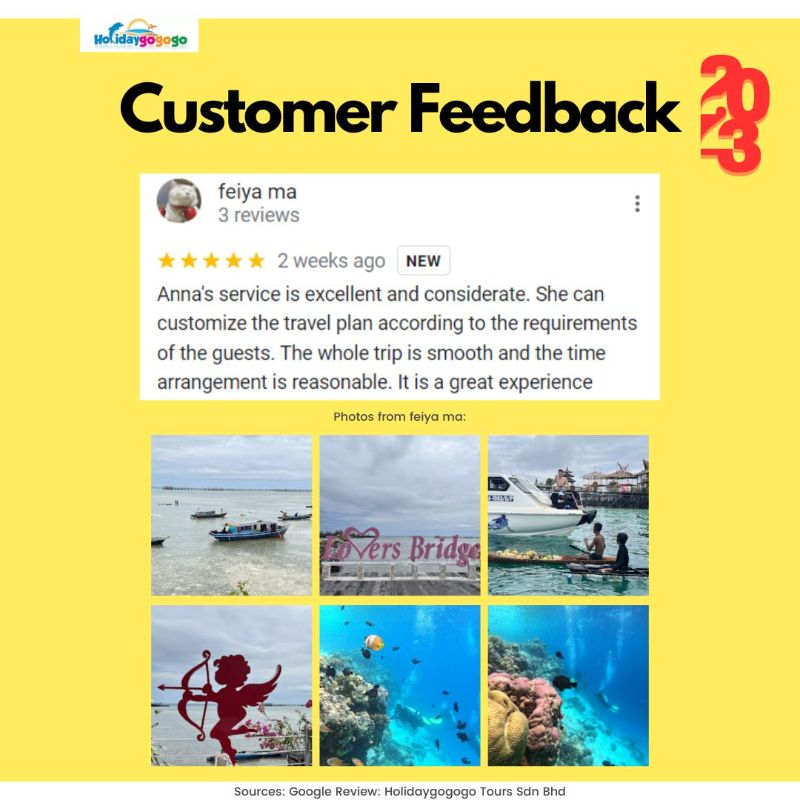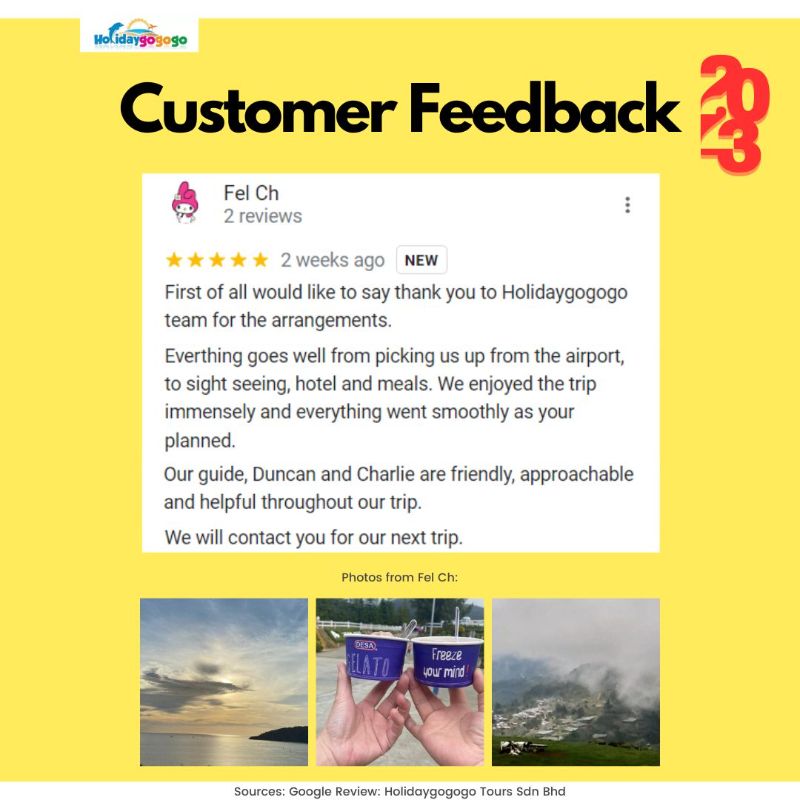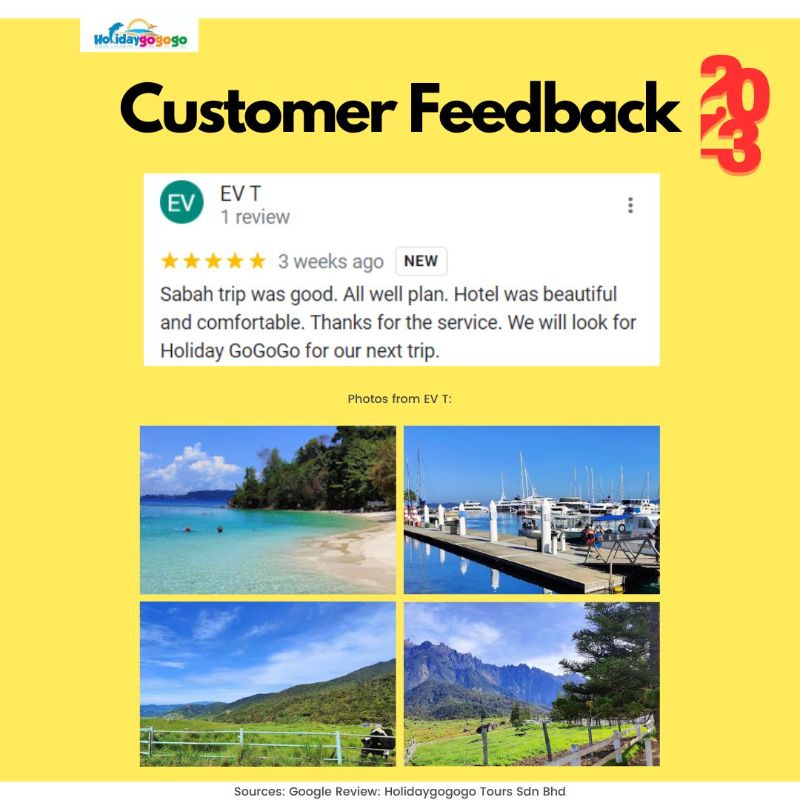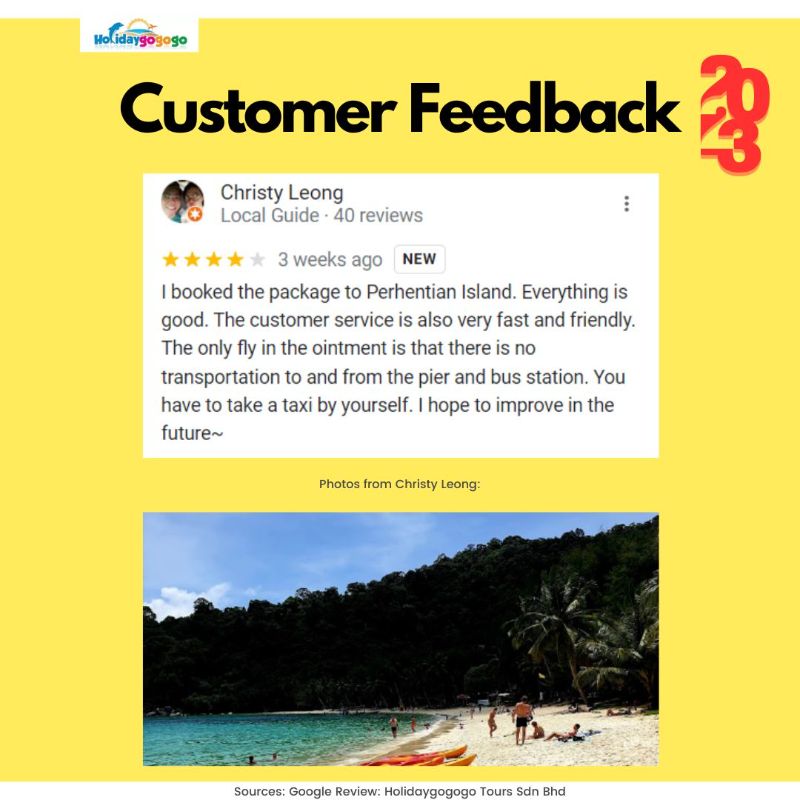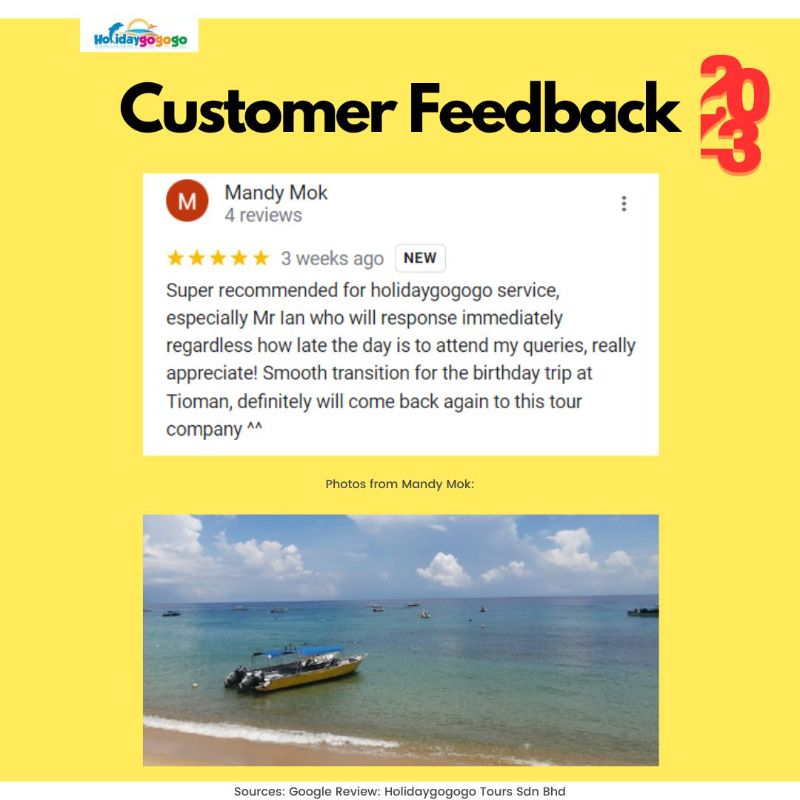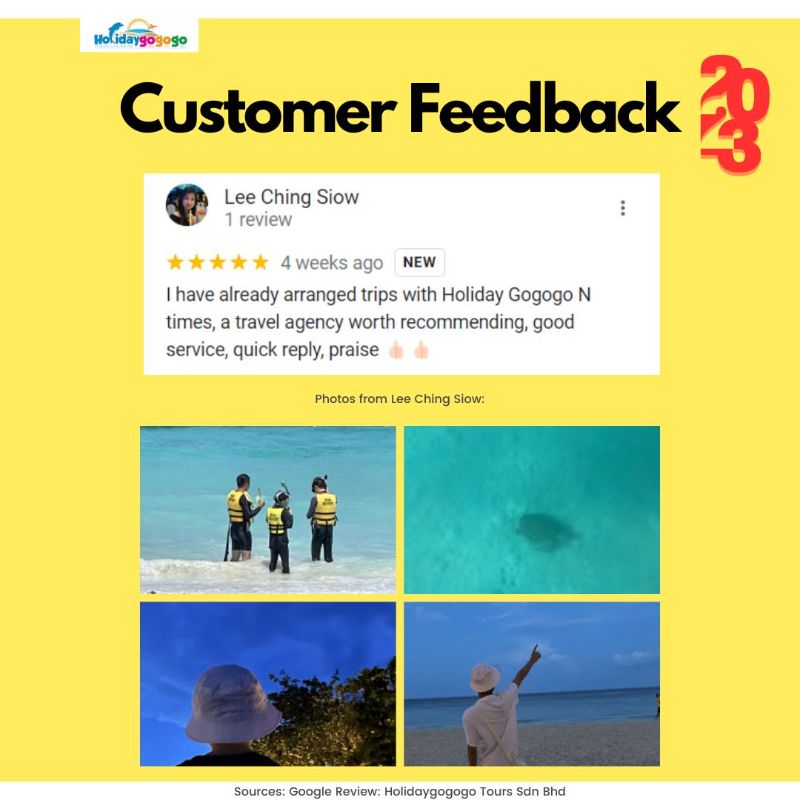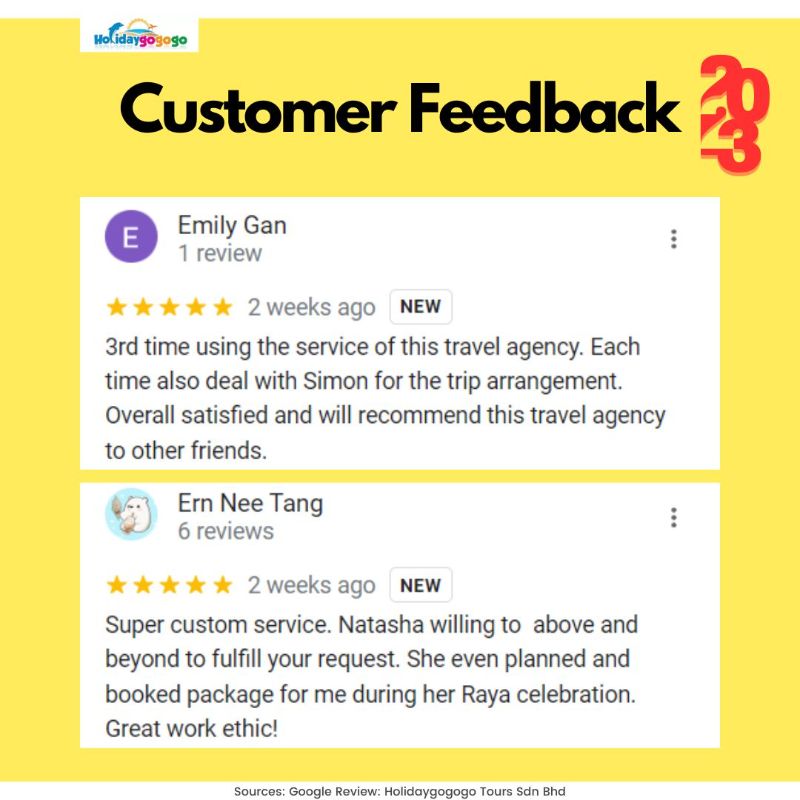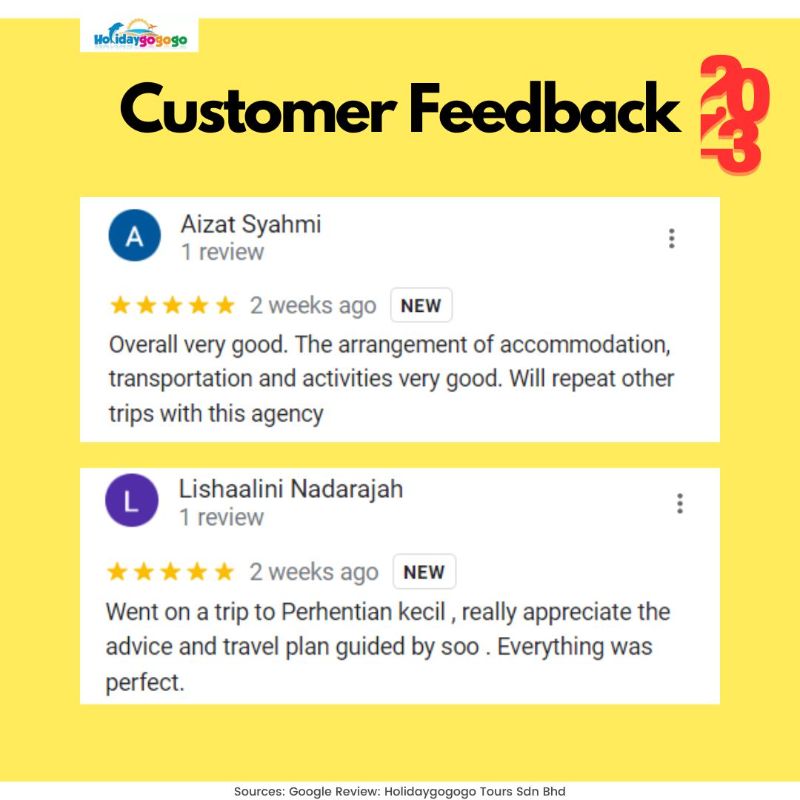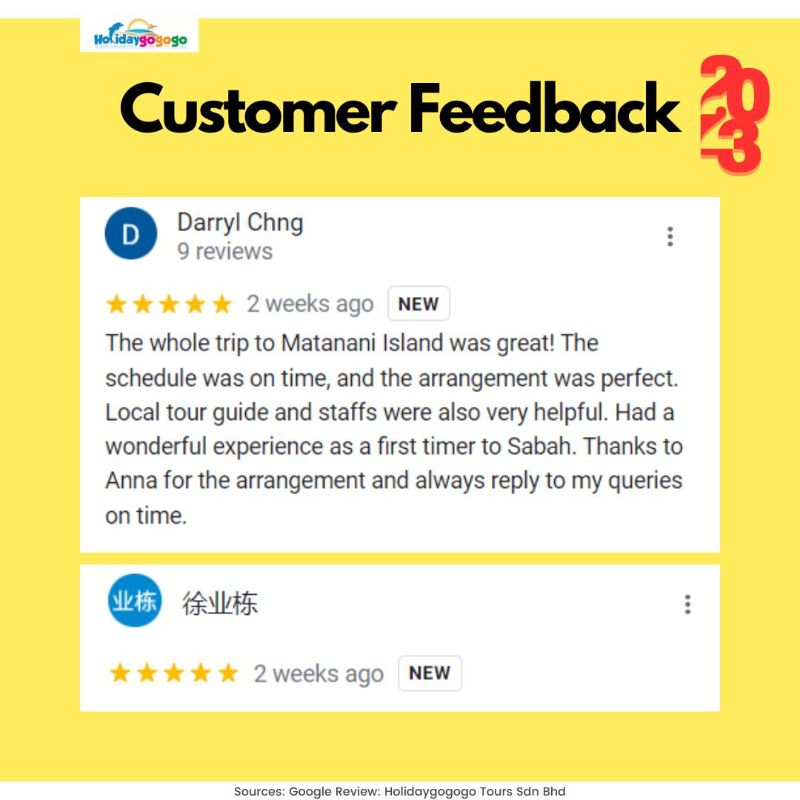 holidaygogogo travel agency review
holidaygogogo travel agency review
holidaygogogo travel agency review
holidaygogogo travel agency review
holidaygogogo travel agency review
holidaygogogo travel agency review
holidaygogogo travel agency review
holidaygogogo travel agency review
holidaygogogo travel agency review
holidaygogogo travel agency review
holidaygogogo travel agency review

---
Whatsapp:
Please WhatsApp us by clicking the WhatsApp Button.
---
Enquiry Email:
---
Related Tours & Packages:
---
Rating & Review: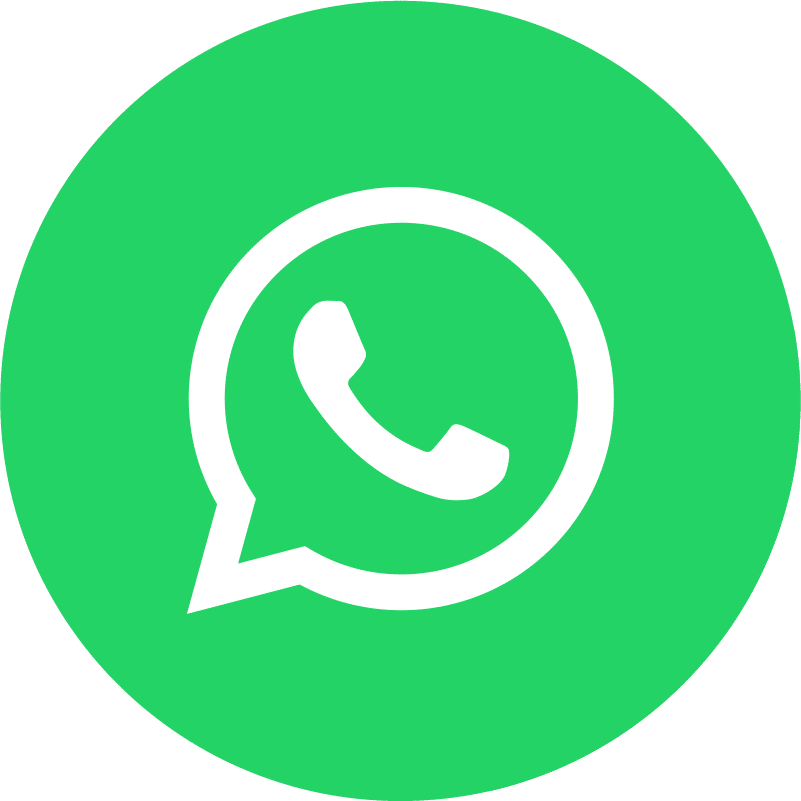 HolidayGoGoGo
Average rating:
0 reviews