At the heart of Pulau Tioman, lie villages with a closely-knit community. There are only seven villages on the island. Popular among tourists are four villages – Tekek Village, Salang Village, Juara Village, and Air Batang Village (commonly known as "ABC Village"). Remote villages such as Genting Village, Nipah Village and Mukut Village with less urbanisation still maintain their rustic charm and draw tourists looking for a more private, relaxing island getaway.
[lwptoc]
Popular Tioman Villages
Here's all you need to know about the top 4 Tioman villages for your next island vacation!
Tekek Village
The most developed Tioman village is Tekek Village. As the capital village of Tioman, it boasts modern infrastructure such as a bank, clinic, airstrip, and jetty complex. Strategically connected to other villages such as ABC Village and Genting Village, this village is a popular tourist spot for a comfortable stay, duty-free shopping and various places to eat.
Getting around Tekek Village
Accessible by a 2-hour ferry ride from Mersing Jetty and Tanjong Gemok Jetty, getting around the village itself is quite easy via bike or car. Walking is a great way to enjoy this idyllic village or visit neighbouring villages such as ABC Village, which only takes a 30-minute walk. However, to reach Juara Village, the most convenient option is to split the cost with other travellers and rent a 4WD.
Must-do Activities
Scuba Diving and Snorkelling
The best time of the year for snorkelling and diving is between March and May or September and October due to perfect water clarity. Affordable snorkelling and diving packages are available as well as other additional gears. New and inexperienced divers can choose from various dive centres offering PADI courses in this area. At the Marine Park Centre, Tioman which is only a 5-minute boat ride from Tekek Village, you can discover captivating marine life such as giant turtles and clams, manta rays, and more!
Jungle Trekking
The island is surrounded by majestic rainforests which makes it an ideal spot for jungle trekking. Adventure travellers can conquer the 7 km trail from Tekek – Juara. The trail is slightly steep which makes it more challenging. Be sure to check out Ali's Waterfall which is a 700 m detour of the Tekek-Juara trail. Look out for a wooden pit stop that marks the direction towards the waterfall.
Duty-free shopping
Although the entire island is a duty free-zone, the largest (and perhaps most popular) duty-free shop, Vision Commerce Duty-Free Shop is situated in Tekek Village. Alcohol, cigarettes and chocolates can be purchased at a relatively cheap price. If you need to stock up on essential travel items such as sunblock or even swimwear, get your shopping done without burning a hole in your pocket! Another duty-free shop for cheap and a wide range of liquor brands is QKS Duty-Free Shop. Although Cheers Souvenirs is a mini-mart, worthy purchases include souvenirs such as beaded jewellery!
Golfing
Leisure travellers and avid golfers will be fascinated by the only 18-hole golf course in Tioman. Located in Berjaya Tioman Resort, it only takes a 6-minute ride from Tekek.
Suggested Read: 15 Fun, Fabulous Activities To Do at Tioman Island
Food
Family-owned restaurants in Tekek offer much cheaper Malay meals compared to Western cuisine in hotels or resorts. Seafood is a must!
Matahari Restaurant – romantic dining suitable for honeymoon couples. Located in the luxurious Berjaya Tioman Resort the restaurant serves authentic Thai-style dishes featuring fresh herbs and spices such as basil, mint and lemongrass. Tantalise your tastebuds with an unforgettable fusion of flavours unlike any other restaurant in Tioman. The establishment boasts a spectacular beach view, too!
Riverside Café – cheap and scrumptious Thai-style dishes and local Malay cuisine are available here. Crowd favourites include "Mamak food" such as Mee Goreng Kampung, Nasi Ayam, Teh Tarik and ABC Special, and a wide selection of local snacks and beverages. Open all-day, you can be sure to get a quick fix after a swim at Tekek Beach!
Tioman Cabana Bistro – the menu features both Asian and Western cuisine. This joint is popular among vegetarians, vegans, budget travellers and large groups. Try the Vegetarian Charcoal Burger with homemade black bean patty, cheese slices, fresh vegetables and coleslaw sandwiched perfectly between homemade charcoal buns. There is also live entertainment and alcohol. The food and hospitality of the staff here will be a memorable experience.
Suggested read: Food at Tioman Island
Accommodation
Berjaya Tioman Resort
This is the largest luxury resort in Tioman. Attractive facilities include the Ayura Spa, Matahari Restaurant, 18-hole golf course, beach bar, gym, and dive centre. Various accommodations are popular among tourists especially its spacious SeaView Chalets with a spectacular island view. The Garden View Chalets located in a serene courtyard near the beach features rustic Malay architecture that exudes a relaxing ambience. Family travellers may find the Garden View Triple Chalet a better option to bond with each other by staying in one room.
Go Deeper Tioman
Located near the Marine Park, Go Deeper Tioman is a renowned diving centre on Tioman Island for new and inexperienced divers. Suitable for budget travellers, the rooms here are an architectural marvel made up of 16 concrete containers stacked together. Each room has a queen-size bed, WiFi access, and air-conditioning. Communal bathrooms are in a separate building nearby.
Recommended Tioman Tour Packages:
3d2n-Go Deeper Tioman Chalet-Free & Easy Package
3d2n Go Deeper Tioman Chalet Snorkelling Package
Salang Village
This secluded village is a favourite among international backpackers and budget travellers for its affordable accommodation, nightlife, and proximity to amazing diving spots.
Getting around Salang Village
Getting to Salang is fuss-free as the Salang Jetty is the final stop for most ferry operators from Mersing Jetty or Tanjung Gemok Jetty.
Salang Village is relatively small and easier to get around by foot. You can even walk to ABC Village from Salang. Otherwise, you rent a water taxi to reach other villages such as Juara or Tekek. Most hotels in this area offer boat rental services to their guests.
Must-do Activities
Scuba Diving 
The coastal area surrounding this village is a diver's den, attracting international scuba divers yearly. Salang Village is the closest to many pristine coral reef sites and wrecks around Tioman, including Coral Island (Pulau Tulai), Batu Malang and Chebeh.
Swimming 
Nestled in a unique crescent-shaped bay is the white sandy Salang Beach surrounded by lush greenery. Its shallow water is ideal for snorkelling and exploring the diverse marine life in Tioman. Otherwise, just go for a swim or relax and bask in the sun by the beach!
Jungle Trekking
Nature-lovers will enjoy staying in Salang Village. Follow the 3.5 km trail from Salang through the dense forests and steep hills and discover the amazing wildlife around Tioman including some of Malaysia's most endangered species such as the bearcat (Binturong) and the majestic frigatebird. Passing through the picturesque Monkey Bay leading to ABC Village makes this 2-hour plus trek worthwhile!
Suggested read: Tioman Wildlife: Meeting the Island's Real Locals 
Nightlife
Enjoy a night out at Four-s Café by Salang Jetty. An impressive cocktail list awaits travellers including special house cocktails such as "Hell Gates" or "A day at the beach". Otherwise, choose from a list of 60 cocktails or go for a classic like "Singapore Sling". Non-alcoholic beverages such as sodas and soft drinks are also available here.
Food
Salang Village offers an abundance of restaurants with a wide selection of Western and Asian Cuisine. A must-try in this part of Tioman is seafood barbeques! Head over to Salang Indah Restaurant for Malay breakfast options or the Salang Complex for a wider selection of Malay and local hawker food.
Check out the Mini White House Café, a simple shack offering affordable BBQ seafood dinner featuring succulent prawns and squid. Treat yourself and your loved ones to a fancy meal at the Salang Sayang Restaurant right on the beach, or indulge in Thai-style seafood dishes at the Salang Dream Restaurant just next to the Salang Jetty.
Accommodation
Tioman Salang Pusaka Resort
This resort offers affordable bungalow or chalet-style accommodation. As Salang is famous among backpackers, you can easily book a "house" with 3 rooms, a kitchen, fridge and hot showers and air-conditioning in addition to a spectacular view of the island!
Recommended Tioman Tour Packages:
Tioman Salang Pusaka Resort Room + Ferry Package
3d2n Tioman Salang Pusaka Resort Snorkeling Package
4d3n Tioman Salang Pusaka Resort Snorkeling Package
Salang Indah Resort
This is the largest resort in Salang featuring rustic Malay village-style chalets. Choose from family rooms or basic chalets. The resort also offers other amenities such as a mini-mart and restaurant with its signature seafood barbeque.
Recommended Tioman Tour Packages:
2d1n Tioman Salang Indah Resort Snorkelling Package
3d2n Tioman Salang Indah Resort Snorkelling Package
4d3n Tioman Salang Indah Resort Snorkelling Package
Nora's Chalet
This family-run chalet located just behind Salang Pusaka Resort only has 10 cabins for very low rates. Although not directly facing the beach, this place is simple and beautiful with lush greenery everywhere.
Suggested read: Best Budget-Friendly Resorts on Tioman Island
Juara Village
Another tranquil village in Tioman is Juara Village. In the past, taxi rides to this village were expensive as it is out of the way from other major villages in Tioman. Nowadays, travelling to Juara is much easier by ferry!
Getting around Juara Village
Taxi services or 4WD rides from Tekek to Juara Village may be expensive but more convenient. A cheaper option to get here is by ferry. A must-try for nature lovers and hikers is the 3 km jungle trail from Tekek to Juara Village which cuts across the middle of the island! Watch the best sunrise on the island in Juara!
Must-do Activities
Surfing
Juara Village is home to the popular Tioman Surf Festival held annually. The brainchild of surfing enthusiast Hisham Uyub, the area draws large numbers of international surfers during the monsoon season. Juara Beach, ranked among CNN's 100 best beaches around the world boasts vast waters facing the South China Sea, making it an ideal spot for surfers and water sports.
Visit the Juara Turtle Project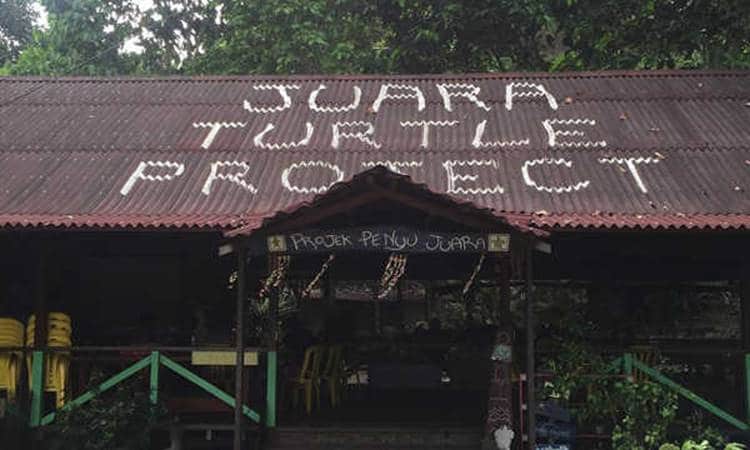 This activity is a must for all travellers to Juara Village. Visit this quaint place during the day to see a variety of turtles, and if you're lucky see them hatch eggs or released into the sea at night.
Rock Climbing
Extreme sports lovers should give the 25 feet high rock-climbing wall a go. Head over to The Barat Tioman Beach Resort and conquer this steep wall!
Jungle Trekking
Go for a long walk and get close to nature by following the Tekek-Juara jungle trail and experience the beauty of tropical rainforests and meet the island's "real" locals, Malaysia's exotic wildlife such as mouse deers, flying foxes and monitor lizards.
Nightlife
Night owls will be more than happy to just lounge at the SkyBar, Barat Tioman Resort. Sip a cocktail and enjoy the sunset while making new friends with other travellers on the open-air verandah or sheltered deck which overlooks the sea.
Food
Juara Village has both eateries within a resort and other family-run cafes. Most eateries here, like other parts of Tioman, serve great seafood, local and Western cuisine.
Juara Mutiara Resort – serves Malay and Western food. If you can't have spicy food or prefer going vegetarian, the friendly staff will accommodate your dietary needs! The sea breeze and amazing sea view is a bonus.
Barat Restaurant – serves Chinese-style seafood. Open all day from 7.a.m – 11 p.m, so you need not go hungry!
Mia Café – a simple family-run shack named after its owner. A must-try here is Mia's Sambal Chicken, Peanut Chicken and Apple Pancakes served with honey as well as other baked goodies.
Accommodation
Barat Tioman Resort
Different types of accommodation from villas to chalets cater to every need of travellers. With various amenities such as a dive centre, recreational centre (which arranges for snorkelling trips, boat transfers, etc.), and a popular restaurant among travellers, you certainly get value for your money here.
Recommended Tioman Tour Packages:
2d1n Barat Tioman Resort Free & Easy Package
3d2n Barat Tioman Resort Snorkelling Package
4d3n Barat Tioman Resort Diving Package
Juara Mutiara Resort
One of the largest resorts in Juara Village is Juara Mutiara Resort. It has over 40 rooms with a rustic charm and affordable pricing based on your budget. A mini-mart is also located in this resort for the convenience of its guests.
Recommended Tioman Tour Packages:
3d2n Tioman Juara Mutiara Resort Free & Easy Package
Juara Beach Resort
A common choice among budget travellers to this part of Tioman. The friendly ambience at this beachfront accommodation will make you instantly feel at home. It is only a 30-minute walk to the turtle sanctuary. The resort also offers affordable snorkelling packages and shuttle bus services to Tekek and back to Juara. The Chinese restaurant here serves tasty and fresh seafood, too!
ABC Village
Another top pick among budget travellers, Ayer Batang Village or ABC Village as referred to by the locals in this area, is filled with various types of accommodation and food options.
Getting around ABC Village
Getting to the village takes a 1.5-hour ferry ride. ABC Village is the fourth stop from Mersing Jetty and Tanjung Gemok Jetty. The best way to explore the village is by motorcycle. Take a walk along the small concrete path passing by a small hill to reach Tekek or even Salang. Other remote villages such as Genting or Nipah are accessible by water taxi.
Must-do Activities
Diving and Snorkelling
Similar to other parts of Tioman, diving and snorkelling with exotic marine life and corals at the northern part of Air Batang Beach is a major tourist attraction. The ABC Beach is 1.5 km long with the southern part having more sand perfect for sunbathing. The northern area of the beach may be rockier but still safe for children to swim and explore the beauty of its seabed. If you are a new or inexperienced diver, then head over to any dive centre located near the beach area.
Kayaking
Both kayaking and swimming are best done in the southern part of the beach. Travellers are advised to wear water or swimming shoes to protect their feet while swimming or indulging in other water activities in this slightly rocky area of ABC Beach.
Hiking 
A narrow trail in ABC Village takes travellers uphill to Panuba Bay. Walk for another hour to reach the white sandy Monkey Beach. Adventure seekers should attempt another 45-minute narrow climb that leads to Salang!
Island hopping and fishing trips
Most resorts in ABC would be willing to arrange a one-day boat ride to beautiful neighbouring islands such as Renggis Island and Coral Island. If you are keen on fishing, check with the hotel staff on the packages for fishing trips.
Food
Sunset Bar – relax, eat and catch the beautiful beach sunset here. A must-try is the delicious, homemade pizza. Guests are allowed to bring their supply of alcohol. Another reason to hang out here is to make new friends with other international travellers!
South Pacific Restaurant – the menu here is mostly fresh seafood and fruit juices at affordable prices. Worth trying is the fish platter!
Accommodation
Panuba Inn Resort
Located in the hillside area with a private bay of its own, this resort is simply paradise on earth! Various types of accommodation are available from chalets on the hill to rooms in the double-storey main building. More expensive rooms have their private balcony which opens out to a fantastic view of the sea. The resort also has a rustic restaurant, water taxi and island hopping services.
ABC Chalet N' Restaurant
This place offers a simple, laidback ambience within a walking distance from the jetty. Apart from its restaurant which offers some of the best Asian and Western food in the area, this long-standing budget accommodation offers garden or sea view chalets and island tour packages.
Nazri's Beach Cabanas
Couples may want to check out this budget accommodation run by a local, Mr.Nazri. The garden and sea view chalets cater mostly to couples and come with private bathrooms and air-conditioning. The Halo Bar or Hijau Restaurant is the only two dining options on-site.
Other Villages in Tioman
If you prefer a serene environment, the next section features remote villages in Tioman worth visiting!
Genting Village
The second-largest fishing village in Tioman is Genting Village. You can find many hilltop chalets, secluded resorts, dive centres and an abundance of eateries in this area. The landscape here is quite different from other Tioman villages, making it a favourite among Singaporean tourists and locals! Easily accessible by ferry, Genting Village is the first stop from Mersing Jetty or Tanjung Gemok Jetty. Walking is the best way to explore the village and neighbouring villages such as Paya Village, which only takes 20 minutes. If you wish to visit Tekek or Juara, the cheapest option would be the ferry service. Otherwise, ask the hotel staff about boat transfers or take a water taxi.
Must-do Activities
Snorkelling and Diving
The calm blue waters in Genting are ideal for snorkelling and diving like most parts of Tioman. There are 3 diving sites to visit from Genting. Tumok has shallow waters making it ideal for new divers to explore coral reefs. If you want to see sharks, then Tokong Bahara (Bahara Rocks) is worth the long boat trip. It is also one of Tioman's best diving sites! Located in the south of Genting Village is Batu Sepoi, a great place to spot unique marine life such as barracudas.
Batik Painting Workshop
Join a batik painting class and learn more about Malaysia's most renowned art form. You can even take home a batik painting or sarong as a memorable souvenir!
Hiking or Jungle Trekking
This part of Tioman is hilly and surrounded by dense greenery which offers many challenging trails through the jungle and exotic wildlife such as mouse deers, flying foxes and many more.
Food & Accommodation
All along the beach area, many restaurants serve both Malay and Western food. Gerai Makan Jeti Kampung Genting is a modest stall run by friendly locals serving cheap Malay food and seafood dishes. If you fancy Chinese food, then Seafood Restaurant whips up some delicious Moonlight Hor Fun you wouldn't want to miss! For late-night drinks, visit the beach bar at Sun Beach Resort which serves an array of cocktails and Western food such as pizza.
Sun Beach Resort – this is the largest budget hotel in Genting Village. Hilltop chalets and rooms with a beach view come with basic amenities true to their budget rates. With a bigger budget, you can stay in a comfortable beachfront suite close to the calm, blue waters! Other popular facilities here include a spa, 2 dining options (café and restaurant), mini-mart, and affordable snorkelling trips!
Recommended Tioman Tour Packages:
2d1n Tioman Sun Beach Resort Leisure Package
3d2n Tioman Sun Beach Resort Snorkeling Package
3d2n Tioman Sun Beach Resort Room Rates
3d2n Tioman Sun Beach Resort Honeymoon Package
Bayu Tioman Resort – located in the southern part of Genting Village, this budget resort offers private and Malay village-style accommodation with a sea view. There is also a mini-market, karaoke facilities and restaurants for the comfort and convenience of its guests.
Melina Beach Resort – run by a German family, this secluded eco-friendly resort is located between Genting and Paya Village. It is a popular tourist spot as a turtle nesting site and untouched house reef. Choose from different types of rooms either along the beach, facing the serene garden area or hilltop chalets. The La Terrazza Restaurant, open all day, specialises in Italian cuisine such as freshly-made pasta, pizza and wine. Local fare and fresh juices are on the menu, too. Snorkelling gear is complimentary for all its guests. Nature tours by certified guides are available on a seasonal basis.
Nipah Village
If you prefer a private and relaxing Pulau Tioman trip away from the crowd, then Nipah Village is a great place to stay! Located between Genting and Mukut Village, this place takes longer to reach but worth the wait. The village does not have its jetty, so you can get off at Genting Jetty and share a water taxi to Nipah or a direct ride from any other Tioman village. Hotels in Nipah can arrange for a private speedboat from Genting Jetty at a lower rate. Getting around the village is best on foot. If you are up for a challenge, hike through the hilly jungle trail that leads to Genting Village!
Must-do Activities
Swimming and Kayaking
The warm waters and palm trees surrounding the beach in Nipah will tempt anyone to go for a swim or kayaking. Its remote location is ideal for those looking to simply lay by the beach and relax! Take a late evening stroll by the beach and discover glowing planktons in the shallow waters.
Hiking
Check with the hotel for any hiking tours to Gunung Kajang. The journey takes 2 days through interesting jungle trails and leads to the highest peak in Tioman!
Wall Climbing
The giant sandstone boulders in Nipah are perfect for adventure seekers. It will test your balancing skills and endurance, unlike other vertical walls.
Food & Accommodation
Although this part of Tioman only has 3 resorts, fresh seafood and Malay cuisine are easily available. Check out the restaurant in Bersatu Nipah Chalet or the Nipah Chalet Beach Front Airbnb, its friendly host, Abbas cooks simple and delicious meals.
Mukut Village
The most remote village in Tioman is Mukut Village. A quiet fishing village, it is home to Tioman's popular landmarks – Asah Waterfall and Dragon Horns. Although there is no jetty or direct ferry service to Mukut, you can take a ferry and disembark in Genting Jetty and rent a water taxi or speedboat to Mukut. Hotels in Mukut usually arrange for boat transfers from Genting Village. Getting around the village is easy on foot but visiting neighbouring islands would be most convenient via water taxi.
Must-do Activities
Diving
There are various diving sites close to Mukut that promise an unforgettable diving experience. At Batu Sepoi and Batu Jahat, you can spot beautiful corals, sharks, and barracudas. You can even explore a wreck site near Minang Cove Resort.
Fishing trip
Check with the hotel for such trips and learn the traditional way of fishing!
Jungle Trekking/Hiking
Follow challenging jungle trails for 2 hours before reaching the stunning Asah Waterfalls for a dip! Visitors heading to Dragon Horns have two options–scale the saddle point (halfway point which takes 3 hours) or rock-climb up to the peak of Dragon Horns! The second option is popular among skilled mountaineers and usually requires a guide.
Food & Accommodation
Most resorts offer the best local cuisine. At Tunamaya Beach & Spa Resort, a wide range of facilities make it a popular choice among tourists, including its spa and dive centre. Rooms in contemporary design have either a beach or garden view with absolute privacy. The Pawana Restaurant serves local and international cuisine overlooking the sea. The Ombak Bar open until midnight has unique cocktails, too!
Solo or budget travellers may opt for Simukut Place at the beachfront in Mukut. This simple bed and breakfast joint with a lovely balcony come with a private bathroom and a restaurant serving traditional Malay food. Bicycles are available for rent as cycling is a popular activity in this part of Tioman.
Which village is right for me?
Tekek Village is suitable for leisure and budget travellers looking for a comfortable stay with modern amenities and duty-free shopping. Family or solo travellers looking for peace may opt for a stay at budget accommodations in more secluded villages such as Salang, Genting or even Mukut. Adventure seekers may find Juara Village an ideal place for a wide range of water activities from diving to an exciting 3 km jungle trail across the middle of the island.
Travel Tips to Tioman Island
How to get to Tioman Island
From Kuala Lumpur – Drive or board a bus straight to Mersing Jetty or Tanjung Gemok Jetty. The journey will take at least 5-6 hours. The two main Tioman Jetty is in Mersing or Tanjung Gemok. Another Tioman Jetty connecting more remote parts of Tioman is Genting Jetty.
From Johor – Drive or take a bus to Mersing Bus Terminal, the Mersing Jetty is only a 10 minute walk away. If you are travelling from Johor Bahru, the journey to the bus terminal may take 2-3 hours.
From Singapore – The bus or car ride directly from Singapore to Mersing or Tanjung Gemok Jetty takes between 3-5 hours. You can even hire a private car to cross over from Singapore to Johor and continuing the journey to Mersing Jetty.
Once you reach Mersing or Tanjung Gemok Jetty, any place in Tioman is accessible via ferry service, water taxi or private speedboat. Tioman ferry ticket prices differ based on ferry operators starting at RM30. A Tioman ferry ticket is the cheapest option to any part of Tioman. Share the cost with other travellers to hire a water taxi or private speedboat to neighbouring Tioman villages. Otherwise, check with the resort for boat transfer services at affordable rates.
Which part of Tioman Island is the best?
Every part of Tioman Island has something special to offer!
To enjoy an amazing Pulau Tioman trip, read the next section on the best areas for snorkelling and diving.
Tioman Snorkelling
Tioman snorkelling should be at the top of every island traveller's list of things to do! The Tioman Marine Park is a great place for snorkelling as you get to feed fishes underwater and discover an abundance of aquatic life. Snorkelling gear here is affordable for travellers to enjoy all-day snorkelling trips. Salang Beach is another popular spot for enjoying Tioman's fascinating marine life and clear, warm waters. You can spot many turtles, puffer fish and clown fish in this part of Tioman, even kids would love it! Low tides around Salang beach make it a safe place for family travellers with kids to enjoy snorkelling.
Suggested read: Snorkelling in Tioman
Tioman Diving
Renggis Island opposite Berjaya Tioman Resort in Tekek is a popular dive site. Explore hard coral formations, green turtles and many more at this spot ideal for both diving and snorkelling! If you prefer wreck site diving, then head to areas near Salang Beach or the clear waters around Minang Cove Resort in the remote fishing village of Mukut. The Tioman Marine Park is a great place for first-time divers and night dives. Its house reef is a perfect training ground for diving with shallow waters, a variety of corals and fascinating small, yellow tail barracudas! These areas have many dive centres and offer affordable diving gear for rent.
Suggested read: Diving in Tioman
Conclusion
Tioman Island has a variety of experiences to capture the hearts of any traveller. Book your Pulau Tioman trip now for a perfect island getaway!